Student Spotlight: Rakesh Reddy Rajammagari

USC Gould School of Law
Thursday, April 2, 2020
An essential element of the USC Gould School of Law's success is the supportive community fostered among its students around the world. These strong bonds which tie together the Gould Trojan Family fuel the impact and influence of the school's programs online and on campus.
Meet Rakesh Reddy Rajammagari (LLM in ADR '20). In the Q&A below, he shares the reasons behind his interest in dispute resolution and how USC has helped him to grow his future prospects: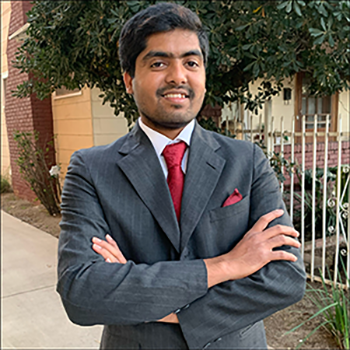 Rakesh Reddy Rajammagari, LLM in ADR '20
What sparked your interest in learning about law?
I've always had a strong desire to achieve something that enabled me to stand out from others in the field, and have always been interested in knowing my rights and those of that in a society. I wanted to learn about the evolving challenges of society and how to explain their importance to others through an understanding of law.
What made you pursue your degree in particular, and why at USC Gould?
During my 3 years of practice as an advocate in India, I was inspired by the thought of amicable settlement of a dispute and creating a win-win situation for both parties. This interest sparked me to learn more about dispute resolution techniques, and, during my research, I found USC Gould's Center for Dispute Resolution and learned of its stellar reputation globally. USC offers a diverse culture and the scope of the curriculum provides the ability for each individual to learn more.
How has it been transitioning into our program, and how has USC assisted you?
Initially, I felt that it is going to be a tough job for me to adjust to the program as the culture and way of teaching is completely different from my home country. I sincerely appreciate all the advisors, faculty and students who supported me throughout this journey. The advisors were always proactive and guided me properly in all the aspects of my study. The diverse culture of this program helped me to interact with people from different parts of the world and learn from them. The class discussions were fun, they made me more comfortable. Apart from that, the course structures and the materials presented by faculty were really helpful. The course is tailored to my needs, which helped me a lot.
What is the most memorable experience or learning from your USC studies so far?
There are many memorable experiences learning from USC. The one that stands out is getting an externship at an ombudsman office. I appreciate the efforts by my career advisor, Andrew Culberson, and the Director of Experiential Learning, Laura Riley, in supporting me through the entire process. The standard of courses offered as part of a dispute resolution course at USC were the basis for my success in acquiring an externship. The exposure I got from the classroom studies helped me to adjust quickly in my new role at the externship and gain more practical knowledge on what I learned at USC.
How will your degree from USC Gould give you an advantage for your future career? What do you want to do next with your degree?
I believe that the dispute resolution degree from USC Gould will be an advantage to my future career by providing me a deeper understanding of the dispute resolution mechanisms and how they stand out in practice. In-depth knowledge of basics coupled with my externship experience will help me in the future. I would like to kick-start my career in the ADR field, either as a mediator or ombudsman.
What advice do you have for students who may be interested in following a similar path to yours?
Make the most of the program. You are entering into one of the top 10 ADR programs in the world. Try to set a goal for your studies and subjects that will help you achieve your goal. Try to find internships or externships which can expand your scope and connect you with different people in the same field. Interact with professors and fellow students to get their insights on different topics. Enjoy the learning process.

To learn more about our LLM in ADR program, please visit https://gould.usc.edu/academics/degrees/llm-in-adr/
Read More
THE LATEST NEWS. REDEFINED.