Student Spotlight: Flora Mweseli

USC Gould School of Law
Wednesday, April 15, 2020
An essential element of the USC Gould School of Law's success is the supportive community fostered among its students around the world. These strong bonds which tie together the Gould Trojan Family fuel the impact and influence of the school's programs online and on campus.
Meet Flora Mweseli (LLM in ADR '20). In the Q&A below, she shares what drove her to pursue a legal education in dispute resolution and how USC has helped her to gain an advantage for her career: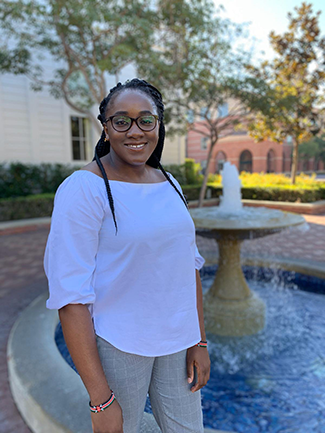 Flora Mweseli, LLM in ADR '20
What sparked your interest in learning about law?
My interest in law stemmed from a childhood fascination in the justice system. When I was growing up in Kenya, lawyers were held in high esteem because of the work they did in helping the underprivileged in society get access to justice through advocacy work. I really admired that. As I grew older, I began to understand how law impacts society and governs various facets of life from determining civil rights and liberties to determining environmental policies and business practice and realized that law would make for a very versatile career worth pursuing.
What made you pursue your degree in particular, and why at USC Gould?
We are living in a world where ADR plays a bigger role in the dispute resolution process, deviating from the traditional litigation process and more people and businesses are embracing the use of alternative dispute resolution methods particularly in my home country of Kenya. The Kenyan Judiciary has recognized ADR as a more effective dispute resolution mechanism and pushes parties to settle cases using ADR methods such as mediation. It is because of this shift that I wanted to pursue and LLM in ADR to gain more knowledge In this area.
I chose to undertake my LLM in Alternative Dispute Resolution at USC Gould because it is one of the institutions that offers a specialization in ADR. I was also drawn to USC Gould because It is a highly ranked US law school.
How has it been transitioning into our program, and how has USC assisted you?
Change is never easy, particularly for international students coming into a new country and environment with different cultures and customs than they are used to, but, USC's Graduate and International Programs (G&IP) Office made the transition very smooth. I liked how USC organized orientation a few weeks prior to that start of the program which was really helpful for arriving in the US and getting acclimatized to the environment before classes began. I really appreciated the accessibility of the G&IP office to help with academic and career advising.
What is the most memorable experience or learning from your USC studies so far?
I have enjoyed the diversity of the student body at USC in the LLM program and the overall university. I got to learn and interact with students from across the globe. I also enjoyed the mode of teaching; it's very interactive and the professors balance both practical and theoretical teaching. Another thing I appreciated was the faculty who taught in the program. USC has really done a fantastic job in hiring ADR professionals who brought a wealth of experience in teaching.
How will your degree from USC Gould give you an advantage for your future career? What do you want to do next with your degree?
My home country Kenya has been embracing the use of ADR in conflict management. I believe that the LLM will give me a competitive edge in the legal job market. I plan on utilizing my degree in dispute resolution particularly arbitration. I work as a transactional lawyer in Kenya and I have gained a lot of insights from my LLM program on how the two practices of transactional law and arbitration are closely linked and what to do and what mistakes to avoid in practice.
What advice do you have for students who may be interested in following a similar path to yours?
Be prepared. Nothing beats preparation. Preparation and planning are the best keys to success in graduate school. Plan out your schedule, timelines and deadlines well in advance so that you're not overwhelmed. Another thing I would advise would be to use all the resources that USC has to offer, not only at Gould but the entire university at large. The program is so short and goes by so quickly so students should use all the resources that are available at USC.
To learn more about the LLM in ADR, please visit: https://gould.usc.edu/academics/degrees/llm-in-adr/.
Read More
THE LATEST NEWS. REDEFINED.