ADR Career Spotlight: Organizational Ombuds

USC Gould School of Law
Monday, September 20, 2021
Are you looking for a career as an ADR practitioner but nervous about opening up your own practice? Are you confident in your dispute resolution skills but unsure how to apply them full-time in the workplace?
Consider the role of organizational ombuds.
An organizational ombuds is an employee of an organization dedicated exclusively to assisting serving other employees through coaching, facilitation, problem solving, mediation and other techniques. The ombuds exists to help resolve workplace conflict before it escalates, to teach individuals and groups to address conflict more productively and to report concerns and trends to organizational leadership at the highest level. Companies from all industries employ Ombuds officers to help anticipate and avoid risk & litigation and damage to brand and reputations.
What is an organizational ombuds?
An organizational ombuds is defined as a "designated neutral who is appointed or employed by an organization to facilitate the informal resolution of concerns of employees, managers, students and, sometimes, external clients of the organization" (Morson, 2016). They essentially serve as the in-house dispute resolution professional within an organization and provides conflict resolution and problem-solving services to members or clients of that organization. There are organizational ombuds in all sectors (corporate, academic, governmental, non-governmental, non-profit, etc.).
Here's a quick summary of the essential elements of organizational ombuds (International Ombudsman Association, 2009):
Independent – Ideally, ombuds should report to the chief executive of the organization. The ombuds exercises sole discretion over whether or how to act regarding a visitor's concerns, a trend, or concerns of multiple visitiors over time. The ombuds has access to all information and all individuals in the organization. Organizational ombuds do not report on identities of individual visitors nor on the information visitors may provide, but submit annual reports on activities and trends.
Neutral – Ombuds advocate for the principles of fairness and equity, rather than for the organization, individuals, or groups. They apply conflict resolution and problem solving techniques including mediation, facilitation and coaching to help all parties define the problem, understand each other's concerns and explore options that may resolve or manage the dispute.
Confidential - Visitors to the organizational ombuds can explore options without going on the record or committing themselves to any particular course of action. No written records of the exchange are kept. Furthermore, except in cases of imminent harm, the ombuds may only share trends and patterns in reports to leadership.
Informal - An ombuds' function is to provide informal assistance in surfacing and resolving issues. While they can recommend that an organization consider establishing or revising policy, the ombuds plays no formal role in investigating, enforcing or deciding to implement policy. Visitors to the ombuds remain in control of the process and the decision to escalate the matter or make a formal report to another office within the organization.
The ombuds field is growing.
Practitioners see slow but steady growth in the number of organizational ombuds positions in the near future (Morson, 2016). Several factors support this outlook, including federal legislation in the US promoting ADR processes, legal settlements in the private sector that required the creation of ombuds offices; and a growing recognition of the effectiveness of alternative channels for communication and the value in terms of dollars saved within organizations.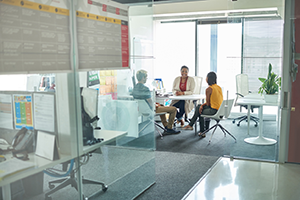 How does someone become an ombuds?
While a formal academic degree can be certainly be helpful in a competitive employment marketplace, there is no single established career path for ombuds. Formal training and experience in mediation, facilitation and other forms of dispute resolution serve as excellent preparation for future ombuds. Of paramount importance is demonstrating the ability to listen effectively, communicate with diverse groups of stakeholders, analyze and problem solve. Individuals with these skill sets hail from a diverse array of disciples including psychology and consulting, engineering and accounting, law and medicine. An aspiring ombud's career history can inform, but will not necessarily define their future role as an organizational ombuds.
Many first-time ombuds are tapped for the role by their current employer, often because they have established a reputation for integrity, confidentiality, and knowledge of organizational processes. Their specialized experience within their organizations can make them even more effective as ombuds because they have a deeper understanding and awareness of the specific issues that affect people and organizations in these fields.
Formal training can also be helpful in preparing an individual for an ombuds role. Indeed, many job postings for ombuds roles list professional training courses such as The International Ombudsman Association Foundations course as requirements. Formal courses or trainings should offer the added benefit of practical instruction in establishing and maintaining an organizational ombuds office.
To learn more, reach out to adr@law.usc.edu or visit gould.law/goADR.

Read More
THE LATEST NEWS. REDEFINED.