Mediation's Future as a Profession

USC Gould School of Law
Monday, November 29, 2021
USC Gould School of Law Lecturer in Law Jack R. Goetz is the president of MC3, a multi-state nonprofit that certifies mediators for public quality assurance. With extensive experience which includes serving as the academic lead for mediation training programs at universities, the Los Angeles County Bar Association and the Los Angeles Police Department, Office of the Ombuds, as well as serving as the 2018 president of the Southern California Mediation Association, Goetz discusses the work of MC3 – and USC Gould's contributions – to setting professional standards in the field.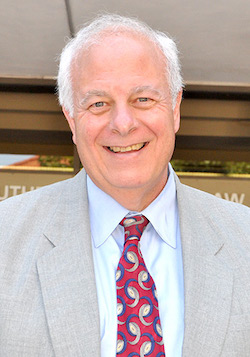 USC Gould Lecturer Jack R. Goetz, president of nonprofit MC3 Mediation Certification
What is the overarching goal of MC3?
MC3 is organized to ensure user and public confidence in the mediation process by setting standards for mediator training, education and ethics, and by maintaining those standards through its certification program. MC3 launched in 2019 with the goal of helping transform mediation from a field to a profession. MC3's volunteer board and officers include several USC Gould faculty and graduates, including Jason Harper, who teaches Cross-Cultural Dispute Resolution (LAW 829) and me, teaching Mediation Theory and Practice (LAW 680). USC Gould alumni contributors include Adam Ravitch (JD 2007), Henry Alfano (MDR 2020) and Mariam Vartkis (MDR 2019).
For mediation as a field, what challenges do you see, and how are you working to address them?
There is no agreed upon, step-by-step approach that changes a field to a profession. Dr. Jennifer Kalfsbeek and I co-authored a 2014 paper that noted the distinguishing characteristics of a formal profession, including self-governance based upon a binding ethics code, as well as education and continuing education requirements at a meaningful level in the field (often attached to a degree).
Largely anchored to a 2012 ABA Task Force report and influenced heavily by an Association for Conflict Resolution (ACR) task force report years earlier, MC3 differentiates itself from other certifications as it does not certify based upon its own educational programs but instead remains "neutral" and relies on quality programs provided by others to provide the education. For example, within the USC Gould curriculum, both the Mediation Clinic (LAW 630) as well as Mediation Theory and Practice (LAW 680) satisfy the educational standards set by MC3.
What are the main reasons supporting the mediation field's move in this direction?
There are factors that suggest the field needs to professionalize. First, there is a lack of recognition by the public of how to find a quality mediator. Second, and related to that, an assumed substantial number of disputes go unresolved or otherwise clog our court systems. Third, despite the obvious benefit to the courts and the public of the service provided by high-quality mediators, there is a presumption that these services should be provided on a pro bono basis. Certification implies both competence and accountability which we hope, in time, will be reflected in valuing, and compensating, capable, certified mediators. Finally, a multitude of practitioners choose to leave the field because they cannot make a livable wage in conflict resolution. The field's inability to address these factors through other mechanisms has forced courts and other venues that seek to set standards for their mediator panels to often impose standards that are not correlated with successful mediation education, experience or quality assurance (such as whether one holds a license to practice law, etc.)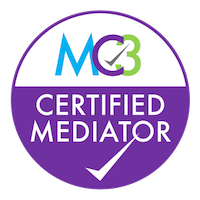 Do you observe any parallels between professionalization in mediation and in other fields?
Professionalism and neutral third-party certification without state involvement, such as licensure, has proven beneficial to a myriad of other fields. As an example, many have cited Certified Financial Planners (CFP) as another field with similar environmental factors that has evolved into a profession over the years. In 2021, someone seeking competent financial advice or guidance would be unlikely to engage the services of someone who was not a CFP. We believe that, in time, that same understanding and appreciation will exist for MC3-Certified Mediators.
What impact do you hope to make among different mediation practitioners and stakeholders?
MC3 provides services to three different constituencies in the mediation field. One constituency includes existing mediation panels who want their mediators to adhere to the highest standards in the field. Another group includes mediators who seek to distinguish their background and training from their peers. Finally, MC3 provides a neutral directory from which the public can choose mediators who have sought to go through MC3's rigorous certification process.

To learn more, reach out to adr@law.usc.edu or visit gould.law/goADR.
Read More
THE LATEST NEWS. REDEFINED.