Alumni Spotlight: Gabe Hagen

USC Gould School of Law
Friday, March 4, 2022
An essential element of USC Gould School of Law's success is the supportive community fostered among its students around the world. These strong bonds which tie together the Gould Trojan Family fuel the impact and influence of the school's programs online and on campus.
Meet Gabe Hagen (MSL 2021), co-founder of Brick Road Coffee. In the Q&A below, he shares why he chose to pursue the online Master of Studies in Law (MSL) degree at USC Gould and how it prepared him to start a business of his own.
What sparked your interest in learning about law?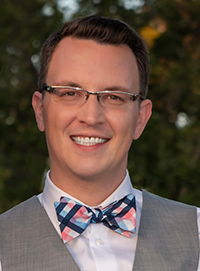 Gabe Hagen (MSL 2021)
When I was a kid, I wanted to be a lawyer. I don't know why the law fascinated me as a kid — I think part of me thought it would be fun to "argue" for a living — I had a much different understanding of what an argument was back then. But as I got older, I realized I didn't want to practice law. Working in the finance industry, I gained familiarity and exposure to the seemingly endless alphabet soup of financial regulations. It was through this lens that sparked my desire to learn more about regulatory compliance beyond just the financial industry.
What made you pursue an MSL degree in particular, and why at USC Gould?

One of the main reasons I chose to pursue a legal education was because I wanted to take my interest in ethics and overlay it with an in-depth knowledge of the law and regulation. I feel that regulations receive a bad reputation and are too freely labeled as a burden on business. Or businesses too often try to get by with the bare minimum to comply. While I would never argue that everything legal should be ethical or everything unethical should be illegal, I do believe more businesses must have an ethical review process overlaid with their legal/compliance process. In addition, companies need to employ more advocates that can articulate the difference between "Can I do this" and "Should I do this."
Not wanting to practice law meant exploring higher education tailored to my interests. USC Gould had a program designed for working adults and programs specific to compliance and financial regulation. The program caliber was top-notch, and the instructors and small class sizes allowed for a truly immersive learning opportunity.
How was the transition into the MSL program, and how did USC assist you?
USC has an incredible academic advising team that made the transition a breeze. Between orientation, constant phone and email communication, and frequent check-ins meant there was never a time where I felt lost or had unanswered questions. I also really appreciated that the entire program was mapped out at the beginning. Knowing what courses I had over the whole program made it extremely easy to balance my work, school, and personal lives. It also gave me the ability to communicate my course workload and commitments with my employer in advance to plan my work projects accordingly.
What is the most memorable experience or learning from your USC studies?
Current events played an astonishingly large part in my learning experience at USC. My program ran from the Fall of 2018 through the end of 2020. During this time, several events felt as if they could have been written into the syllabus of my classes, and I very much appreciated the fact that the professors were able to pivot to include these conversations in my learning journey. First, I was in Regulatory Compliance (LAW 598) when Wells Fargo "rebranded" following the fallout of the new account scandal and when the U.S. Securities and Exchange Commission charged Theranos and Elizabeth Holmes. These case studies provided relevant learning that further enriched the already robust coursework. And then, of course, the COVID-19 pandemic hit, turning how we work upside down. Next, I was in Human Resource Compliance (Law 559) and Corporate Governance (LAW 613) as we all made the transition. The discussions during live sessions allowed us to analyze what was happening in real-time and overlay the concepts from our lessons. Learning from current events, incredible professors, and my amazing peers provided me with a unique educational experience where I now feel prepared to tackle anything the future holds.
How has your MSL from USC Gould given you an advantage for your future career? What do you want to do next with your degree?
When I initially entered the program, I intended to continue my career as a compliance manager for a financial institution. However, since completing the program, I decided to leave the financial industry to start a coffee shop, Brick Road Coffee. The degree from USC empowered me with the knowledge necessary to confidently become an entrepreneur. Whether it was the asset purchase, commercial lease, hiring, or establishing the legal business entity, the MSL program prepared me for it.
When I decided to enroll in the program, I wanted to find a way to leverage my skills to the benefit of society. So, now I plan to grow Brick Road Coffee to lead by example and put people above profits. It is my hope that Brick Road Coffee will someday be a large company that not only builds and strengthens the community but also is a model for business leaders on how you can run a successful, profitable company and pay a living wage by not allowing a wage gap between the entry-level positions and the C-Suite to develop.
What advice do you have for students who may be interested in following a similar path to yours?
Go for it. I am beyond grateful for the education I received from USC and this program. The program is demanding, it requires commitment and dedication, but the reward is more than worth the effort. I entered and completed the MSL program intending to remain in the financial compliance field. Yet, the education I received, whether I knew it at the time or not, thoroughly prepared me for starting a small business. That is the best way to demonstrate the versatility and extraordinary value of this program. So if you are considering this program to advance your career or to start a new business – go for it. You won't regret it
| | |
| --- | --- |
| | |
| Brick Road Coffee Exterior | Brick Road Coffee Team |
The Master of Studies in Law offers early-career and seasoned non-lawyer professionals an unparalleled education to better understand complex legal matters. Learn more about USC's Online MSL and On-Campus MSL in Los Angeles.

Read More
THE LATEST NEWS. REDEFINED.