Student Organization Spotlight: Privacy and Cybersecurity Law Society (PCLS)

USC Gould School of Law
Thursday, March 31, 2022
The Privacy and Cybersecurity Law Society informs students about privacy law and cybersecurity and related legal careers. Learn more about how USC Gould's newest student-run organization came to be and what they have in store as they continue to grow!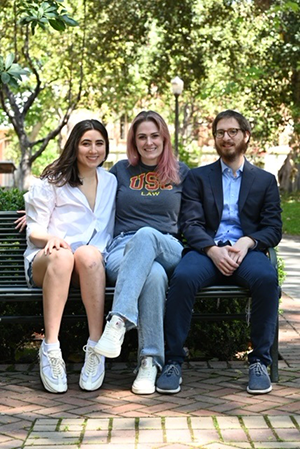 PCLS E-Board Members, Nora Ghanem, Alexis Ward, and Shmuel Mayberg (left to right)
Q: What inspired the launch of this new student organization?
A: Alexis Ward first met Nora Ghanem at USC's annual Student Organization Fair. Prior to enrolling in law school, Norah and Alexis had both worked as data analysts so were interested in joining a group to explore their shared interest in privacy and cybersecurity. When the two students weren't able to find an organization that addressed these interests, they decided to start their own. Nora said, "No student organization was addressing the interests we had, so I was excited to start this new organization at Gould."
Together, Alexis and Nora distributed flyers in hopes of bringing in others interested in privacy and cybersecurity and building out their founding executive board. As a result, Shmuel Mayberg and Isaac Reed joined the team. Shmuel had worked in cybercrime over his 1L summer, and Isaac had spent part of his 1L summer with an in-house privacy team. Professor Eileen Decker agreed to be the faculty advisor, and the Privacy and Cybersecurity Law Society (PCLS) officially became Gould's newest student organization. Alexis served as President, Isaac as Vice-President, Nora as Treasurer, and Shmuel served as Events Chair.
Q: What professional-focused programs has PCLS hosted?

A: PCLS hosted their inaugural event, "Privacy In-House Panel" with panelists including Alisa Bergman, the Vice President and Chief Privacy Officer at Adobe, and Donna Haddad, Global Senior Counsel for IBM Data and Watson AI. The board was excited to introduce the organization to Gould with such accomplished privacy attorneys. Isaac explained, "Being able to get first-hand knowledge from leading lawyers in the privacy and cybersecurity space is so valuable to any legal career. Gaining knowledge in this space will help any aspiring lawyer in their career."
Q: Since establishing the organization, what has been the response been among Gould students?

A: At the start of PCLS' first full year as an established student organization, the group saw an overwhelming amount of interest — over 60 Gould students joined the organization. PCLS received over 20 applications for 1L representative positions and welcomed Cynthia Wang, Janie Qiu, Cat McWilliams, Tallin Moyer, Briana Niu, Bancy Makavana, Reema Moussa, Zach Hardy, and Tanner Burnette-McGrath to the board. "We were shocked at how much interest our new organization garnered. It reiterated the need for a student organization focusing solely on Privacy and Cybersecurity," explained Shmuel.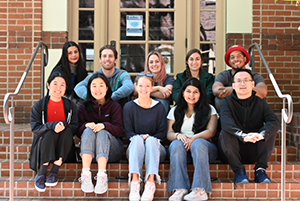 PCLS Members
Q: What community-building events have been planned for PCLS members?

A: PCLS held an informal "Coffee Chat" to allow members to get to know other students interested in privacy and cybersecurity. In response to requests from new members, PCLS held a "Privacy and Cybersecurity Crash Course," introducing the basics of the technology underpinning privacy and cybersecurity issues and the laws and legal issues they will likely see in future courses. The final event of the year is the "Privacy and Cybersecurity in Big Law" panel on Thursday, April 7, featuring big law associates currently working privacy and cybersecurity areas.
Q: What are the organization's goals moving forward?

A: The board hopes PCLS will continue to grow and evolve. Alexis explains, "We foresee both privacy and cybersecurity becoming major areas of law as our dependence on technology increases. We hope that a privacy and cybersecurity student organization at USC will continue to establish Gould as a leading institution for privacy and cybersecurity."
Learn more about all of the student organizations at USC Gould School of Law on our website. PCLS can be reached at pcls@lawmail.usc.edu.

Read More
THE LATEST NEWS. REDEFINED.