Alternative Dispute Resolution Certificate
Earning a certificate in Alternative Dispute Resolution (ADR) in addition to your JD degree gives you a thorough grounding and hands-on preparation in managing conflicts between parties. It also offers you a credential that demonstrates your specialized training in this growing field.
You have the option of choosing between two tracks — mediation or arbitration. However, you need not select a track to satisfy the certificate requirements.
You may earn multiple certificates offered by USC Gould. Some courses count toward more than one certificate.
Certificate Requirements
To earn the certificate, you must take at least 12 units of mandatory and elective courses as outlined below. No more than 4 units counted toward the certificate may be taken CR/D/F. The certificate program offers two tracks - the mediation track and the arbitration track. Students need not select a track to satisfy the program requirements.
The ADR courses emphasize the importance of acquiring both strong legal skills and familiarity with business concepts. The curriculum features a combination of lecture-style and skill-based courses that are taught in a workshop format.
Mandatory Courses
ADR Law and Policy, Arbitration and Mediation
ADR Ethics
You also must take your choice of the following:
ADR Clause Drafting
Cross-Cultural Dispute Resolution
International Arbitration
Your remaining credits must be chosen from the following electives:
Arbitration Track
ADR Clause Drafting (if not selected as a mandatory course)
Arbitration Advocacy
Cross-Cultural Dispute Resolution (if not selected as a mandatory course)
Arbitration in the United States
International Arbitration (if not selected as a mandatory course)
International Investment Law and Arbitration
Labor Arbitration
International Arbitration Competition (two-semester course)
Practicums/Externships
Mediation Track
Business Mediation
Cross-Cultural Dispute Resolution (if not selected as a mandatory course)
Employment Dispute Mediation
Family Law Mediation Clinic
International Negotiation and Mediation
Mediation Clinic (yearlong course)
Advanced Mediation Clinic (typically a yearlong course)
Mediation Advocacy
Negotiation Skills
Negotiation Theory and Application
Practicums/Externships
Mock Mediation and Mediation Competitions
Not all courses are offered every year.
You may petition to waive any required or elective course if you have taken an equivalent course outside of the law school as part of your undergraduate or other graduate degree.
RECENT NEWS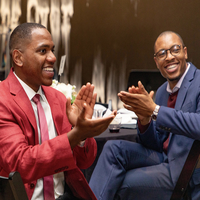 A Family Within a Family
December 2, 2019
The Black Law Students Association celebrates more than 50 years of building diversity and community at Gould.