USC Gould Center for Dispute Resolution & JAMS ENTERTAINMENT ADR SYMPOSIUM

USC Gould School of Law

Is There Still No Business Like Show Business?
ADR Challenges & the Evolution of New Media
This symposium is being postponed out of an abundance of caution due to the worldwide COVID-19 pandemic. Updated information will be posted here as it becomes available.
Program
The ADR Symposium will address new media disruption within the entertainment industry and the legal dispute resolution challenges we face. Three panels of prominent entertainment lawyers and executives will provide thoughtful commentary throughout the day. A hosted reception will follow.
Registration
General Admission: $145 ($195 after March 16, 2020)
JAMS Professionals and Program sponsors: $125 ($175 after March 16, 2020)
Active Judges: $95
Government and Non-profit: $75
Early bird registration will end on March 16, 2020 at 11:59 p.m. Standard online registration will end on March 26, 2020 at 5:00 p.m.
Register Now
Co-Chairs
Richard Chernick, Howard B. Miller
Program Planning Committee
Richard Chernick (co-chair), Howard B. Miller (co-chair), Scott A. Edelman, Daniel Floyd, Bryan J. Freedman, Patricia L. Glaser, Amb. (Ret.) David Huebner, C.Arb, Robert N. Klieger, Jonathan W. Pastor, Richard Peterson, Deborah Crandall Saxe, Sahar Shiralian, Stanton "Larry" Stein, Richard L. Stone, Naomi Waltman, Howard Weitzman
MCLE Credit
JAMS, a State Bar of California-approved MCLE Provider, certifies that this actively qualifies for Minimum Continuing Legal Education Credit in the amount of 6.5 total hours.
---
SPECIAL THANKS TO OUR PROGRAM SPONSORS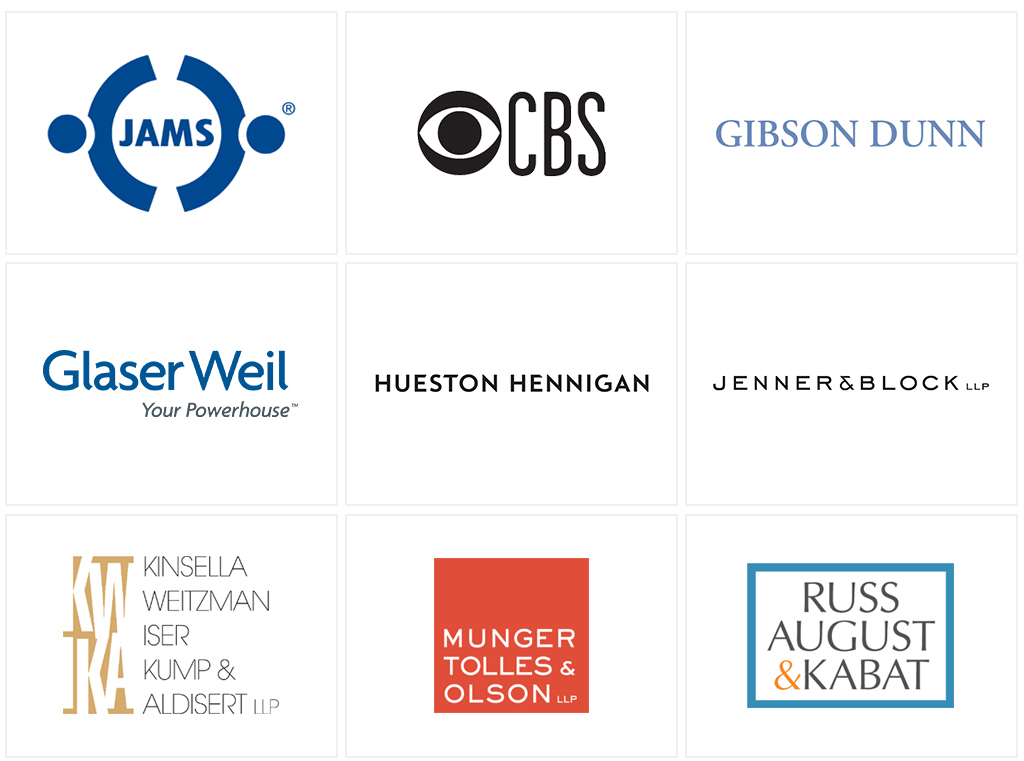 JAMS
Charles G. Bakaly, Jr.
CBS
Gibson Dunn & Crutcher LLP
Glaser Weil, LLP
Hueston Hennigan LLP
Jenner & Block
Kinsella Weitzman Iser Kump Aldisert LLP
Munger, Tolles & Olson LLP
Russ August & Kabat
Become a sponsor
Sponsors will support essential training activities and the larger educational mission of the USC Gould Center for Dispute Resolution. Sponsors will also receive discounted rates for partners and associates to attend the Symposium, and networking and branding opportunities on-site. For more information, contact adr@law.usc.edu.
Program Schedule
8:30 a.m. - 9:00 a.m. Registration & Continental Breakfast
9:00 a.m. - 9:15 a.m. Welcome
Opening Remarks
9:15 a.m. - 10:30 a.m. Keynote Address
"The Brave New World of Entertainment"
Jeffrey Cole, USC Annenberg School for Communication and Journalism
10:30 a.m. - 10:40 a.m. Break
10:40 a.m. - 12:00 p.m. Panel I
New Media Panel: Taking the ideas developed in the keynote and moving the discussion toward identifying risk management in new media
Patricia L. Glaser, Glaser Weil (Moderator)
Jeffrey Cole, USC Annenberg School for Communication and Journalism
Dan Nabel, Riot Games
Stephanie Abrutyn, HBO
Tammy Brandt, Dreamscape Immersive
Cassandra S. Franklin, JAMS
12:00 p.m. - 1:30 p.m. Lunch Presentation (introduced by Howard B. Miller)
Jimmy Iovine and Dr. C. L. Max Nikias discuss the USC Iovine and Young Academy, Disruptive Innovation, the Convergence of the Arts, Business and Technology, Lessons of the Past and Creating the Future
Jimmy Iovine, Co-Founder of Beats Electronics, Interscope Records, and the USC Iovine and Young Academy
Dr. C. L. Max Nikias, President Emeritus and Professor, USC
1:45 p.m. - 3:00 p.m. Panel II
How do we manage the risks we have identified in new media? - Drafting New Media DR Clauses
Richard Chernick, JAMS (Moderator)
Kelly M. Klaus, Munger Tolles & Olson LLP
Kate Chilton, Netflix
Scott A. Edelman, Gibson Dunn & Crutcher LLP
Rick Levy, ICM Partners
3:00 p.m. - 3:15 p.m. Break
3:15 p.m. - 4:30 p.m. Panel III
"Predicting the Future"
Howard B. Miller, JAMS (Moderator)
Erica Muhl, Dean and Founding Director, USC Iovine and Young Academy
Howard Weitzman, Kinsella Weitzman Iser Kump & Aldisert LLP
Richard L. Stone, Jenner & Block
4:30 p.m. - 5:30 p.m. Reception
Accommodations
USC Hotel
3540 South Figueroa Street
Los Angeles, CA 90007
(833) 2-BOOK-USC / (833) 226-6587
https://uschotel.usc.edu/
The USC Hotel is across the street from the university. USC visitors may prefer to stay in accommodations downtown (a 10-minute drive from USC) or near the Los Angeles International Airport (a 30-minute drive from USC). Please visit the Los Angeles Convention and Visitors Bureau (Discover Los Angeles) for local hotels.
Directions, Parking & Public Transportation
Parking Location and Price
Attendees will have non-hosted parking at USC's Gate 3 / McCarthy Way Parking Structure on the USC University Park Campus. The address is 620 W. McCarthy Way, Los Angeles, CA 90007. The current charge is $14/day.
Directions to USC and Designated Parking
From downtown Los Angeles, take the 110 Freeway south. Exit at Exposition Boulevard. Turn right on Exposition, then right on South Figueroa Street. (If you are traveling northbound on the 110 Freeway, exit at Exposition then turn left on Exposition and right on Figueroa). You will see the campus on the left side of the Figueroa. Within half a block you will see a street on the left called USC McCarthy Way and a sign for Gate 3. Turn into that driveway (it will be labeled USC McCarthy Way) and stop at the kiosk.
For more information regarding parking, visit here.
Public Transportation
The light rail Metro E Line (Expo) stops at the USC/Expo Park Station, a short walk from USC Gould, which is adjacent to Exposition Boulevard and just west of South Figueroa Street. USC/Expo Park Station is four stops from the 7th Street / Metro Center Station centrally located in downtown Los Angeles, which station also serves the Metro Red, Purple, and Blue lines.
USC operates a shuttle to and from Union Station (UPC to Union Station).
Special Requirements
USC Gould School of Law welcomes the participation of individuals with disabilities at our conferences and events. If you require special accommodations or have any questions, please contact us at adr@law.usc.edu or 213-821-5916.
Program Speakers, Moderators and Panelists

Jeffrey Cole (Keynote Speaker)
Jeffrey Cole has been at the forefront of media and communication technology issues both in the United States and internationally for the past three decades. An expert in the field of technology and emerging media, Cole serves as an adviser to governments and leading companies around the world as they craft digital strategies. In July 2004 Dr. Cole joined the USC Annenberg School for Communication as Director of the newly formed Center for the Digital Future and as a Research Professor.
Cole founded and directs the World Internet Project, a long-term longitudinal look at the effects of computer and Internet technology, which is conducted in more than 30 countries. Nineteen years into the project, the World Internet Project, through its unique data on Internet users around the world, is the leading, unrivaled international project examining the ways in which technology changes our lives. He has worked with both the Clinton and George W. Bush White House on media and telecommunications issues. He regularly makes presentations across the U.S. and in Europe, Asia, Latin America, the Middle East and Africa.
• • •

Stephanie Abrutyn (Panelist)
Stephanie S. Abrutyn is Senior Vice President and Chief Counsel, Litigation and Public Policy for WarnerMedia. She is responsible for overseeing and managing litigation for WarnerMedia Entertainment, WarnerMediaNews & Sports, WarnerMedia Distribution & International, and WarnerMedia corporate. Abrutyn also oversees the WarnerMedia domestic public policy group. She began in May 2019, after serving as senior vice president and chief counsel, Litigation, for HBO. Abrutyn initially joined HBO as a senior counsel in June 2005. She served as senior counsel, East Coast Media, for Tribune Company, from 1999 to 2005. From 1996 to 1999, Abrutyn worked at ABC, Inc. as a general attorney, Litigation and Employment Practices; and from 1991 to 1996, was an attorney at Baker & Hostetler. She is on the New York State Bar Association Media Law Committee and the Governing Board of the ABA Forum on Communications Law. Abrutyn holds a BA with honors from Colgate University, a JD from University of Pennsylvania Law School, and studied at the Institute of Political and Economic Studies in London, England.
• • •

Richard L. Stone (Panelist)
Rick Stone is co-chair of Jenner & Block's Antitrust and Competition Law Practice and former co-chair of the firm's Content, Media and Entertainment Practice. He is recognized as a leading trial lawyer, concentrating on antitrust, intellectual property and complex commercial litigation with an emphasis on the media and entertainment industries. Mr. Stone's experience extends to litigating antitrust, copyright, trademark, patent, piracy, securities, commercial fraud and related business tort cases. Chambers USA has consistently rated Mr. Stone as a leading media and entertainment litigator since 2008, and in 2015, California Lawyer named him an Attorney of the Year. The Hollywood Reporter has named him among its annual Power Lawyers five times.
• • •

Tammy Brandt (Panelist)
Tammy is Chief Legal Officer; Head of Business and Legal Affairs at Dreamscape Immersive, a leading location-based virtual reality company. Tammy manages legal, business affairs, human resources and facilities. Prior to joining Dreamscape, Tammy served in roles of increasing responsibilities in the legal department of Computer Sciences Corporation, which became DXC Technology, a Fortune 100 company with over 150,000 employees, serving clients in over 100 countries. Tammy's last role was Chief Corporate Counsel, the #2 corporate lawyer of the company, with primary legal responsibilities for corporate securities, governance, finance, treasury, tax, executive compensation, and global leader on all M&A transactions.
Before joining Computer Sciences Corporation, Tammy was general counsel at ServiceMesh, Inc., a leading enterprise software company in the cloud management space. She successfully led ServiceMesh's fundraising and successful exit to Computer Sciences Corporation with responsibility for legal, human resources, real estate, facilities and internal operations. Tammy spent the earlier part of her career working at leading global law firms Jones Day and Sheppard Mullin. She has extensive experience in emerging company matters handling needs across a large spectrum from contract negotiation of commercial and real estate agreements, managing intellectual property portfolios and running the human resources department. Tammy has also been recognized by numerous publications and organizations for her work with emerging companies and pro-bono work with the Association of Corporate Counsel.
Tammy grew up on a farm in Ohio growing corn, wheat and soy. She is passionate about her 16 month old son Bobby and golf.
• • •

Richard Chernick (Chair, USC Gould Center for Dispute Resolution Advisory Board)
Richard Chernick is Vice President and Managing Director of JAMS' Arbitration Practice. He has conducted hundreds of complex arbitrations and mediations before major administering institutions, both domestic and international. Chernick is a former Chair of the Dispute Resolution Section of the American Bar Association and the Founding President of the College of Commercial Arbitrators. He served as the ABA's Advisor to the Revised Uniform Arbitration Act. Chernick teaches arbitration at USC Gould School of Law, and currently serves as Chair of the USC Gould Center for Dispute Resolution Advisory Board.
• • •

Kate Chilton (Panelist)
Kate Chilton is Director, Content Litigation for Netflix, Inc. where she has been for the last 2-1/2 years. She began her career at Kirkland & Ellis, segued to Skadden, Arps before landing at Warner Bros. for 24 years. She has been through many harrowing jury trials, two of which she lost and one of which was not reversed on appeal and therefore she is a huge fan of arbitration.
• • •

Scott A. Edelman (Panelist)
Scott A. Edelman is a partner in Gibson Dunn's Century City office. Mr. Edelman is Co-Chair of the firm's Media, Entertainment and Technology Practice Group, a member of the firm's Litigation Department, as well as various other practice groups. He also is the firm's National Pro Bono Chair. He has a broad background in commercial litigation, including antitrust, class actions, employment, entertainment and intellectual property, real estate and product liability. Mr. Edelman represents multiple studios, television networks, music companies, production companies and other media-related entities. Mr. Edelman is a Fellow of the American College of Trial Lawyers. Fellowship is extended by invitation only to the best of the trial bar of the United States and Canada and cannot exceed one percent of the total lawyer population of any state or province. Recognized as go-to counsel for his deep litigation experience, he is consistently recognized by legal and industry publications for his work. Clients appreciate that he "commands attention and handles himself well, and is very experienced in the entertainment business," as noted in his Chambers USA profile. The Daily Journal has ranked him as one of the Top 100 Lawyers in California. He has received a Clay Award as "Lawyer of the Year" from California Lawyer and was recognized as an "Attorney of the Year" by The Recorder. He was also named the "Litigator of the Year" by the Century City Bar Association, and was one of 10 litigators named in the Los Angeles Business Journal's Top 100 Lawyers in Los Angeles, "Best of the Bar" and one of the "Best Lawyers in America" by American Lawyer Media. For Mr. Edelman's full firm profile, please click here
• • •

Cassandra S. Franklin (Panelist)
Cassandra S. Franklin, Esq., joined JAMS after years of experience on both the carrier and policyholder sides of complex insurance coverage disputes. Since joining JAMS, she has drawn upon these dual perspectives to assist parties in resolving disputes involving such issues as directors and officers coverage for subprime mortgage crisis claims and coverage for invasion of privacy claims based on alleged cyber-publication of nude photographs.
Prior to joining JAMS, Cassandra served for almost six years as Managing Attorney of Allianz Global Corporate & Specialty and Fireman's Fund Insurance Company's Claims Coverage Counsel. Leading a team of experienced coverage attorneys, she handled issues arising out of a range of insurance products, from corporate commercial general liability and property policies to entertainment and other specialty insurance policies.
Before serving as Managing Attorney, Cassandra spent over 13 years representing policyholders in insurance coverage disputes. Her policyholder-side matters ran the gamut of liability insurance products, from commercial general liability to errors and omissions and media liability insurance policies, as well as first party insurance, such as entertainment production and event cancellation policies.
Both as counsel to policyholders and in her in-house role, Cassandra developed a reputation for her innate sense of fairness and pragmatic ability to see matters from multiple perspectives. Where appropriate, Cassandra sought to resolve disputes through negotiation and mediation rather than incurring the financial and opportunity costs inherent in protracted litigation.
Earlier in her career, Cassandra served as litigation counsel for both plaintiffs and defendants in commercial and entertainment litigation. She also served for years as a member of UCLA Law School's clinical faculty.
Cassandra began her legal career as a law clerk to Justices Otto M. Kaus and Edward A. Panelli.
• • •

Patricia L. Glaser (Moderator)
Patricia Glaser is head of Glaser Weil's Litigation Department and tops the short list of trial attorneys in the nation sought after for high-stakes litigation. Respected as a business trial lawyer, she also provides general legal counsel to publicly and privately held companies across a range of industries, including intellectual property, real estate, entertainment, banking and securities. Her clients include Fortune 500 companies, major studios, real estate investors and developers, financial institutions and high-profile entertainers and public figures.
• • •

Kelly M. Klaus (Panelist)
Kelly Klaus is a partner in the San Francisco office of Munger, Tolles & Olson LLP. He specializes in copyright and entertainment litigation. Kelly regularly represents and counsels the major motion picture studios and the Motion Picture Association. Kelly has represented, among others, Disney and Warner Bros. in obtaining a $62.4 million judgment and permanent injunction against VidAngel; Fox in obtaining dismissal of Olivia de Havilland's suit based on the docudrama Feud; and Disney in obtaining injunctive relief against Redbox's sale of digital movie codes. Kelly is a member (and recently completed his term on the Board) of the Los Angeles Copyright Society.
• • •

Jimmy Iovine (Panelist)
Jimmy Iovine is regarded as both a legendary figure in the music industry as well as a forward-thinking visionary. Iovine, along with hip hop pioneer Dr. Dre, is the Co-Founder/CEO of Beats Electronics (Beats) and Beats Music, which were both purchased by Apple Inc. in 2014. He is also the founder and former Chairman of Universal Music Group's Interscope Geffen A&M Records unit.
In 2013, Iovine and Dre gave a $70 million endowment to the University of Southern California to create the USC Jimmy Iovine and Andre Young Academy for Arts, Technology and the Business of Innovation. Its unique educational model achieves student outcomes that garner recognition from higher education, research, big tech, and creative industries. In addition to its undergraduate degree, the Academy offers an online Master of Science in Integrated Design, Business and Technology, and recently launched a Master of Science in Product Innovation.
• • •

Rick Levy (Panelist)
Rick Levy is a Founding Partner as well as the General Counsel of ICM Partners, a talent and literary agency representing clients in the fields of motion pictures, television, publishing, and concerts. ICM Partners, a privately held company, is one of the predominant agencies in the United States and Europe, with its principal offices in Los Angeles, New York and London.
In addition to having served as the agency's Chief Operating Officer, Chief Business Development Officer and General Counsel during his tenure at ICM, Mr. Levy has served as Managing Member of the agency as well as a member of the Company's Board of Directors.
In 2005, Levy led ICM's deal team to sell a controlling interest in the agency to a private equity firm. At the time, ICM was the only major agency to have sold a significant interest to a private equity firm. Seven years later, he played a pivotal role in the successful re-acquisition of control and ownership of the company through a management buyout of the agency in 2012. Mr. Levy also led ICM's deal team in 2019 to a substantial minority investment in the agency by private equity firm Crestview Partners.
Before joining ICM in 1997, Mr. Levy was an associate in the employment and entertainment practice groups of Los Angeles law firm Gibson, Dunn & Crutcher.
Mr. Levy is a member of the Board of the Association of Talent Agents, and has chaired numerous Board committees including its Legal and Political Action committees. He currently serves as its First Vice President. Mr. Levy also has served as Chair of the Golden West Chapter of Y.P.O., and currently is a member of the executive committee of the Y.P.O. Wilshire Gold Chapter. Mr. Levy's name is included in America's Registry of Outstanding Professionals, and he has received numerous professional awards and recognition including the Association of Media and Entertainment Counsel's Dealmaker of the Year Award. He is admitted in practice before the California State Bar and the United States District Court for the Central District of California.
Mr. Levy's charitable involvement includes Unicef U.S.A., where he has served several terms as President of the Southern California Regional Board on which he has been a member since 2005. He also serves as Chair of the U.S. (West Coast) Regional Advisory Board for McGill University, and has served on the Advisory Board of the charity Peace Over Violence.
Mr. Levy graduated with great distinction from Montreal's McGill University, where he was a Faculty Scholar and winner of the James McGill Award, with a joint degree in history and political science. He received his J.D. from New York University School of Law, where he served as senior editor for the NYU Law Review.
For the past 20 seasons, Mr. Levy has been a member and co-manager of the Hollywood Stars men's baseball team in the LAMBL. A New York native, Mr. Levy lives in Los Angeles with his wife Andrea, his daughter, and his three sons.
• • •

Howard B. Miller (Moderator)
Howard B. Miller, FCIArb is a mediator and arbitrator at JAMS, and a founder and co-chair of the California International Arbitration Council. He is a past President of the State Bar of California, and was for many years a Professor of Law at the USC Gould School of Law.
• • •

Erica Muhl (Panelist)
In May of 2013, Erica Muhl was appointed Founding Director of the USC Jimmy Iovine and Andre Young Academy for Arts, Technology and the Business of Innovation, which welcomed its first freshman class in fall 2014. Simultaneously, she served as dean of the USC Roski School of Art and Design, a position she held from September 2012 through June 2018. Prior to joining the Roski School, Muhl served as associate dean of the USC Thornton School of Music, where she has been Professor of Composition since 1991. In July 2018, Muhl was appointed as the inaugural dean of the USC Iovine and Young Academy as it became the university's twentieth professional school. Under Muhl's guidance, the Academy has emerged at the forefront of the drive to expand the reach of higher education beyond traditional disciplinary silos, and toward new pathways for learning and discovery.
The school's unique educational model and its strong student outcomes have been highlighted in The Wall Street Journal, The Los Angeles Times, The London Times, Forbes, Billboard, Variety, WIRED, The Chronicle of Higher Education, Inc., Business Insider, Tech Crunch, and MIT Technology Review. As a creative artist, Muhl maintains an international practice as a composer of contemporary classical music. Her works have been commissioned, performed, and broadcast by leading organizations such as Minnesota Opera, Italy's Orchestra della RAI, Venezuela's National Philharmonic Orchestra, the Orchestra of St. Luke's in New York, the Arditti Quartet, National Public Radio, and Radio-Televisione Italiana, and featured at national and international festivals and competitions, including the Aspen Festival, the International Festival of New Music in Caracas, the International Forum of New Music in Mexico City, the Festivale Nuovi Spazi in Rome and the International Percussion Competition in Luxembourg. She has received grants and awards from such organizations as the American Academy of Arts and Letters, the National Endowment for the Arts and Opera America, and held residencies and fellowships from, among others, Italy's Civitella Ranieri Foundation, the Charles Ives Center for American Music, the Atlantic Center for the Arts, the American Academy in Rome, the Cultural Ministry of Venezuela, and the Richard-Wagner-Stätten in Dresden, Germany.
• • •

Dan Nabel (Panelist)
Dan Nabel is Associate General Counsel at Riot Games. He teaches "Video Game Law" at USC Gould School of Law and co-authored Video Game Law in a Nutshell (West Academic, 2018). Nabel serves as a Trustee for the Los Angeles Copyright Society and Chairs the Advisory Council for CASA of Los Angeles - an organization dedicated to improving the lives of neglected and abused foster children with trained volunteer advocates.
• • •

Dr. C. L. Max Nikias (Panelist)
Professor C. L. Max Nikias is currently the holder of the Malcolm R. Currie Chair in Technology and the Humanities, President Emeritus and a Life Trustee of USC. He has been at USC since 1991, and in addition to his work as a professor, has served as a digital media center director, dean of engineering, provost and executive vice president, and president of the university. Dr. Nikias is a member of the National Academy of Engineering, a fellow of the American Academy of Arts and Sciences, a charter fellow of the National Academy of Inventors, an associate member of the Academy of Athens, a foreign member of the Russian Academy of Sciences, and a life fellow of the Institute of Electrical and Electronics Engineers. Among numerous other honors, he has received the Academic Leadership Award from Carnegie Corporation of New York and the Ellis Island Medal of Honor.
• • •

Howard Weitzman (Panelist)
Howard Weitzman, name partner at Kinsella Weitzman Iser Kump & Aldisert, is recognized as one of the most influential attorneys in the nation. His practice includes litigation in civil, criminal, antitrust and regulatory forums. Mr. Weitzman has been lead trial attorney in over 300 civil and criminal jury trials, and has represented over 1,000 individuals and companies. He has twice received the Jerry Geisler Memorial Award as the outstanding trial lawyer in Los Angeles County and has been profiled in a number of publications. Mr. Weitzman was named one of the top fifteen lawyers in the country by The National Law Journal. He is perennially named a "Power Lawyer" by The Hollywood Reporter and in Variety's "Legal Impact Report."

Mr. Weitzman taught Trial Advocacy at the University of Southern California Law School for 12 years. He has lectured at Harvard, Georgetown Law Center, UCLA and numerous other law schools across the nation, and has been a speaker at countless seminars and symposiums for Bar Associations and conferences. He is a graduate of University of Southern California (B.A.) and University of Southern California Law Center (J.D.)
• • •
RECENT NEWS