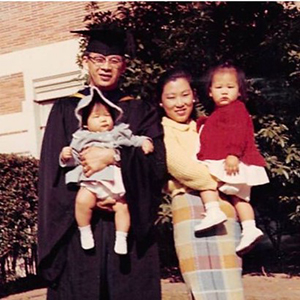 Albert Lum, with wife Theresa, and daughters Jennifer, 18 months, and Mina, 6 months, at his USC Gould graduation in 1962. At the time, Lum was two credits shy of completing his law degree, but "USC allowed me to go through the ceremonies," he recalls. Admitted to the California bar in 1963, Lum began practice immediately and returned two years later for the missing legal writing course. "Funnily, I used my Supreme Court case brief as part of the course requirement," he says. Lum officially earned his LLB in 1965. 
Albert C. Lum (LLB 1965) has been advancing Asian American inclusion for at least 60 years.
At a time when Chinese Americans were kept at arm's length by the Los Angeles legal community, he spearheaded the Southern California Chinese Lawyers' Association (SCCLA) and used his political clout to put members on the California bench.
At a time when clients from Chinatown had nowhere else to turn, he practiced general law that catered to the community's every legal need.
At a time when casual racism was the norm, he fearlessly pushed back.
"I'm not going to let somebody step on me," says Lum, 88, who speaks vigorously with a strong Arkansas accent. "Has anybody got the right to say to me, 'Go back where you came from?' Hell no! When my grandchildren have children, they'll be fifth-generation Americans. I haven't, throughout my life, backed down, and I don't ever intend to."
Southern roots
Born in West Memphis, Ark., in 1934, Lum was the youngest of six children born to Bertha and Charlie Lum. His mother, who came from Mississippi, and father, a Chinese immigrant, opened a grocery store and a restaurant. Though Bertha had only a second-grade education and Charlie had no formal schooling, they were fierce advocates for their children's educational rights. When the Lums were told in the 1930s that their kids could not attend the local public school—because they'd been deemed "colored"—Bertha fought tooth and nail to get them admitted. A close family friend from Mississippi, Katherine Lum (no relation), had brought the same issue before the Supreme Court in Lum v. Rice, and lost. The 1927 decision was later overturned in 1954 by Brown v. Board of Education.
An all-star quarterback, Lum was voted "best boy athlete" and "best all-around" in his high school yearbook. Athletic prowess commanded respect in their rural Arkansas community. But strangers could be hateful.
He vividly recalls a passerby muttering a racial slur as he and a cousin sat in a West Memphis coffee shop late one night. Fists balled, the cousins chased their tormentor into the parking lot. "He didn't expect that," Lum says, chuckling at the memory.
He continued to face discrimination but kept pushing back.
Journey into law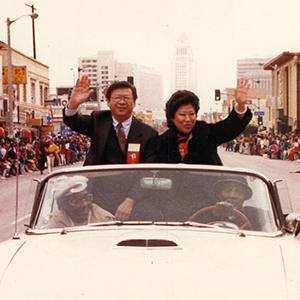 Albert and Theresa Lum
Lum followed his oldest sister to Los Angeles after finishing high school. Discouraged that he could only find menial work butchering fowl in a Chinatown poultry shop, he enlisted in the military in 1954, just as the Korean War was winding down. While stationed in North Carolina, Lum found a role model in an Army buddy who'd recently graduated from Columbia law. When Lum's service ended, he enrolled in Tulane University and earned an accounting degree under the GI Bill. Returning to Los Angeles in 1958, he got a job with the IRS and started law school at UCLA. Soon after, he transferred to USC law school's night program so he could keep his day job as an IRS agent.
"Financially, I just couldn't make it at UCLA," he says, "so I chose USC. And I'm really happy I did. The night program was tremendous. Very demanding."
Classes met five nights a week, year-round, for four years. Half the students didn't finish the program, but Lum persevered. He was married and a father of two by graduation. He'd met Theresa Cheng at a mutual friend's wedding reception in 1959. An international student from Taiwan, she came from Beijing intelligentsia who had fled communism.
"My wife spoke perfect Mandarin, and I spoke nothing. I'm a Southern boy. I can't read any of that," he says, waving at the Chinese calligraphy wall art in a conference room of the Lum Law Group's Pasadena office.
Lum credits Theresa — his interpreter in high-stakes meetings with Mandarin-speaking clients — for his professional and financial success.
No white-shoe law firm would hire him as an associate in 1963, so Lum went to work for accountant-attorney Edward Eng in Chinatown. One of his first cases, representing a client blocked from inheriting property left by his late mother in China, went all the way to the Supreme Court (In re Estate of Lillian Ng). He later worked with Hiram Kwan.
Lum trained himself to be a generalist. Tax and corporate law, personal injury, immigration – "you had to know everything," he says, "because you knew that if you didn't take the case, nobody would take it."
He opened L.A.'s first Chinese minority law firm in downtown, Lum & Ku, with branch offices in San Francisco and Taipei. In the late 1980s, Lum accepted a Big Law partnership at Lewis, D'Amato Brisbois and Bisgaard. He exited in 1990 and started his current practice in Pasadena.
Community advocate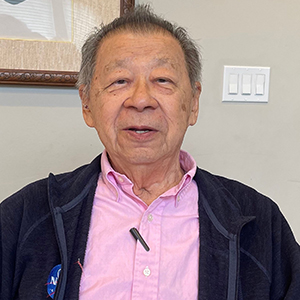 Albert Lum
Though he speaks neither Mandarin nor Cantonese, with Theresa's help, Lum established himself as a Chinatown civic leader. His roles included president of the Los Angeles Chinese Chamber of Commerce; chairman of the Chinatown Advisory Committee to the Community Redevelopment Agency; and, most importantly, founding president of the SCCLA, the nation's first Asian bar association.
When Lum started in 1963, only about a dozen Chinese-American lawyers were practicing in the Southland. By 1975, when he convened SCCLA's first informal meeting, 45 attorneys were in attendance. Los Angeles County's earliest "special bar" group became the model for others to follow; it remains the region's most active.
Among Lum's proudest achievements was persuading then-Gov. Jerry Brown to name three SCCLA members to the bench.
In a nod to the group's clout, the governor's legal affairs secretary broke protocol when he invited Lum to make the official calls informing Judge James Yip and Judge Harry Mock of their selection.
Lum had no desire to serve on the bench. Over his long career, he represented hundreds of clients — from local shopkeepers, to major commercial airlines in Taiwan and Singapore, to astronaut Taylor Wong, the first ethnic Chinese person to go into space. He worked on political campaigns for Mike Dukakis, Dianne Feinstein and Gray Davis. He even made a run for U.S. Congress, losing the Democratic primary to Xavier Becerra in 1992.
He and Theresa invested in an air cargo service, a newspaper, a restaurant. They produced a Chinese acrobat show at the Tropicana in Las Vegas.
"How many people get to do that?" Lum says, with a genial grin.
They loved Vegas. Lum Law Group still has a branch office there. Theresa, who passed away in 2015, could be found at the card tables right up to the end.
At 88, Lum is making final edits to his book-length memoir. He still keeps a finger in the family practice, where his son Justin is the managing partner. Lum's other son, Robert, was a partner until his death in 2017. Daughter Jennifer Lum, a former assistant U.S. attorney and magistrate judge, is now Caltech's general counsel. His fourth child, Mina, is the only non-lawyer: she's a banker in New York.
Combined, they've given Lum 10 grandchildren — all fourth-generation Americans with an unforgettable role model who wouldn't dream of staying silent if someone dared suggest he "go back where you came from."