Yvonne Brathwaite Burke, a woman of many firsts in politics, has fought to better the lives of women, children and minorities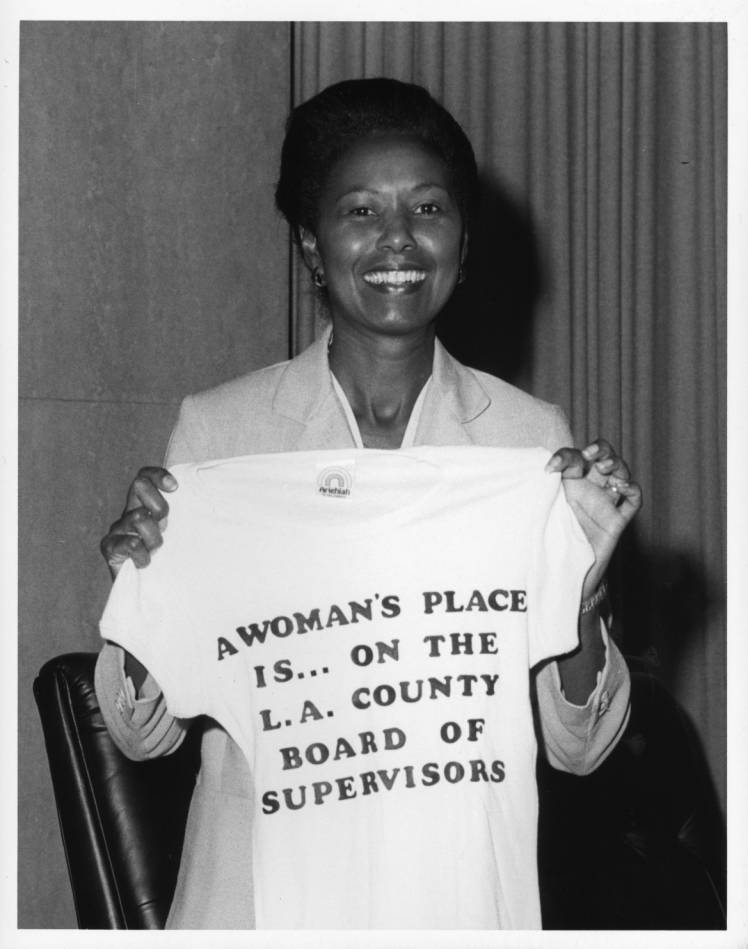 Yvonne Brathwaite Burke worked to expand business and recreational opportunities and improve foster care during her time as a member of the Los Angeles County Board of Supervisors.
To mention the name Yvonne Brathwaite Burke (JD 1956) is to say, "first." Serving the public from the 1960s onward, she was the first Black woman in the California State legislature, the first Black woman to represent California in Congress, and the first woman and first African American to serve on the Los Angeles County Board of Supervisors. The list goes on. But to talk about the person behind the many firsts, is to talk about education, hard work and civil rights.
Burke was 16 years old and attending a friend's birthday party at the home of his uncle, civil rights attorney Loren Miller, when she decided to ignore her mother's push for a career in education and become a lawyer instead. The daughter of a union organizer and politically conscious, she was already well aware of the impact that Miller's work to eliminate restrictive covenants had had on her own family. "It meant that we could move out of the little area in Los Angeles where we lived. To me, as a teenager, that was a big issue," she said recently.
Seeing Miller in his library at the party changed her life. That's me, she thought. I will have all those books and be able to go into court and make things very different for people.
When the time came for law school applications, Burke had one goal only. "I wanted to get into a good law school, so I could pass the bar." She was the second Black woman admitted to USC Gould, then known as USC School of Law, after Helen Wheeler Riddle (JD 1927). "I got a first-class education," Burke said.
Changing minds in changing times
One of the most heatedly discussed topics during her time at the law school was educational integration. A fellow student at the law school who seemed persistently immune to Burke's constitutional arguments for educational integration told her decades later that her perspective helped him win a high-profile case regarding adoptions by interracial couples. "It just shows that you never know what impact you have on people," she said about his turnaround.
Being a woman and Black, Burke faced a difficult road with regard to professional opportunities following law school. Burke was unable to get an interview with a law firm until 30 years after graduating. She began her career as a private lawyer with a focus on real estate and probate law while also serving as a hearing officer for the Los Angeles police commission.
Following the Watts uprising in 1965, she created a legal defense fund for people arrested in connection with what took place and was appointed by Gov. Pat Brown to serve on a commission to investigate the uprising's origins. She first ran for office in 1966 at his suggestion. In 1972, she was the first Black woman to serve as vice chair of the Democratic National Convention. In 1973, she started her first term in Congress, where she fought for legislation to better the situation of minority-owned businesses and of women entering the labor market. The first incumbent member of Congress to give birth, she returned to L.A. after running in 1978, unsuccessfully, for the position of Attorney General.
Burke made her biggest impact, politically, as a member of the L.A. County Board of Supervisors. Serving for one year after Gov. Jerry Brown appointed her in 1979 to fill a vacancy in District 4, she represented District 2 for 16 years starting in 1992. She helped to expand business and recreational opportunities in the community and to improve foster care. One of her programs included events that brought children from South Los Angeles to the ocean. "These are little things," she said. "But many of the children had never been to the beach."
Concerns about progress for women, minorities
To this day, Burke is often in situations where she is the only Black person or woman. Serving on the Amtrak Board of Directors since 2012, she has consistently been the only woman in a group of seven, and sometimes she wonders whether things have changed much for women. "I am concerned about the business opportunities for women and minorities," she said. "A few people have become presidents of organizations, and they move forward. But I don't see minorities and women in the mainstream."
Looking back, she has become increasingly aware of the support that she received from allies, sometimes without even knowing it. A women's legal sorority that she joined as a first-year student, Iota Tau Tau, saw its association with the national organization terminated because they accepted her, a Black woman. When Burke first heard this story after graduating, she was shocked.  She said she learned from the experience that "there are many people who are willing to make whatever sacrifice it takes to stand out for a principle."
Burke has always dealt with racism by fighting it. "My reaction was to never accept discrimination," she said. When a property owner in Sacramento wouldn't rent to her because she is Black, she sued. When she was refused admittance to a social event in college, she sued. "The person that discriminates against you should have to at least know that they have discriminated against you," she said. "I fought it in the law."