Tribute to head of USC Law Library recalls enthusiasm, wit and charm
By Lori Craig

Albert O. Brecht created a memorable first impression, recalled Pauline Aranas '81, associate dean and acting dean of library and information technology.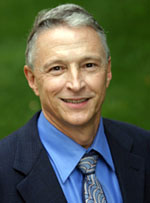 Albert O. Brecht
"You immediately noticed he was impeccably dressed, with tailored shirts and suits, and designer ties," Aranas said. "Then you were dazzled by his Texas charm and dry and engaging wit."

Colleagues, friends and family gathered to celebrate the life of Albert Brecht, associate dean, chief information officer and John Stauffer Professor of Law, who died March 26 at the age of 65. The tribute, held May 22 at USC's Town and Gown, included remembrances from friends and colleagues, and a string quartet performance of "One Hand, One Heart" from "West Side Story."

Brecht joined the USC Law Library in 1973 and was appointed director less than two years later, a post in which he served for nearly 40 years. And "serve" he did, noted several of those who spoke in his honor.

Brecht measured the quality of the USC Law Library by how quickly its staff got information to the faculty and students, said USC Law Dean Robert K. Rasmussen.

"Albert really imprinted that mantra, 'service, service, service,' in our law library," Rasmussen said. "Albert was always at the leading edge of taking the latest technology and bringing it to our law library. Albert was passionate about the library and shared his passion with others."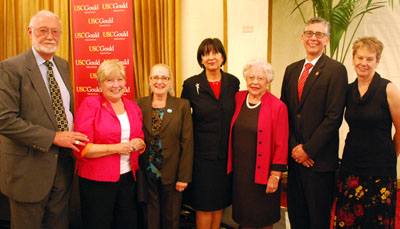 Brecht's brother-in-law and sister, Larry and Julianne Morgan, with Laura
Gasaway, Pauline Aranas, Judge Dorothy Nelson, Dean Robert K.
Rasmussen and Amy Ross.
When Judge Dorothy W. Nelson was dean of USC Law and preparing for a visit with the wife of the president of Egypt, she turned to Brecht for information on the current state of women's issues in the region. Within two days, Brecht had compiled an extensive bibliography about women's rights, education and other topics.
"[The Egyptian first lady] asked me, 'How do you know so much about our country?'" Nelson said. "And I said it was all Albert."

Brecht extended his service to his colleagues, employees and students.

"He had a gift, a real gift, for hiring the best talented young professionals," Nelson said. "He gave them constant guidance. He allowed them to do new things, to be creative. He helped them grow and develop and become some of the best librarians in the United States."

"In the classroom, Albert showed his students that he cared deeply about his subject matter, and more importantly, he cared deeply that his students learned it well," said Aranas, who knew Brecht as a teacher, supervisor, mentor and friend.

Brecht had a heart "as big as his home state of Texas and as warm as Texas hospitality," said Amy A. Ross, who came to know Brecht through their mutual involvement in USC Lambda LGBT Alumni Association.

"Albert was always the first person to ask how you were doing if he knew you were having a tough time or to give you an extra hug when he knew you needed it," Ross said. "He cared so very deeply about his family, his extended family, and his friends who became family."

When Brecht cared about a cause, Ross said, he put "that huge heart into it."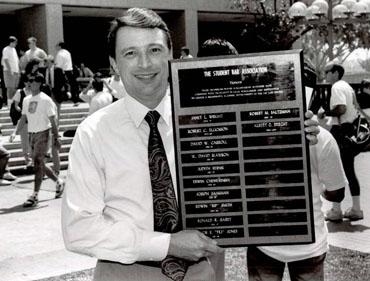 Brecht received the 1990 SBA Outstanding Faculty Award
One of his personal causes was USC Lambda, where as co-president, he initiated its inaugural scholarship fundraising campaign, bringing in $20,000. Ross estimated that over the years, Brecht's leadership and guidance resulted in Lambda granting more than $300,000 in scholarships.

And that legacy will continue to grow. USC Lambda and the USC Alumni Association are working to endow the Albert Brecht Leadership Award, which will support accomplished USC LGBT and allied students. Dean Rasmussen also established an Albert Brecht Memorial Fund to support future USC Law students.

Brecht earned his B.A. at North Texas State University and his J.D. at the University of Houston, where he met life-long friend Laura N. Gasaway, the Paul B. Eaton Distinguished Professor of Law at University of North Carolina School of Law, who described him as "warm, loving, very funny, unfailingly kind, and one of the best friends I've ever had."

When UNC dedicated a new wing of its law school building — a large part of which was to be library space — Gasaway "never considered anyone other than Albert" to speak at the event, she said.

"Not surprisingly, he was brilliant and charming," she said. "Our faculty and the North Carolina legal community were wowed by the depth of his knowledge, his insight, and the quality of the delivery of his talk.

"I will miss him forever, but I'm a better person because I had Albert Brecht in my life."