The Law School shaped his career, and in return Richard Chernick (JD 1970) helped build a home for ADR at USC Gould and committed the largest gift in its history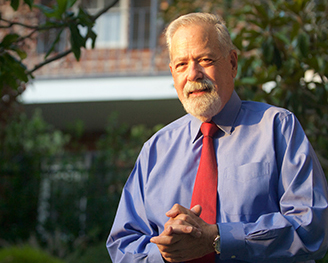 Richard Chernick helped to create the USC Gould School of Law Center for Dispute Resolution, one of the nation's longest-standing and renowned ADR programs.
A trailblazer and much-lauded leader in alternative dispute resolution (ADR), Richard Chernick (JD 1970) has further solidified his legacy in support of educating future leaders, joining his wife Karla in committing $13 million to USC Gould's law school building fund endowment — the largest single gift ever for the law school.
"I owe my career to USC," says Chernick, vice president and managing director of the Arbitration Practice at JAMS, the world's largest private ADR provider, based in Los Angeles, "and in particular to Judge Dorothy Nelson and to Bob Warren, a USC Law alum who hired me at Gibson, Dunn & Crutcher LLP. I really feel a debt."
Inspired by his gratitude for his education and the Trojans who supported him, and driven by his passion for ADR, Chernick helped to create one of the nation's longest-standing, most comprehensive and renowned ADR programs, the USC Gould School of Law Center for Dispute Resolution, and has taught as a lecturer in law since 2014.
The $13 million gift is among many significant contributions that Chernick has made to USC Gould over his long association with the law school.
"Rich has been involved with USC Gould for more than five decades — as a student, alum, instructor, adviser, and advocate," says Dean Andrew T. Guzman. "He exemplifies our dedication to excellence and service, kindly offering his expertise to enrich our school and its students. We are honored by this investment in our future from Rich and Karla. For years to come, their historic gift toward USC Gould's facilities will benefit students, faculty, and staff alike."
Trojans Helping Trojans
It's been 52 years since he graduated, but Chernick has a long list of reasons he still feels he owes a debt of gratitude to Trojans like Nelson and Warren (JD 1956). Then-Dean Nelson played a pivotal role at various points in Chernick's law school experience. First, she made sure he was able to finish law school. "When I ran out of money after the first year, she secured a full (Legion Lex) scholarship for my second and third years," he says. Chernick also noted that Dean Nelson helped his wife with finding employment on campus, which served to "further support us financially," he added.
Most importantly, Nelson inspired his interest in pursuing both ADR as well as judicial administration, a new topic she was teaching and on which he helped her write a case book. These became his major practice areas at Gibson Dunn, where he was hired in 1971 and was partner from 1977-1994, specializing in commercial litigation and domestic and international arbitration.
"Dorothy inspired me to be aware of alternative forms of dispute resolution, which led to my work as an advocate in commercial arbitrations and later international cases. This in turn led to my almost 30-year career as an arbitrator," says Chernick, who has conducted more than 1,200 commercial domestic and international arbitrations.
USC and Gibson Dunn helped him secure a clerkship with the California Supreme Court. And Warren became a mentor. "He was a fabulous role model and a great teacher — and a die-hard Trojan to his last breath," Chernick says.
A Bold Transition
At the height of his litigation career, Chernick made the bold transition to full-time neutral with the American Arbitration Association, which awarded him the Distinguished Service Award for Outstanding Contributions to the Responsible Use of ADR in 1993 and where he served on the board of directors for 10 years. In 2001, he was recruited by JAMS to build its national arbitration practice.
"I have had the pleasure of working with and learning from Richard for over two decades," says JAMS President Kimberly Taylor. "He is truly a pioneer within the alternative dispute resolution space, and JAMS would not be the organization that it is today without his contributions to shape our national arbitration practice and his support and guidance to help train our panelists. Richard's creativity, thoughtfulness and dedication make him a tremendous asset within the dispute resolution field and a greatly respected colleague at JAMS."
"I love what I do," Chernick says. "Every day is exciting and different. It requires my complete interest, attention, intellect and diligence to be able to manage an arbitration practice and handle 15 to 25 cases as a sole arbitrator or as a part of a tripartite panel."
In addition to arbitration and education, Chernick puts a high priority on helping organizations that provide legal services to people and communities faced with disadvantages. A former president of the Legal Aid Foundation of Los Angeles, he has been involved with the Western Center on Law and Poverty, which honored him with the Outstanding Legal Services Leadership Award in 1993, and the board of the Western Justice Center, who named him a Champion of Justice in 2019.
Throughout the years, Chernick has taken on various leadership roles — including chair of the Dispute Resolution Section of the American Bar Association and ABA's advisor to the Revised Uniform Arbitration Act — and has been profusely honored for his work. Most recently, he was named the inaugural inductee in the California Lawyers Association's ADR Hall of Fame in December 2021.
ADR at USC Gould
Some of Chernick's closest and oldest friends were USC classmates, and he has remained connected to the school, its faculty and administrators since his student days — participating in class reunions, Legion Lex, golf tournaments and other alumni activities and serving as chair of the USC Gould Board of Councilors. "I appreciate the quality of my education at USC and the highly collegial atmosphere, then and now, of the Trojan family."
Almost a decade ago, he approached then-Dean Robert Rasmussen and then-Vice Dean Scott Altman about offering a domestic arbitration class. "I had been teaching arbitration elsewhere, but I wanted to teach at USC," says Chernick, who is the author or co-author of leading texts on ADR, employment ADR and international arbitration and mediation.
When he started teaching, USC Gould got a major gift to start an ADR program. Chernick became the ad hoc director and eventually chair of the ADR Program Advisory Board. "I wanted to be a part of creating something substantial and appropriate at USC that responded to what is really a changing environment in how legal disputes are considered, assessed and resolved."
"[Clinical Professor of Law] Lisa Klerman and I, with the support of Dean Andrew Guzman and Associate Dean Deborah Call, put together what has become a very large array of ADR courses and activities," he says of the USC Gould School of Law Center for Dispute Resolution. Among those offerings are comprehensive JD and LLM programs, certificate programs, mediation clinics and the annual USC-JAMS Arbitration Symposium.
"We have built an ADR program at USC that rivals the best in the nation."