"The Legal Battle to Save the Southern Residents" to appear in upcoming issue of Environs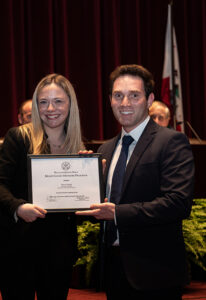 When 3L Bryce Lourié submitted a paper he wrote for his Ocean and Coastal Law class to Environs, the law journal of the University of California, Davis School of Law, he kept his expectations low.
So, he was pleasantly astonished when the paper, "The Legal Battle to Save the Southern Residents" was accepted and publication was scheduled for December.
"I'm super surprised and happy about this being published," Lourié says. "Professor Robin Craig encouraged me to submit this paper for publishing. She was very supportive during the process and gave great feedback while I revised my paper."
The paper focuses on the dwindling population of Southern Resident killer whales, a small population of orcas that live in the Pacific Northwest. According to Craig, the Columbia River/Snake River dam system, which limits salmon access to and from the Pacific Ocean and north into Puget Sound, near Seattle, Wash. has had a negative impact on the Chinook salmon population, the orcas' main food source.
Today, according to Lourié, only about 74 orcas remain in the area.
Craig felt the broad view Lourié took of the issue, expanding it beyond the threats to the killer whales, made the paper interesting to a wider audience.
"Bryce really dug into the topic from the perspective of helping the orcas, making it clear that the dams weren't just a problem for the fish," Craig says. "His paper thus adds to the ongoing debate about the hydropower dams, and he did an excellent job of distinguishing between dams that actually could be taken out without causing a power supply problem and those dams that probably aren't going anywhere because they are too critical to powering the Pacific Northwest, including parts of California."
For Lourié, long interested in ocean and coastal law, Craig's class helped him decide on a career in environmental law. When he graduates in May 2024, he plans to continue advocacy work in marine conservation and biodiversity at firm Greenberg Glusker LLP in Los Angeles, which has a robust environmental practice.