Andrew T. Guzman looked out onto a crowded reception hall adorned in cardinal and gold and smiled. After a career in academia that has spanned nearly a quarter century, Guzman was officially installed Thursday afternoon as USC's new provost and senior vice president for academic affairs.
As he stood behind the podium at Town and Gown in his new position as the university's second highest-ranking official and the chief academic officer, he instilled confidence in a room full of his peers that this university is changing the world.
"There's nowhere I can think of with bolder ambitions, with greater opportunity and a brighter future than where we are right now at the University of Southern California," Guzman said. "I want to thank everyone here for making this university what it is and for allowing me to be a part of it in this new role."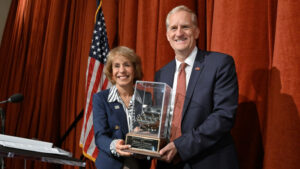 As provost, Guzman — who holds the Shelly and Ofer Nemirovsky Provost's Chair — is responsible for ensuring the university's excellence in teaching, research and scholarship.
Guzman, the former dean of the USC Gould School of Law, assumed the new role July 1, succeeding interim Provost Elizabeth Graddy, who served in that position following Charles Zukoski's decision to step down in November.
"From the moment we announced Andrew as our provost, he immediately got down to work," USC President Carol L. Folt said. "He really likes to take on the tougher questions and wants to work with all of us on questions that will impact not just today, but for generations ahead."
Family inspiration and support for new USC provost
Born to a Canadian mother and Dominican father, Guzman was USC Gould's first Latino dean and is USC's first Latino provost. During his speech Thursday, Guzman credited his parents and his brother with instilling his drive and views on work and life.
"Those people are the ones who inspired me as a child and continue to do so today," Guzman said. "They're the ones who set the standard I hold in my personal and professional life. Whatever success I've had or I have, it's they who really made it happen."
Guzman went on to thank his children and his wife. He'll celebrate his 30th wedding anniversary with her next month.
"Our relationship continues to be the greatest joy and the greatest ride of my life," Guzman said.
New USC provost discusses university's impact on the world
At a time when universities around the world are being viewed with greater skepticism, and academia itself is being accused of intolerance, elitism and being disconnected from reality, Guzman said USC is a perfect example of the fault in that way of thinking.
"I see one of the most welcoming places that anyone can occupy," Guzman said. "I see a heartfelt and action-oriented focus on opportunity and access.
"I see a place that's at the very front edge of changing the world in which we live for the better — from finding treatments for Alzheimer's, to innovations in AI, to defending our democracy, to expanding the frontiers of art."
He went on to describe USC as a place where ideas can be exchanged freely and disagreements can be had, so long as all parties are working toward the common goal of creating a better tomorrow.
"It's possibly the last place in our society where we know how to disagree civilly, how to debate, how to argue, and we can do that while simultaneously recognizing that every member of our community is welcome inside and outside the classroom," Guzman said.
"This ability to disagree intellectually, academically, is the single most important feature of our profession in our industry."
The road ahead
Guzman took the opportunity to highlight Folt's "moonshots," such as the Frontiers of Computing initiative, transforming health sciences and sustainability — specifically when it comes to the issue of climate change.
"In order to address what is possibly the greatest threat to humanity today, you need expertise and talent from all across the intellectual and academic spectrum," Guzman said. "And nobody has that talent like we do."
Guzman said that accomplishing these moonshots goes beyond bringing in and retaining the top faculty and staff.
"We will continue to recruit and enroll the best students in the nation and in the world, both at the undergraduate and the graduate level," he said. "We will continue to invest our time and energy to teach and train the students across the many different fields, so that they are ready to be the leaders that they will very soon be."
Guzman acknowledged that Folt's moonshots aren't easy undertakings, but ended his remarks with a vote of confidence in the university and the USC community.
"It turns out that there's no shortage of hard problems for us to deal with," Guzman said. "And it turns out that there's nowhere better than USC to take those on."