Intellectual Property and Technology Law Clinic brings student, alumnus together for employment opportunity
By Greg Hardesty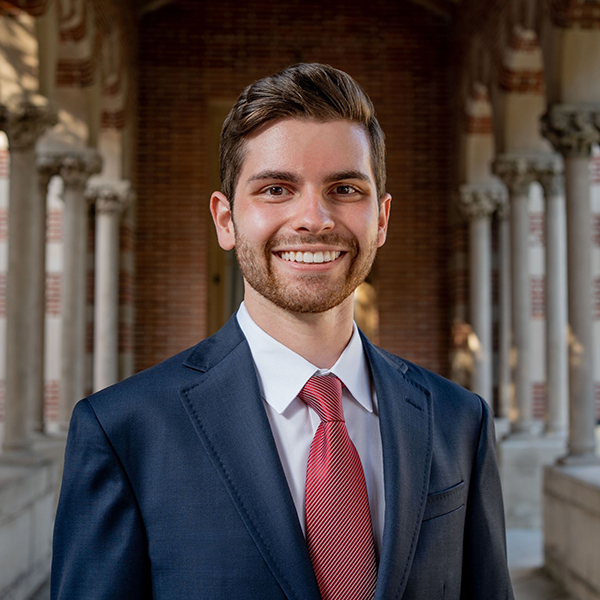 Eric Fram
Eric Fram was in his third year at the USC Gould School of Law when he heard something that crystallized his vision of his future.
It was a talk by Chris Perez (JD 2009), a partner in the boutique entertainment law firm Donaldson Callif Perez LLP, which specializes in representing independent producers of film, TV and web-based content on such issues as copyright, trademark and personal rights issues. During the lecture, sponsored by the Latinx Law Student Association, Perez touched on his time at the Intellectual Property and Technology Law Clinic (IPTLC), which Fram belonged to, as well as the focus of his firm, on clients aspiring to make the world a better place through creative works.
Fram had explored public service with summer internships with Holocaust Survivor Services and Elder Justice team of Bet Tzedek Legal Services and the California Department of Justice's civil division, but Perez' firm sounded like a place where he could support efforts to improve society on the creative side.
"The more he talked, the more he sounded like me — what I wanted to do," says Fram.
Last fall, after earning his JD and certificate in media and entertainment law (MET) from USC, he began reporting to one of his new bosses: Chris Perez. At DCP, Fram is now supporting independent creatives to execute their visions by protecting their expressive rights.
"This law firm really checked all the boxes for me," he says. "And the experience I got in the clinic was a very close mirror to what I actually do day to day at the firm."
A Chance to Make an Impact
Fram says his year in the IPTLC, which is run by Professor Jef Pearlman, gave him invaluable experience in providing a range of intellectual property-related services for the clinic's clients – most of them documentary filmmakers, including one who made a film about a local theater company. Perez, too, not only gained important experience but also met his future business partner through IPTLC.
Back in 2008, Perez worked with then-IPTLC director Professor Jack Lerner on a long-term project with pro bono counsel Michael Donaldson (now Perez's partner) to secure an exemption from the Digital Millennium Copyright Act for documentary filmmakers looking to take advantage of fair use.
"It was the most challenging project of my professional life, but it was by far the most rewarding," Perez says. "Aside from landing a job with Donaldson, it also gave me the confidence that I could make a real, discernable impact with a law degree."
Pearlman says he strives to make the clinic an opportunity for students to not only gain hands-on experience but to align themselves with the kind of work they hope to do after law school.
"Eric represents what we hope for in our clinic program: giving our clients great service, helping our students find their own path, and preparing them to do well by doing good as lawyers," he says.