Mediation Clinic students gain experience working on federal employee cases for Equal Employment Opportunity Commission
By Adriana Maestas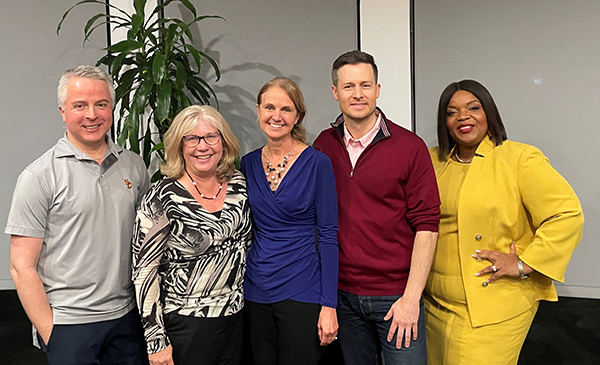 Hon. Diane Gross (second from left) with (from left) Mark Lemke (JD 2000), Professor Lisa Klerman, Martin Sullivan (JD 2010) and Angela Reddock-Wright, who provide supervision to Mediation Clinic students.
A long-standing partnership between USC Gould School of Law's Mediation Clinic and the Los Angeles office of the Equal Employment Opportunity Commission gives Gould students an opportunity to work with an influential alumna and helps the EEOC manage its workload.
The Hon. Diane Gross (JD 1993), a supervising administrative judge for the L.A. office of the EEOC, has been assigning cases to students in the Mediation Clinic since 2018, as one of several pools of mediators. Under clinic supervision, the students pore through lengthy investigative reports to prepare for and then conduct the mediations.
"It has been a great partnership for us because we have such a high volume of cases, and we don't always have the staffing needed to devote as much attention to mediation as would be optimal," says Gross. "It's wonderful to have this resource of USC law students to help us with our caseload. In turn, they gain the experience of resolving actual discrimination cases and mediating real employment discrimination disputes."
The Mediation Clinic's work with the EEOC involves federal employees who have a special administrative process for their discrimination cases, most of them dealing with race, gender, sexual harassment, disability, age discrimination and retaliation. It is challenging work — administrative judges typically review investigative reports as long as 1,000 pages, including exhibits and affidavits, to understand the factual background. The Los Angeles office alone has hundreds of cases pending with federal employees and agencies seeking resolution.
"We appreciate how Judge Gross is letting us handle these higher-level cases, and we know that she's appreciative that we are easing some of the workload. There's a mutual respect and mutual gratitude in how we work with Judge Gross and the EEOC," says 3L Danny Costandy.
3L Brian Lam says working with the EEOC has given him a clearer perspective of the resolution process in the federal government. While Lam is interested in pursuing a career in criminal law, mediating the EEOC cases has exposed him to the civil and administrative process, and, importantly, experience working directly with the disputants.
"I'm learning a lot about how to listen to two parties who work in the same agency," he says. "A lot of times, we're dealing with clashing personalities, and people who aren't communicating in the most straightforward way. Our job is to help the parties come to an equitable solution."
Students work under the supervision of USC Gould Professor and Mediation Clinic Director Lisa Klerman, as well as Gould lecturers in law Martin Sullivan (JD 2010), Mark Lemke (JD 2000) and Angela Reddock-Wright.
Klerman is proud of what her students have accomplished. "The skills they gain that make them highly effective mediators are the same skills that give them a leg up as they begin their legal careers."