Harvard Prof. Janet Halley presents Distinguished Lecture

- By Melissa Zonne

The concept of family law has seen much debate in recent years as modern family forms change and challenge its legal definition.

In the ninth annual Center for Law, History and Culture Distinguished Lecture, Janet Halley, Royall Professor of Law at Harvard Law School, guided her audience on a journey through the development of family law as it is known today and delved into its potential future. The Center celebrates its 10th anniversary in February.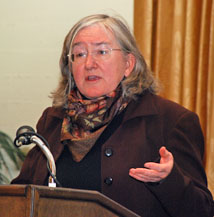 Janet Halley
In her lecture, titled, "What is Family Law? Marriage and Contract in the Rise of Legal Science," Halley provided a complex background on the roots of the concept of family law, tying it with the modern issues of marriage contract. Through historical evidence, anecdotes and even genealogical studies, Halley showed that society's perception of the "traditional family," often thought to be threatened by new institutions such as homosexual partnerships, is actually an ever-changing institution itself.

"In the same-sex marriage debate, both sides are arguing the same thing," said Halley. "Marriage is fundamental to social order and the good life. It's an inevitable part of legal order."

Halley supported her theories with a thorough visual display: photos, genealogical records, slave ownership accounts, and most importantly, the development of fundamental human liberties through documents beginning with Blackstone's 1765 "Rights of Persons." Halley's lecture emphasized the different ways in which marriage and family have been legally defined over time, supporting her conclusion that it inevitably will change again.

"This idea of marriage as 'status,'" Halley said, "I want to go back and find out: when did that start in history?"

Marriage, she explained, complicates the ambiguous distinction between family and contract, creating a question of the role of human will and the continued importance of a marriage status in every society.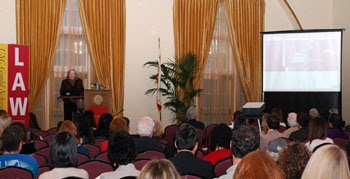 "Americans need civil law to have a law of commerce to unite us to the global market," Halley said. "But we don't do the same thing with family. Family stays at home."

Halley was Professor of Law at Stanford Law School and Assistant Professor of English at Hamilton College prior to her current position as Royall Professor at Harvard Law School. She has authored books, including titles such as "Don't: A Reader's Guide to the Military's Anti-gay Policy" and "After Sex?: On Writing Since Queer Theory."
-Photos by Maria Iacobo