By Kristy Hutchings
Newly appointed head of Amazon Studios Jennifer Salke made effective use of her platform as the keynote speaker at the annual USC Gould and Beverly Hills Bar Association's 2018 Institute of Entertainment Law and Business. Salke discussed her plans to develop an inclusive workplace, a diverse catalog of content for Prime users, and a strong presence in international competition.
Hundreds of attendees flocked to the 60th annual USC Gould-BHBA Institute, held this year on October 20. Esteemed entertainment attorney Bruce M. Ramer interviewed Salke, and they began by discussing the importance of diversity
and inclusion, both on and off screen.
Coming in as the replacement for Roy Price, the former Amazon Studios head who resigned after allegations of sexual harassment, Salke has faced the difficult challenge of rebuilding trust and confidence in Amazon leadership.
Salke underscored her commitment to fostering diversity in the workplace and also on the need for diverse content in order to compete in an ever-evolving entertainment environment. For instance, Salke outlined the importance of opening up Amazon Prime to the female audience, saying that Amazon had "barely touched our opportunity to pull in this massive audience." She also detailed her experiences working with female creators such as Nicole Kidman and director Reed Morano, and the ways they have inspired her to embrace more diverse storytelling in order to broaden Amazon Prime's options and give its users a "full plate" of content.
Salke disclosed that Amazon is planning to take its content to the next level by linking Prime with its overarching services, referencing a deal struck with Heidi Klum and Tim Gunn to create a fashion competition show that will be "exciting and engaging, but at the same time have a partnership with the consumer area and the Amazon Fashions." Salke joked: "You could literally have the outfit delivered to you by a drone that night," reinforcing Amazon's undeniable presence at the forefront of innovation in both the consumer and creative industries.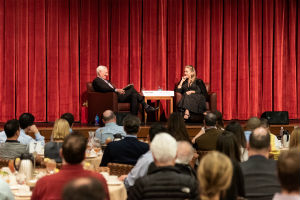 Furthermore, Salke gave her take on the competition between Netflix and Amazon Prime, claiming that she believes there is room for both. "We are competing for people's time, so it is going to be about where these hit shows exist and how we can drive people to most people to those shows that break out." Salke reiterated her disinterest in the competition, instead framing Amazon as a self-reflective, always-evolving company committed to cultivating a highly desirable work environment and scouting the best of the best in order to produce the best content.
The duo went on to consider the pros and cons of the Subscription Video On Demand model on creative and financial decision making, Ramer pointing out that Amazon and its competitors are not bound to advertisers, ratings, and theatres in the same way that traditional media companies are. Salke came to the defense of old media, citing her experience at NBC as evidence of the perseverance and quick adaptation of the industry, as well as its continued ability to draw in large audiences. She went on to explain that for Amazon, film strategy is still being refined, but that the "...sweet spot is to create this addictive, can't-miss global television shows. That's going to be the most effective way of getting people to come to Prime and stay with Prime."
The USC Gould-BHBA Institute, as well as the conferences that CLE organizes throughout the year, have become major attractions for students who hope to attain industry-specific knowledge as they build their own careers. USC Gould student Rachelle Camoesas (LLM 2019) emphasized her enthusiasm for conferences like these, saying that "When USC hosts an event like this, you know that you're going to learn something fascinating because they have connections with so many brilliant, successful people at the top of their fields."
Find out more about USC Gould's Continuing Legal Education offerings.