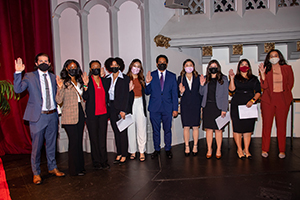 Gould alums gather on stage. (Photo by David Giannamore)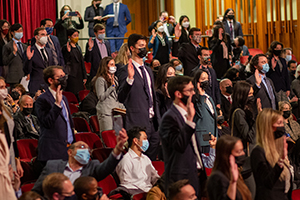 The ceremony was held at USC's historic Bovard Auditorium on Dec. 7. (Photo by David Giannamore)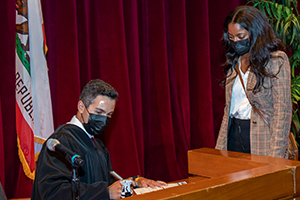 The Hon. E. Carlos Dominguez, a Gould alum, signs an oath card. (Photo by David Giannamore)
Cheers filled Bovard Auditorium when the 2021 Bar Admission ceremony took place on Dec. 7, the final step in USC Gould School of Law alums' journey to becoming full-fledged attorneys.
Results indicated a 94% pass rate for USC Gould alums taking the California bar, placing Gould in the top three among all law schools statewide.
After two years without an in-person ceremony, the celebration took on special significance as friends and family feted the candidates for the bar, carrying congratulatory bouquets and ringing the stage with camera phones as candidates had their bar cards officially signed after the formal ceremony.
"Given the uncertainties of the past year and a half, your ability to reach this point is even more impressive," said Dean Andrew Guzman in opening remarks. "The pandemic has taught us all new lessons in perseverance, and reminded us about the value of being caring and collaborative. I know you will be better lawyers because of these experiences."
Serving as bailiff, Student Bar Association President Rebecca Alch called the admissions to both the State Bar of California and the U.S. District Court for the Central District of California to order. The Hon. E. Carlos Dominguez (JD 2005), recently appointed as judge of the Superior Court of California, County of Los Angeles, took some time before administering the State Bar oath to remind the candidates to thank those who supported them through law school and to remember their privilege as attorneys.
"Being an attorney is more than a job, more than a profession, it's a calling," he said. "And it is up to you to ensure that you use your privilege as an attorney with care, compassion, responsibility, and duty to others who are less fortunate.  I encourage you not only to focus on becoming a good lawyer by challenging yourself, but also use your gifts as an attorney to help others in your community."
The Hon. André Birotte, Jr., before administering the federal oath for the U.S. District Court, noted that passing the bar was a momentous milestone — and one of his most cherished memories along with having his first child. He urged the candidates to use their positions as attorneys to be of service in as many ways as possible, and to remember the importance of having a "noble reputation," pointing out that "your reputation takes years to build, and seconds to destroy."
"Those that act with integrity, and those that act with fairness, and those that act with professionalism, will stand out, and those reputations will last you all a lifetime," he said.