Professor Franita Tolson testifies before Congress on elections issues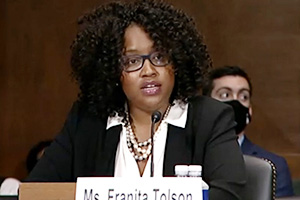 Vice Dean Tolson speaks before the Senate.
USC Gould constitutional law expert
Franita Tolson
provided expert testimony to Congress three times in a span of 10 weeks, providing key insights on voting rights, voting access and election law to federal officials.
Most recently, Tolson testified before the U.S. Senate Judiciary Committee — Subcommittee on The Constitution, at a Sept. 22 hearing on "Restoring the Voting Rights Act: Combating Discriminatory Abuses." Her presentation on Capitol Hill focused on Congress' broad authority to enact the practice-based preclearance provision of the Voting Rights Advancement Act of 2021.
"The hearing highlighted the need for an updated and modernized Voting Rights Act as minority communities face unprecedented threats to their right to vote," she said. "States like Georgia and Texas have passed restrictive voting laws this year and, in a recent case, the Supreme Court narrowly interpreted a key provision of the Voting Rights Act. It is clear that Congress must act."
Offering scholarly insights to the House
Tolson, vice dean for faculty and academic affairs at USC Gould, testified in early July on the Elections Clause of Article I, Section 4 of the Constitution before the U.S. House Committee on House Administration. On July 27, she was called to testify at a hearing of the U.S. House Committee on the Judiciary Subcommittee on the Constitution, Civil Rights, and Civil Liberties. The representatives asked her about congressional authority to enact practice-based coverage, which would codify federal oversight of any changes to certain kinds of election rules.
An earlier invitation to testify had come in 2019. Then, as now, two bills focused on voting rights, access and protections were being advanced in the House — H.R. 1 and H.R. 4. The former (also known as the For the People Act) would expand voting rights, stiffen campaign finance laws, re-enfranchise people with felony convictions, ban partisan gerrymandering and create new ethics rules for elected officials.
The latter (also known as the John Lewis Voting Rights Advancement Act) would fix the Voting Rights Act of 1965, key portions of which were struck down in the 2013 Supreme Court decision, Shelby County v. Holder. Neither bill had cleared the partisan-divided Senate in 2019. And with the filibuster rule in place, Tolson doesn't expect H.R. 1 or H.R. 4 to make it through this year, either.
"But we have to try," she says. "These issues are in flux. Our democracy hasn't reached its full potential. Congress is essentially staking out its position and saying to the court: 'This is how we are interpreting our powers. These are the problems as we see them.' I think that dialogue is important, even if the law doesn't pass."