By Anne Bergman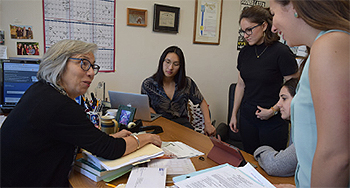 Prof. Clare Pastore leads the the Access to Justice Practicum.
Each spring, Prof.
Clare Pastore
and her Access to Justice Practicum students work with nonprofit advocates on issues of civil rights, poverty, disability and access. Below is Pastore's account of some of the cases they have taken on.
Punishments for Poverty
Since 2015, at least one project each year has related to the fines and fees imposed on low-income persons who commit very minor infractions such as failing to stop at a stop sign or littering from a car. California's fines and fees in traffic court are among the nation's highest. Hundreds of thousands of Californians have had driver's licenses suspended and/or collection agency action against them because of these fees. Along with many advocates around the state, we have been involved in litigation, legislative advocacy and on-the-ground research (such as traffic court observation studies) to address these issues.
In 2018, we settled Alvarado v. Los Angeles Superior Court, which created a system requiring that the L.A. Superior Court conduct "ability to pay" hearings so as not to impose unpayable fines on the indigent. Sierra Gronewold Villeran (JD 2015) and Allison Fisher (JD 2015) were among the students who worked on Alvarado. They both eventually became attorneys in public defender offices working on related issues. An additional case, Hernandez v. DMV, regarding license suspension is currently on appeal.
Keeping Kids Safe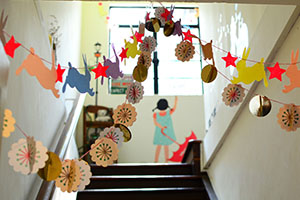 We have worked on four cases over the years with the Alliance for Children's Rights, a Los Angeles nonprofit that represents grandparents and other foster caregivers for children who have been abused or neglected.
In 2015, Sam Brown (JD 2015) and I, with the Alliance, filed and later won Compton v. Department of Social Services (CDSS), invalidating an unlawful barrier the state had erected to full benefits for kids who are in foster care and also have significant developmental disabilities.
In 2010, Cristyn Chadwick (JD 2011) and Natalie Quan (JD 2011) worked with me and the Alliance on Gofas v. CDSS, in which we forced the state to resume administrative rehearings after they unlawfully and unilaterally stopped providing them. The case settled for full benefits for our client, restoration of rehearings, and attorney's fees to USC and the Alliance.
In 2009, Meaghan Field (JD 2010), Mike Thompson (JD 2009) and I worked with the Alliance on Harris v. CDSS, in which the Superior Court overturned the state's unlawful policy of denying administrative hearing review of decisions refusing to approve a proposed foster parent's home.
Fixing the System
We have also filed amicus briefs in several cases involving systemic issues of justice. These have included a brief on behalf of the nation's leading legal ethics professors urging the Ninth Circuit to uphold sanctions against federal government lawyers who misled the Court (with Aaron Chiu and Annette Wong, both JD 2012), one in the state Court of Appeal on behalf of tenants on a complex question of rent control law (with Maya Roy and Sarah Truesdell, both JD 2008), and one in the California Supreme Court on meal and rest break requirements for low-income workers (with Daniel Ballon, JD 2009, and Jordan Kwan, JD 2010).