Story and photos by Maria Iacobo
"It would be wrong to conclude that the best way to go about life is to always play it safe," the Honorable Goodwin Hon Liu told the USC Gould School of Law Class of 2012 at commencement ceremonies held on May 11 in USC's McCarthy Quad.

Liu, an associate justice on the California Supreme Court, shared his own "failures in life's journey" and what he learned from each experience before exhorting the graduates to embrace failures, look for the lessons to be learned from them, and "step up, speak up and take a risk."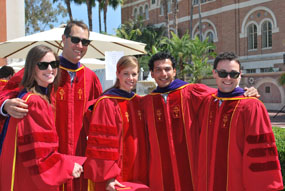 Grads pose for photos before commencement

Vying to earn a place on his high school basketball team despite his relatively small stature, Liu said it was his "crowning achievement" to make the team, but he soon learned it was a Pyrrhic victory.

"I didn't realize there was a big difference between making the team and actually playing in any games," Liu said. "I excelled at warming the bench."

Liu also shared his "rather significant and public failure" – the derailment of his nomination to fill a vacancy on the U.S. Court of Appeals for the Ninth Circuit.

"If being nominated by the president of the United States to serve as an appellate judge is a major high, then having your nomination filibustered by the Senate is certainly one of the lowest lows."
Liu's nomination languished for more than one year amid opposition from Republicans that he was too liberal. Liu eventually withdrew his nomination to the post in a letter to President Obama. He had become the first Obama judicial nominee to be successfully filibustered in the Senate.

"I had a paper trail that was a target-rich environment," Liu said, noting that he had written on school segregation and social welfare rights, supported policies to promote minorities and the poor, and supported affirmative action and same-sex marriage.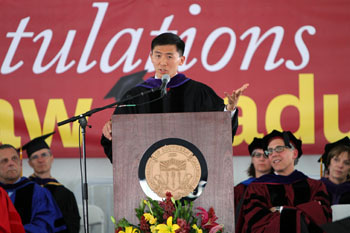 The Honorable Goodwin Hon Liu addresses the Class of 2012

"What's the lesson here?" Liu asked his audience. "Is it that law students and young lawyers should you be careful about what you write and say, or on taking a position for fear of losing a future opportunity?"

Not only would that be wrong, Liu said, but it would be a betrayal for such accomplished people.

"My worry is not that you won't succeed, it's that you will never fail," said Liu. "It's that you will live successful, comfortable lives while never leaving your comfort zone, never taking risks that could lead to disappointment or failure."

Liu identified the many upsides that failure can provide, such as pushing the boundaries, challenging one's self to do something you didn't know you could do and providing a "gateway to new opportunities."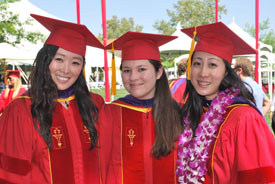 Christina Lee, Rebecca Suarez and Henrietta W
Dean Robert K. Rasmussen conducted USC Gould School of Law's 2012 commencement ceremonies with several hundred family, friends and law school faculty in attendance. Diplomas were handed out to 220 J.D. candidates, 133 LL.M. candidates and 4 M.C.L. candidates representing 28 countries in six continents.

Rasmussen told the audience that the new graduates' legal education was earned beyond the walls of their classrooms.

"Dozens of today's graduates provided needed legal services at many non-profit organizations in Los Angeles," Rasmussen said. "By doing this, they witnessed firsthand that the legal skills they learned at USC can make an important difference in people's lives."

Maya Sukumar, president of the Class of 2012, spoke on behalf of the graduating J.D. candidates.

She told family members, "You should know that your law grad is part of an incredible group of thoughtful, generous, hilarious and brilliant students."

Sukumar outlined her project that had the Class of 2012 "pay it forward" to the 1L and 2L classes. Dubbed the 2012 Peer Career Fair, the event allowed 3Ls to offer the Classes of 2013 and 2014 advice and mentorship for law school and beyond "to make USC Law and the law school experience just a little bit better."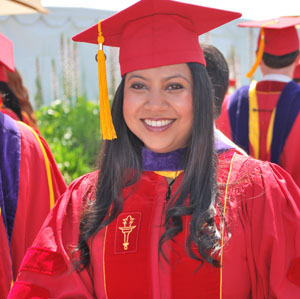 Maya Sukumar, President, Class of 2012


Tiffany Li Yew Heah, an LL.M. candidate from Malaysia, spoke on behalf of her fellow international LL.M. candidates.

"I want to remind you fellow classmates, professors and staff that in this short time on earth, our goals cannot be planned or executed without being laced with a few common themes that I have appropriately borrowed from Southern California," said Heah. "The force is with you. Live long and prosper. To infinity and beyond. I'll be back."

Amid the cheers, Heah closed by thanking her classmates in more than a dozen languages reflecting the cosmopolitan make-up of the Class of 2012.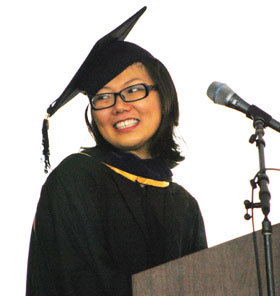 Tiffany Li Yew Heah, LL.M. Class of 2012