Alumnus You Chung Hong helped thousands of families, becoming the nation's foremost Chinese attorney.
By Julie Riggott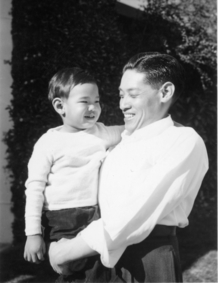 Y.C. Hong with son Nowland in the late 1930s. (Credit: Photo courtesy of the You Chung Hong Family Collection at the Huntington Library.)
You Chung (Y.C.) Hong (LLB 1924, LLM 1925) became the first Chinese American admitted upon examination to practice law in California while he was still a student at the USC Law School and later became the nation's foremost Chinese attorney.
Hong (1898-1977) spent his life fighting for immigrant rights and the repeal of the Chinese Exclusion Act of 1882, the first U.S. law to base immigration restrictions on ethnicity. Hong's impact on Chinese Americans cannot be overstated, considering that he helped more than 7,600 immigrants reunite with their families. His legal work and political and civic engagement leave an impressive legacy of hard work, perseverance and dedication.
"My father's life certainly is a role model in that you can achieve things from very little," says his son Nowland Hong (JD 1959). "Other Chinese people saw that you could be a lawyer, you could be successful."
An American Dream Story
Hong's father came to California to work on the Transcontinental Railroad and in the borax mine in Death Valley. He died in 1903 when Hong was only 5, leaving his mother as sole caretaker for him, an infant brother and his sister. She worked as a cigar roller and seamstress in San Francisco and didn't speak English.
Upon graduating high school in 1915, Hong started an English-language school for Chinese immigrants and worked as a bookkeeper for Chinese restaurants. He moved to Los Angeles in 1918 to find employment to help support his mother, nieces and nephew. He found work as a translator for the Immigration Service, where he met a Japanese interpreter who was attending USC's law school. He convinced Hong of the advantages of a law degree.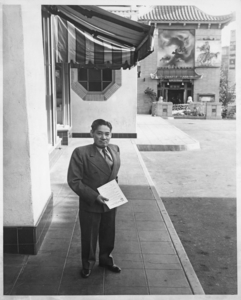 Y.C. Hong in the 1940s or 1950s in Los Angeles' New Chinatown, which he was instrumental in helping to plan.
(Credit: Photo courtesy of the You Chung Hong Family Collection at the Huntington Library.)
In 1920, Hong enrolled in USC's four-year night program, working during the day and attending law school at night. He borrowed textbooks from classmates. Still, he excelled, passing the bar in 1923.
As a Chinese American, he faced obstacles, including not being admitted to the Los Angeles Bar Association in the 1920s, when he set up his practice. In the 1930s, he couldn't even buy a home for his family.
"In those days, Chinese were not allowed by realtors in great part and by some statutes to own property," says Nowland, who is of counsel at Best Best & Krieger LLP. "His close friend purchased the house he wanted in what is now known as Koreatown and then resold it to him."
Hong gave a voice to the Chinese community. Before he was 30, Hong testified before the U.S. Senate Hearing Committee on immigration laws. He befriended politicians and lobbied the government for immigration reform in Washington, D.C.
When he was 28, he was elected president of the Los Angeles chapter of the Chinese American Citizens Alliance, a civil rights organization of which Nowland was also president. His activities there built upon his immigration work. "In the early years, when my father first joined, they were seeking to unite families because husbands and fathers were here in the United States and their wives and children were in Southern China mostly."
Hong was also instrumental in the construction of the Los Angeles New Chinatown, the first planned Chinatown owned by those of Chinese descent in North America, in 1938. He moved his practice there, and a plaque commemorates his status as the first Chinese American lawyer in California.
"The legacy of Y.C. Hong is evident by looking at today's thriving Chinese American communities found through Southern California and beyond," says Li Wei Yang, curator of Pacific Rim Collections at the Huntington Library, Art Collections and Botanical Gardens, which holds the Hong family archives. "In a sense, he helped pave the way for Chinese-Americans to achieve social, economic and political success."
Hong's philanthropy also benefitted USC Gould and generations of students by contributing to fundraising efforts
Continuing Hong's Work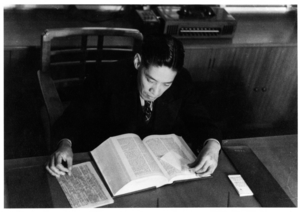 Y.C. Hong in the late 1940s-early 1950s. 
(Credit: Photo courtesy of the You Chung Hong Family Collection at the Huntington Library.)
It was not a fait accompli that Nowland would become a lawyer. He came around to the idea of law school himself when he realized as an undergraduate economics major at Pomona College that his true strength was in writing.
"My father didn't really encourage me to be a lawyer," Nowland says. "He wanted me to do whatever I thought I would enjoy doing. That was the same for my brother."
His brother, Roger, earned two degrees at USC: in architecture (1965) and urban and regional planning (1968).
Nowland has practiced law for more than five decades in Los Angeles, working as a deputy in the Los Angeles City Attorney's Office before going into private practice. One of his high-profile cases as a litigator wasrepresenting a major contractor in the litigation following the 1980 MGM Grand Hotel fire in Las Vegas.
Nowland followed in his father's footsteps in other ways as well. He is a founding member and served twice as president of the Southern California Chinese Lawyers Association, which he started with Albert Lum (LLB 1965) in 1975. Today, SCCLA is one of the largest and most active diversity groups in L.A. County, says Nowland, who earned a Lifetime Achievement Award from the group in 2016.
"When I started practicing, there were maybe 15 lawyers of Chinese descent in the Los Angeles area," Nowland says. "That has changed. The idea of diversity in the legal profession and other professions is a very important issue."