Saks Institute for Mental Health, Law and Policy holds fifth annual symposium

-By Gilien Silsby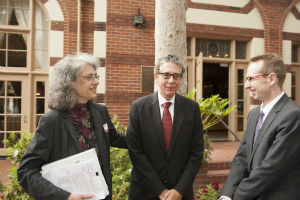 Prof. Elyn Saks speaks with Dean Bob Rasmussen and USC Provost Michael Quick.
When USC Gould Prof. Elyn Saks spoke at a recent symposium looking at mental health on college campuses, she recounted her days an undergraduate at Vanderbilt University, and a law student at Yale. This is when she first started displaying symptoms of schizophrenia – a frightening, isolating experience exacerbated by being away from home.
"I was living a waking nightmare with bizarre images, and utter, utter terror," said Saks, at the fifth annual Saks Institute for Mental Health, Law and Policy symposium held at USC. "It's hard to imagine now how I faced these problems when I was so young, and away from my family."
What saved her were professors and classmates, who encouraged her to seek treatment at a time when mental illness was not well understood and heavily stigmatized.
The symposium, "Mental Health on Campus From Admission to Graduation: Keys to Success for University, Community College, and Veteran Students," brought together virtually every stakeholder from USC's campus, as well as key stakeholders from colleges from across the country to share strategies, policies and practicum.
Speakers at the one-day event included professors, student service advocates, admission officers, campus veteran affairs personnel and community college administrators. In addition, several students shared their stories of how they successfully managed while attending college and university.
"It's really important that everyone who comes into contact with students are aware of symptoms and in a position to offer help – even if it's simply a referral to the health center," said Saks.
Because people with mental illness often become symptomatic when they are in their late teens and early 20s, universities are the first line of defense for helping students, said Karen Carr, associate dean of students at Cornell University.
"For all its intensity, Cornell is a caring university," Carr said. "Before students arrive, we ask them to fill out a health form that asks if they've been depressed, have a learning disability or eating disorder, etc. Students receive personal letters that invite them to come by the health center, so we can develop a relationship right away."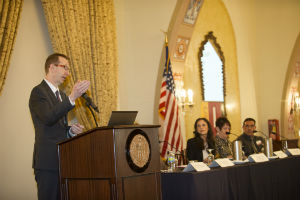 USC Provost Michael Quick introduces the panel discussion at Town & Gown.
For many students, that kind of outreach is key to their success, said Anthony Hassan, director of the USC Center for Innovation and Research on Veterans and Military Families. Many veterans are challenged with adjusting from being in battle to being in the classroom. "Veterans are facing challenges so we need your support on campus. I would like you to look through a different lens. … Please don't stereotype and put us in a corner, we have a lot to offer," Hassan said.
Ilene Rosenstein, director of Counseling and Psychological Services at USC, said universities and community colleges should not take a "one size fits all" approach when it comes to managing student struggles. "The tremendous challenge is we need to understand how to help specific populations in specific ways…. There are so many wonderful services out there but we need students to feel the trust and the help. If you think about it, we as administrators, are just members of the community. We need to serve and train key people across campus like police, students, faculty, staff, parents so they can make a difference."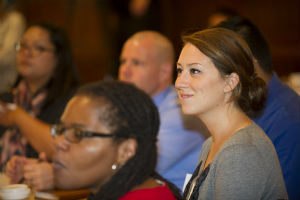 USC Provost Michael Quick said he is committed to providing stellar mental health services to his students. "Mental health issues on our campus is such an important topic. It's one of the largest issues our student affairs faces. At USC, our commitment is to scholarship and consequences, and I think we are failing as a great research university, if we are not confronting what is a really big issue and not offering solutions to it."