Ethics, Mental Illness, and Mechanical Restraints discussed

- By Gilien Silsby
- Photos by Lori Craig
Click here to watch the video of this event.

Three nationally respected authorities on mental illness - hailing from academia, advocacy and the legal arena - spoke at the inaugural symposium of USC Law's Saks Institute for Mental Health Law, Policy, and Ethics.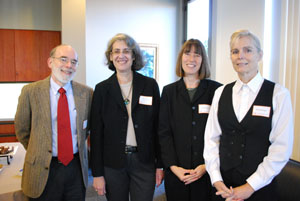 Paul Appelbaum, Elyn Saks, Susan Stefan and Kathi Stringer

The Nov. 11 event, "Ethics, Mental Illness, and Mechanical Restraints," drew an audience of more than 130 lawyers, psychiatrists, and academics from around the country as well as USC students and faculty.

Organized by USC Law Prof. Elyn Saks, recipient of a 2009 MacArthur Foundation "genius grant" and founder of the Saks Institute, the symposium gave an overview and history of mental health issues as well as a look at the legal and ethical issues surrounding mechanical restraints used in mental hospitals.
"It's not by accident that today we are discussing mechanical restraints as part of our first distinguished lecture series," Saks said. "My first law article was on the use of mechanical restraints and I myself was restrained for long periods of time years ago. It's a topic that has been a big part of my life."

Paul Appelbaum, M.D., a prominent professor of psychiatry, medicine and law at Columbia University, was the event's Distinguished Lecturer. He discussed coercive treatments in psychiatry and provided an outline of the cutting-edge issues at the intersection of mental health law, policy and ethics.

"We need to be extremely cautious about the use of coercion," Appelbaum said. "The challenge is how to do it in a proper way and a way that doesn't harm people.

"A blanket endorsement of coercion of people with mental illness is inappropriate, but a blanket rejection may be difficult to sustain. Those are the challenges policymakers face. The goal today is limiting its use. Hard paternalism may only be appropriate when people represent a danger to others around them."

Susan Stefan, J.D., a leading expert on mental health law and the Americans with Disabilities Act, discussed the legal issues surrounding the use of mechanical restraints.

Although much progress has been made in the past two decades on reducing the use of mechanical restraints, most of the improvements have been made by changes in the law and culture - not by going to court, she said.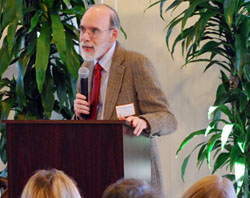 Paul Appelbaum
"Litigation is not a good means to change culture, because it doesn't change hearts and minds any more than saturation bombing does," Stefan said. "The culture can be changed by certain kinds of regulatory and policy changes, which look boring and procedural, and don't grab headlines…. Changes in the law and regulations are necessary to reduce and even eliminate the use of restraints."

In some cases litigation is necessary, she said. Stefan described the case of one of her clients who had been restrained for more than 80 hours.

"That's three days and eight hours. She was also restrained … because she had shown signs of bulimia. This restraint was the only treatment offered for her eating disorder. …These are the kinds of situations in which litigation is an appropriate tool."

Kathi Stringer, an activist for people with mental illness and someone who has experienced mechanical restraints herself, gave a viewpoint from a consumer's perspective.

"Restraints are very abusive, degrading and painful," Stringer said. "My view is we have to make it stop and that's what my journey is about."

Although she would like to see restraints eliminated completely, in the meantime, she is advocating for implementing basic rules regarding their use.

Stringer would like to require that those who restrain people fill out questionnaires and provide reasons for the restraints and document the amount of time a person is restrained. Stringer has looked at the use of restraints in her Riverside, Calif., hometown, as well as the state of California.

"People often say that restraints are patient driven, but I'm wondering if maybe it's staff driven," she said.

The Saks Institute, headquartered at USC Law, is a collaborative effort that includes faculty members across seven USC departments: law, psychiatry, psychology, social work, gerontology, philosophy and engineering. It is funded with a portion of the $500,000, no- strings- attached award Saks received from the MacArthur Foundation.

The institute will spotlight one important mental health issue per academic year, and each fall, experts on the topic will give a Distinguished Lecture. In the spring, the Institute will host a symposium at which Saks hopes model laws and policy recommendations can be developed. Cambridge University Press has expressed interest in publishing each year's proceedings.