Professor Dan Simon's course focuses on policy and reform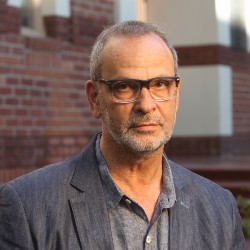 Prof. Dan Simon's new course explores how the American criminal justice system is intended to operate and how it actually operates.
Professor Dan Simon has been researching and writing about the American criminal justice system for many years. Troubled by the direction he sees it heading in and the possible damage to democracy, he is offering a new course this fall, "What's Wrong with the American Criminal Justice System?" The course objective is to explore what about the system is not working properly and what reforms might set it right again.
"From a pedagogical point of view, it's our duty as legal educators to provide our students with a profound understanding of the legal tools at their disposal to make them effective lawyers," says Simon, Richard L. and Maria B. Crutcher Professor of Law and Psychology. "That's what we do for the most part. But, we cannot ignore the fact that there are legal domains where there is a wide gap between how the system is supposed to operate and how it actually does."
"This course asks questions that go beyond the doctrine, statutes and court decisions. It focuses, rather, on questions of policy and asks whether we are meeting minimal standards for a 21st-century democracy."
The course, open to a dozen students, has at its foundation Simon's explorations of the issue of accuracy in criminal justice, which he wrote about in his 2012 book "In Doubt: The Psychology of the Criminal Justice Process" (Harvard University Press). With subsequent research, it became obvious to Simon that accuracy was far from the only issue. Compared to decades past and to other industrial democracies, "it seems fair to state that the American criminal system has gone off the rails."
"We are plainly off the charts in the number of people we incarcerate, in the length and harshness of punishment, in the debilitating restrictions following release, in the societal impacts on families, children and neighborhoods, and much more," Simon says. "We tend to deny prisoners the dignity, privacy and respect that are due to every member of our society. We don't invest in training and rehabilitating. There are other ills that come in the form of rushed trials, nondisclosure of evidence, flawed forensic science and misconduct by law enforcement officials. All of this tends to culminate in defendants accepting harsh guilty pleas. Something is fundamentally wrong."
Citing criminological studies, Simon adds, "The tragedy is that this harshness fails to deliver the societal benefits that it seeks. Effectively, our system of over-punishment ends up hurting society. Profound changes are needed to confront these deep-rooted issues if the goal is a fair society."
Simon sees the "progressive prosecutor" movement as a repercussion to the severe trends that have dominated the criminal system for decades." He cautions against denouncing all law enforcement agents, as there are those who "to be sure, are conscientious and professional."
With a broader view of how the criminal justice system operates, Simon says he hopes the course will help students be more thoughtful and effective practitioners.  "My hope is that they will also become wise policymakers, and make the system more humane."