Judge Dorothy W. Nelson Lecture announced at Gould ADR symposium.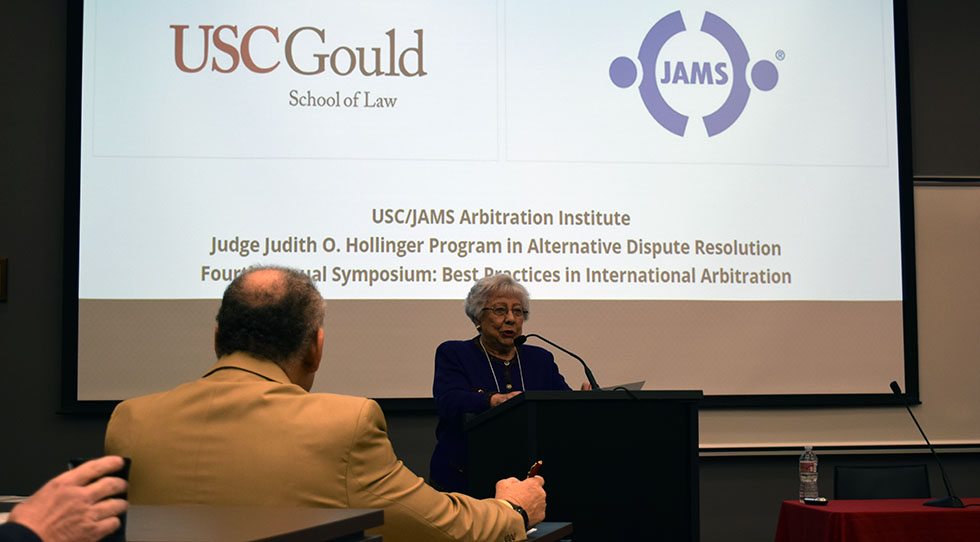 The Hon. Dorothy W. Nelson, senior judge for the U.S. Court of Appeals for the Ninth Circuit and former dean of the USC Gould School of Law
By Leslie Ridgeway
Former USC Gould School Dean Dorothy W. Nelson was the only woman on USC's law school faculty when she introduced mediation and arbitration to her courses in 1957. Her groundbreaking move didn't earn much praise from colleagues.
"A faculty member asked what I was teaching, and the response was, 'Oh, she's just trying to get people to love each other,'" said the Hon. Nelson (LLM 1956) at USC Gould's Judge Judith O. Hollinger Program in Alternative Dispute Resolution (ADR) Fourth Annual Symposium. "We've come a long way since then."
Since those days, Nelson has earned distinction throughout her career as a scholar, an advocate for peaceful resolution of conflicts and a jurist. After serving as the USC Gould School of Law's interim dean from 1967 to 1969, an accomplishment that earned her the Los Angeles Times' honor as Woman of the Year, she was named dean in 1969, becoming the first female dean of a fully accredited law school. She led the school until 1980. She was nominated in 1979 by President Jimmy Carter to the U.S. Court of Appeals for the Ninth Circuit, assuming senior status in 1995.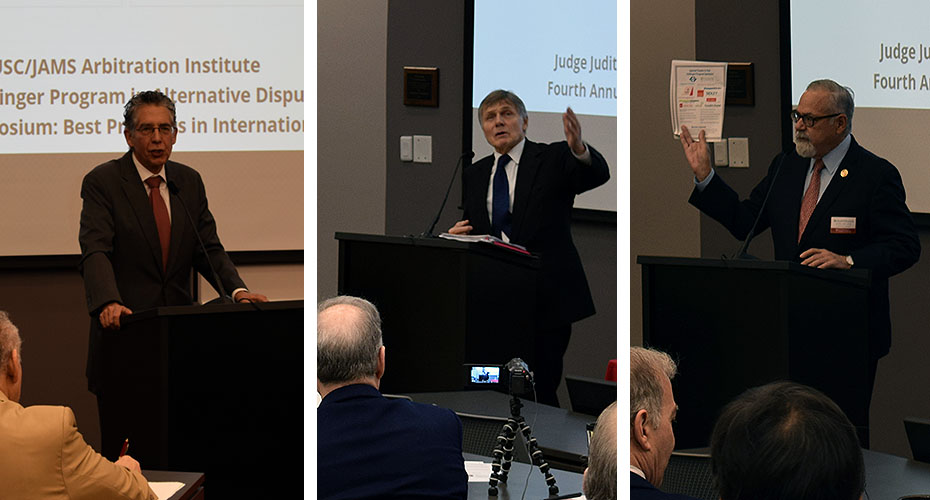 From left: Prof. Robert Rasmussen, keynote speaker Prof. William (Rusty) Park of Boston University and Prof. Richard Chernick, vice president and managing director of JAMS' Arbitration Practice


Nelson's remarks were part of her introduction of the inaugural Judge Dorothy W. Nelson Lecture, announced at the March 13 symposium. The inaugural lecturer was Prof. William (Rusty) Park of Boston University, speaking on proportionality and efficiency in international arbitration.
In a warm introduction of Nelson, former Gould School Dean and Prof. Robert Rasmussen called her "one of my personal heroes" and noted that she had begun looking into alternative dispute resolution while she was dean. "It took us 20 years to catch up to her," he said. "She has transformed the law school, the Ninth Circuit, and is a true asset to USC, to our state and our entire nation."
The symposium, co-sponsored by the Gould School and JAMS, convened several of the field's leading practitioners. Panel discussions covered topics ranging from international entertainment and sports law to developments and best practices in construction industry arbitration.