Altman's paper earns 2022 Best Essay Prize from the Journal of Applied Philosophy
By Leslie Ridgeway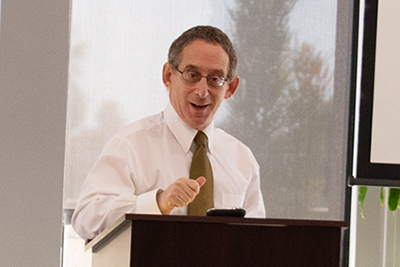 USC Gould Professor Scott Altman
USC Gould School of Law Professor Scott Altman's article "Selling Silence: The Morality of Sexual Harassment NDAs" was recently honored with the Journal of Applied Philosophy's 2022 Best Essay Prize.
The article, in which Altman argues against sexual harassment nondisclosure agreements, was published in the
Journal of Applied Philosophy
in May 2022, and also is the subject of a blog post
published
by Altman in late April in
Justice Everywhere
, a blog about philosophy in public affairs.
In the article, Altman notes that the #MeToo movement and reliance on NDAs by Harvey Weinstein inspired some states to make NDAs legally unenforceable, a position Altman supports. The article challenges three justifications for NDAs – that without them, victims will be denied compensation for abuse; that accused perpetrators may be subjected to excessive boycotts, shaming or shunning; and that singling out victims who sign NDAs is unfair since victims are permitted to remain silent for other reasons. In Altman's view, NDAs are wrong because they help perpetrators to evade responsibility, facilitate future wrongdoing, and make victims and the state complicit in those wrongs.
"The #MeToo movement was fueled by victims telling stories of harassment and assault that they had kept secret for years," he writes. "We should not enforce promises whose central aim is to act against the public good."
"The simplistic account of sexual harassment NDAs is that either they are terrible because serial harassers use them as tools to keep offending, or NDAs are important to protect victims, giving them better financial settlements, faster payment, and no trauma from litigation," he says. "The truth is more complex.  We can provide victims adequate compensation without helping serial harassers."
Altman also wanted to explore another complexity of NDAs: whether they are an appropriate means of evading the excesses of cancel culture — a topic of his recent scholarship. He argued elsewhere that cancel culture can get out of hand.  In the case of sexual harassment, however, boycotts and shaming might be appropriate supplements to the law, aiding in deterrence and punishment.
"People are sometimes overzealous, shaming people they simply disagree with," he says. "Other times, social shaming is needed and can be appropriate. We sometimes turn to [social shaming] when we perceive the law is not sufficient and people in power can evade consequences."