Garg is a DEI fellow and founder of the trial advocacy team at USC Gould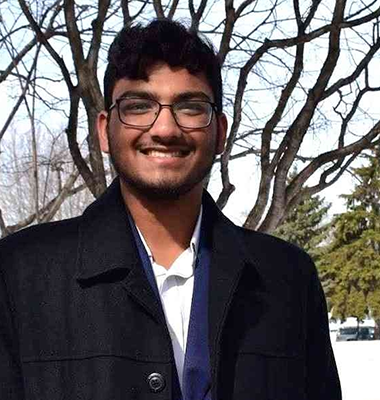 Rohan Garg JD '23 (Photo courtesy of Rohan Garg)
As tens of thousands of people watch USC's main commencement ceremony on Friday, May 12, one family will cheer a bit louder as the USC Gould School of Law banner enters Alumni Memorial Park. Rohan Garg, a member of the JD Class of 2023, will represent Gould as the standard flag bearer during the main ceremony.
"He is an advocate for social justice and one of our most dedicated student leaders," said Assistant Dean of Diversity, Equity and Inclusion, and Director for Student Affairs
Akita Mungaray
.
At Gould, Garg has distinguished himself as a Diversity, Equity and Inclusion Fellow as well as founding the USC Gould Trial Team. He also was chosen for the Mason Brown Award, given during Gould's annual Law Awards to a graduating law student who demonstrates a commitment to public interest and talent for trial work. The trial advocacy team he founded
traveled to Sacramento
in October to compete in the Martin Luther King, Jr. National Civil Rights Trial Competition. In its first in-person trial competition, they placed second out of more than a dozen teams from across the country.
"This was really rewarding to see our hard work get recognized in competition," he said. "I have a lot of experience on trial advocacy and mock trial teams from when I was in undergrad and I was hoping to continue that at Gould. As a public defender, I plan on being in trial a lot so it was really important to me to create the team."
After the bar, Garg will be working at the Los Angeles County Public Defender's Office, a choice shaped in part by his work at the
Post-Conviction Justice Project
.
"That clinic gave me the opportunity to work closely with clients, prepare for parole hearings and has been really rewarding," Garg said. "It shaped the direction I want to go in my career and the type of attorney I want to be."
He also cited his Critical Race Theory class with Professor
Daria Roithmayr
as "fuel" for the way he will approach his work as a public defender.
"Rohan took his scholarly argument (and his class contributions) more seriously than almost any other student I have had here at USC," said Roithmayr, Richard L. And Antoinette S. Kirtland Professor of Law at Gould. "His brilliance will take him far!"
As a DEI Fellow, Garg was able to work with Associate Dean for Student Affairs, Diversity, Equity and Inclusion, and Dean of Students for the JD Program
Nickey Woods
, as well as Assistant Dean Mungaray, to work on diversity issues affecting the law school.
"It was really meaningful and empowering to be given the opportunity to work on different concerns and be behind-the-scenes enacting change," Garg said. "We've been really focusing on life after law school and what that means as a person of color or a person of an underrepresented minority."
Establishing opportunities to encourage mentorship connections between people of color was important in addressing that need, he said, as well as demystifying life as a lawyer for students who do not have family members in the legal profession. Even something as basic as financial literacy could address a gap that students might not realize they need.
"Be the change you want to see in the law school," Garg said. "We love Gould and the opportunities it's given us, but we want to give back to the community and make it even stronger for the students that are coming in after us."