New book by Gould alum Lisa Kloppenberg celebrates life of Judge and former Dean Dorothy W. Nelson
By Leslie Ridgeway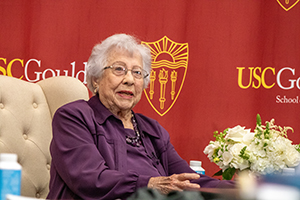 Judge Dorothy Nelson (LLM 1956)
The contributions, influence and legacy of USC Gould School of Law Dean Emeritus Dorothy Wright Nelson (LLM 1956) took center stage Nov. 3 at a special discussion of The Best Beloved Thing is Justice: The Life of Dorothy Nelson, a new book written by her former law student and clerk Lisa Kloppenberg (JD 1987).
Moderated by Professor
Camille Gear Rich
, the conversation with Kloppenberg and Nelson – senior judge of the United States Court of Appeals for the Ninth Circuit, who served as USC Gould faculty from 1957-1980 – touched on Nelson's milestones and achievements: the first female dean of a major U.S. law school; her work in legal education; and the power of food to connect people.
The moderator and speakers were introduced by law students Kiara Jackson, outreach chair of the Womxn of Color Collective and Kathleen Moore and Rachel Stone, co-presidents of the Women's Law Association.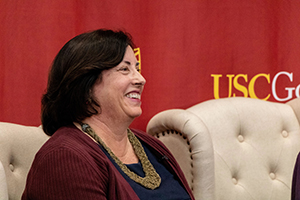 Lisa Kloppenberg (JD 1987)
Nelson noted the challenges and opportunities that came with being one of just two women law students in her UCLA law school class in the late 1940s. When one professor condescendingly said he would only call on the women on "Ladies Day," Nelson and her female colleague instead took the initiative to capitalize on the advance notice.
"We would go home and stay up all night long," she said to audience laughter. "We knew every footnote of every case and always did very well in that class."
The encouragement of legal legend Roscoe Pound, her professor at the time, kept her in law school after disappointing first-year grades. When he pointed out that her answers dutifully quoted the appropriate legal scholars but failed to answer the questions, the experience later led her to institute practice exams for first-year law students when she became dean, giving law students a jump start on their legal education.
Kloppenberg emphasized the importance of the relationship with Pound and the value of mentorship, exhorting students to make the effort to find mentors to guide their progress.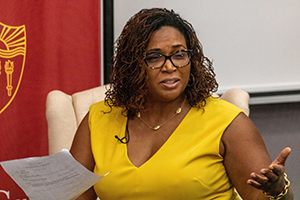 Professor Camille Gear Rich
"He helped her see what was important," she said. "He helped her get her first job when jobs for women were not plentiful. She became this great court reformer… That's a great thing about USC. People really do care, and it's small enough where you can build those relationships. That's one reason I wrote the book — because she's been such a mentor to me and to thousands of other people."
Kloppenberg is a professor and former dean of the Santa Clara School of Law, and she previously served as Santa Clara University's provost and acting president.
Throughout her time at USC, Nelson was an advocate for equality, inspired by her Baha'i faith, she noted. Nelson was a campus leader on affirmative action and outreach efforts. In addition, while Nelson served as dean, the Western Center on Law and Poverty – then housed at the Gould School – sued L.A. Police Chief Ed Davis for discrimination against minorities, raising the ire of the USC's board of trustees. Nelson credited University President James Topping with backing up her actions to support diversity and equity on campus.
Rich noted Nelson's creative risks to champion affirmative action, and the lessons they leave behind for today's diversity, equity and inclusion advocates.
"You were bold back then in an environment that really maybe wasn't as conducive to achieving what you wanted to achieve, and we will have to be bold in the future as well," said Rich, who holds the Dorothy W. Nelson Professor of Law and Sociology.
When asked by a woman law student for career advice, Nelson advised identifying one's passion, finding others who share the same values and goals and working together to fight for justice and change.
"You have to ask yourself who am I, what do I really believe in, what do I really want to end up doing in my life – and then don't be afraid to pursue it," Nelson said.