Entertainment Law Society, Music Law Society and Sports Law Society  plug students in to entertainment law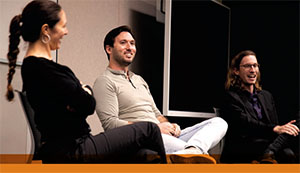 The Entertainment Law Society hosted a panel on film financing and distribution featuring (from left) Defne Gunay, vice president, business and legal affairs, Black Bear Pictures; Adam Raichilson (JD 2015), head of business affairs, Black Bear Pictures and Patrick Trey Brady (JD 2018), counsel, WME Independent
There's a lot to learn about entertainment law at USC Gould School of Law, and three student-led organizations — Entertainment Law Society, Music Law Society and Sports Law Society — help students forge their unique career paths through networking events, information sessions with practitioners in the field, and valuable mentorship opportunities.
"A lot of students come into law school not knowing what entertainment law is," says 2L Yaz Kaveh, current president of the Entertainment Law Society. "They think it's being a talent rep or around glitz and glam, but it's so much more. The Entertainment Law Society helps broaden everyone's understanding of entertainment law."
Each organization hosts various events providing insight into practice areas and the latest trends, like streaming and digital media. Gould's Career Services Office helps students identify the most appropriate alumni for speaker events, who are glad to share their knowledge in panel discussions, such as one organized this year on film financing and distribution.
Ben Rubinfeld (JD 2010), a partner in Ziffren Brittenham LLP's film and television group and a former president of the Entertainment Law Society, recently discussed his experiences at an ELS event introducing students to entertainment law.
"The Entertainment Law Society was one of my favorite USC Law extracurricular groups," Rubinfeld says. "I met some dear friends, many of whom I still work with regularly and I had a priceless opportunity to learn the business directly from industry experts. It's a pleasure to be able to pay it forward and share my experience with tomorrow's leaders. That's part of what makes Gould such a special institution."
First-year law students looking for summer internships can turn to these organizations for assistance. When she was a 1L, second-year student Cameron Keel, now president of the Music Law Society, used an email template and suggestions from MLS leadership and wound up with an internship with the American Society of Composers, Authors and Publishers.
"I cold-messaged some alumni over email and LinkedIn, and that's how I got my internship," Keel says. "Everyone in the society was willing to help, and alumni are always really responsive."
Music Law Society recently hosted a panel on pathways in music law, giving students an overview of the different career paths in the field, as well as a panel with creatives discussing law-adjacent careers in music.
2L Hannah Barcus, co-president of the Sports Law Society with fellow 2L Caleb Clifford, credited mentoring relationships developed through the Sports Law Society with helping her land an influential summer internship in the USC Office of Athletic Compliance.
"Coming into law school, I was interested in sports law but didn't know anything about the legal field," Barcus says.
"After working in the compliance office, I see myself finding my way back to college athletic administration because I really enjoyed my internship there."
Barcus introduced other students to the USC Office of Athletic Compliance this year with a discussion on how the new name-image-likeness landscape has affected college athletics. Another event focused on the two sports betting propositions on the California ballot.
Faculty advisors provide guidance on new initiatives and speaker suggestions, but students take the lead in designing programming. Professor Jonathan Barnett, faculty advisor for the Entertainment Law Society and Music Law Society, sees the groups as a critical networking avenue.
"Given our location and the emphasis USC Gould places on entertainment media and law, there are abundant opportunities for students to develop relationships with alumni and other practitioners through Society events," he says.
Many members of the Entertainment Law Society go on to write for
Spotlight
, an entertainment-centric, student-run law review that began publishing in 2017. Published once each academic year in the spring,
Spotlight went completely digital
with its last edition.
The upcoming issue will include articles on how the Britney Spears case will impact conservatorship law and what issues are likely to come up in the upcoming Writers Guild of America collective bargaining. Spotlight also features explainers or informational pieces from working attorneys. Editor-in-chief Daniel Donohue, a third-year student, says writing for the review is an important networking opportunity.
"Staff members have the opportunity to make a lifelong connection writing or editing these articles," Donohue says. "Every job I've ever gotten in the entertainment industry was because I connected with somebody. It's a very connections-based industry. The focus of all these organizations is meeting living, breathing attorneys who are doing what we want to do."
Faculty Advisor Preston K. Ascherin is impressed with students' enthusiasm for the topics they cover.
"The students' passion on these topics is apparent," says Ascherin. "Their timely articles, written in Spotlight's accessible style, are informative to lawyers and interesting even to the layperson. It's a pleasure to assist on and be associated with the publication."