MET program offers real-life exposure to the transactional elements of entertainment law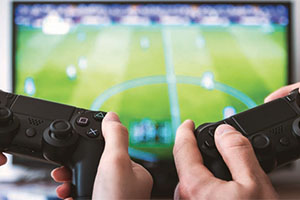 The online video game "League of Legends," one of the biggest titles in Riot Games' arsenal, features 161 different characters. Players have lots of choices to make and there's a depth of mastery involved in moving on to higher levels.
"MET gives students an opportunity to explore very deeply different subjects like sports and music and traditional entertainment and video games," says Nabel, who teaches Video Game Law in Practice with Bill Chang, vice president of compliance at Riot Games. The two wrote the book "Video Game Law in a Nutshell," published in 2018, and are working on a second edition.
Video Game Law in Practice is one of several courses that make the MET program a unique experience for students, who in addition to traditional doctrinal courses such as intellectual property and business organizations, have the opportunity to take practice-oriented classes taught by working professionals like Nabel and Chang.
Professor
Jonathan Barnett
, director of MET since 2011, says his program's courses in entertainment and media law place special emphasis on transactional lawyering skills and concepts — negotiation, deal structuring and contract drafting — that play a key role in representing clients in the media and entertainment industries.
"We've developed specific methods to teach transactional lawyering in the entertainment and media context, and we offer an unusually rich set of courses in that area," Barnett says.
Training 'Practice Ready' Students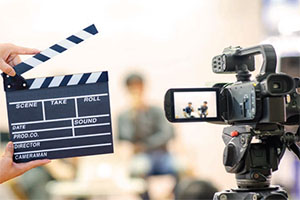 Nabel hopes Video Game Law in Practice, covering topics such as content creation and acquisition, distribution, publishing and marketing, brand management, and cybersecurity, will give his students the same practical experience he obtained while he was at USC Gould.
"'Practice ready' is the buzzword we like to use," he says. "I owe quite a bit to my career in being practice ready during my first year at a law firm. Thanks to USC Gould, I was very prepared to have a great career."
One of Nabel's former students, Ethan Aronson, joined Sony Interactive Entertainment's legal team in New York earlier this year. He found Video Game Law in Practice especially inspiring.
Aronson notes, "the video game law course showed the interplay between different areas of law and how they pertain to a specific industry."
'Pragmatic, Real-Life Exposure'
The MET program's transactional and deal lawyering courses are taught by deeply experienced practitioners from prominent law firms and production companies in the content industry, including Miramax, Endeavor, Paramount Global and Sony Pictures.
Caroline "C.J." Vranca, executive vice president, legal and business affairs at the comedy video website and independent film/television production company Funny or Die, has for several years co-taught Entertainment Law with Larry Sheffield, vice president, business and legal affairs at Paramount Global. The course concentrates on legal, analytical, client management and other practical skills required to represent clients in all areas of the entertainment industry.
"I really try to focus on pragmatic, real-life exposure," says Vranca, whose duties at Funny or Die include digital, television and film development, production, advertising, branded content, as well as content distribution. She drafts, negotiates and closes joint venture agreements, partnership agreements, content acquisition deals, production deals, talent agreements and branded entertainment deals.
"I teach my students what we do as entertainment lawyers, whether it's dealmaking or what an actual contract looks like, and all the different roles we play. I try to keep my course very fresh and on point."
MET offers additional courses in specialized areas of media and entertainment law, much of which focus on the fast-changing issues involved in the ongoing digital transformation of every aspect of the content industry.
Courses such as Digital Media Transactions, Dealmaking in the Entertainment Industry, Entertainment Law in Practice, and Television and Digital Media Law use real-world client scenarios to address the complex mix of business and legal issues relating to the creation, financing and distribution of various types of content, ranging from conventional media such as motion pictures and broadcast television to new media such as streaming, mobile and virtual reality market segments.
Updated Course Offerings Reflect Trends
The MET program's transactional courses in media and entertainment law are regularly updated to reflect ongoing trends in the media and entertainment industries.
"We're not just about entertainment," Barnett says. "We're about where entertainment and media meet technology. It's not like you have tech on one side and content on the other. They've converged."
Barnett notes that the MET program will launch a new course next year, Law and Web 3.0, that will cover topics such as the decentralization of the Internet and blockchain technology.