Opera based on Professor Elyn Saks continues her story and aims to address mental health stigma
By Leslie Ridgeway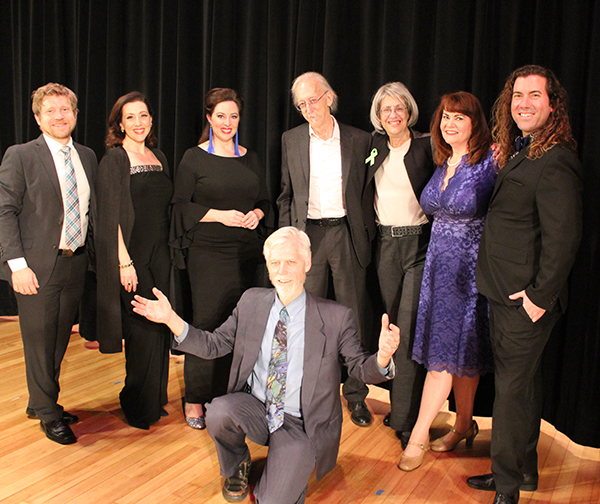 Cast members from Part 1 of the chamber opera about Elyn Saks' life, with Elyn Saks (third from right), Saks' husband Will Vinet (fourth from right) and Kenneth Wells (front), who created the opera with Saks
Seven years ago, a chamber opera based on USC Gould of Law Professor Elyn Saks' groundbreaking memoir, The Center Cannot Hold: My Journey Through Madness moved audiences with the drama of Saks' diagnosis with schizophrenia as a Yale Law School student and her resilience as she learned to cope with the diagnosis.
Now, the second half of Saks' memoir will be presented in three free staged performances, with music by UCLA psychiatrist Kenneth Wells and libretto by Wells and Saks. "The Center Cannot Hold: Part 2, Recovery" begins as her academic career at USC Gould School of Law takes off and includes her falling in love with her husband Will Vinet, a former staffer in USC Gould's law library. Live performances (with live streaming) are scheduled June 17, June 23 and June 24 at UCLA's Semel Auditorium, and most of Part 1's performers, as well as the conductor, are returning for Part 2.
"I'm very happy that Part 2 focuses on some of the most important things in my life," says Saks, director of the
Saks Institute for Mental Health Law, Policy and Ethics
. "It feels a little weird to have an opera written about you, but Ken is a wonderful musician as well as a wonderful psychiatrist, and I think it's really brave [to write an opera about my story]."
Both Parts 1 and 2 reflect Wells' abiding love of music and performance, and are part of his ongoing research. As co-founder of the Media and Medicine for Communities (MMC) and Healing and Education through the Arts (HEArts) program at the Semel Institute, Wells studies how the arts can be used to address mental health stigma among diverse populations.
Of the effect of the arts, "We have seen in evaluations of prior events that people feel more committed to interacting with people with mental health issues, with understanding them and providing services," says Wells, professor of psychiatry and director of the Center for Health Services and Society of the Semel Institute for Neuroscience and Human Behavior. "We want to keep the data coming forward."
The June performances are presented by HEArts with funding from the Los Angeles County Department of Mental Health and California Mental Health Services Administration's Take Action Los Angeles for Mental Health. "Recovery" includes pre-performance talks by Saks, nonprofit community service agencies, community partners affiliated with Healthy African American Families II and Lisa Wong, director, Los Angeles County Department of Mental Health (June 17) and Curley Bonds, chief medical officer, LACDMH (June 23).
Those in attendance will be offered an opportunity provide valuable data through a voluntary survey intended to gauge how attitudes toward mental health are impacted by the arts. With the interest in Part 1 in 2016 – it was covered by the Washington Post and The New York Times and all three performances sold out – Wells hopes for good attendance for the 2023 shows.
"Part 2: Recovery" depicts Saks working through the challenges of treatment, including changes in medication and communicating with her doctors; her acceptance of responsibility for self-care; and the importance of support and interaction with friends as she begins her career as a scholar and teacher. "Recovery" features Saks helping her students as they learn to respond to people with mental health issues and eventually, as they begin to open up about their own mental health struggles. It also covers her meeting her husband Will and what her relationship with him means to her recovery.
Wells, whose love of opera dates back to childhood, spent 20 years writing his first opera, about First Lady Eleanor Roosevelt coping with her grief over the loss of her husband President Franklin Delano Roosevelt. It was staged in 2010. Wells is currently at work on a third opera based on military veterans and their family members, informed by a study he conducted at the VA Los Angeles. He remains inspired by Saks and her embrace of change through art and other avenues.
"I look at all that Elyn has done, and in a sense that's art, too – how you make things happen and bring [forth] the things that matter to you in world," he says.
For Saks, watching Part 1 moved her and reminded her of the power of music in her own life – power that can encourage more positive views about mental health.
"If I am having a difficult time, I sit up in my bed and listen to music," she says. "It enriches and helps me in my life. I'm so glad Ken is doing the operas, the studies and the outreach. It's really great stuff."