Sports Law Society holds mock salary arbitration

--By Sheila Grady

For the passionate sports fans among USC Law's student body, a recent event sponsored by the USC Sports Law Society proved that baseball and legal practice need not be mutually exclusive.

On Nov. 11, a rapt audience of students observed San Diego Padres General Counsel Jeremy Horowitz '02 and Dennis Gilbert, special assistant to the Chicago White Sox Chairman Jerry Reinsdorf, conduct a mock salary arbitration hearing.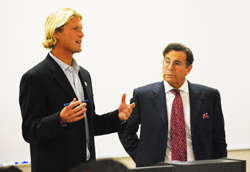 Jeremy Horowitz '02 and Dennis Gilbert
Using the facts from the 2006 arbitration between the Padres and former Major League Baseball player Todd Walker, Horowitz argued on behalf of the team, claiming that Walker's proposed salary of $2.75 million was appropriate and even generous when compared to his perceived market value as judged against comparable players.

Conversely, Gilbert claimed the team's offer was not befitting of Walker, who asked for $3.95 million.

Before the arbitration began, Gilbert—who began his career as a minor league baseball player before becoming an agent who regularly broke contract records for clients like Barry Bonds, Jose Canseco, Mike Piazza, Ricky Henderson, Bobby Bonilla, and Curt Shilling—explained one of the basic concepts of arbitration: the mid-point theory.

"In salary arbitration, you don't get the chance to settle," Gilbert said. "In fact, the process results in a final number. You can only pick one side or the other. So, to make it easy to figure out who is more right, you take the number that's in the middle, called the midpoint number."

Playing the role of the arbiters, the students were advised by Gilbert to use the midpoint number in determining the settlement for Walker.

"If you feel the player deserves one dollar more than the middle, then you should rule for the player," he said. "However, if you feel that the player is worth one dollar less than the middle, then you rule on the side of the team."

With a few arbitration basics outlined for the group, Horowitz was first up to bat. In his allotted 15 minutes, he presented a case against Walker's proposed salary using a series of comparisons to other players with similar statistics and lower salaries than the sum being offered by the Padres.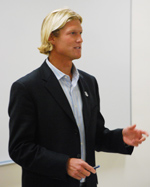 "The free market said no to Todd Walker," said Horowitz. "He's developed into a part-time player and 10 teams have passed over him. He's using the arbitration setting to get a higher salary. The club offer is consistent with what he should be making."

While Horowitz focused on contrasting stats to other MLB players during the previous season, Gilbert impressed upon the group the quality of Walker's contribution and the length and consistency of his career. After providing his own set of comparables between Walker and other players' performances, Gilbert appealed to the arbiters' sense of fairness.

"The average major league salary is $6.297 million a year and we're asking for about half of that," said Gilbert. "All we're trying to do is have the arbitrator say what is the appropriate salary and it's based on all these comparables."

After both Horowitz and Gilbert presented their sides, only one thing was clear.

"It's confusing, isn't it," quipped Gilbert.

Although Walker was ultimately successful in his actual arbitration case and awarded his requested salary of $3.95 million, both Gilbert and Horowitz highlighted the unpredictable nature of arbitration practice.

"It's high risk, high reward," said Horowitz. "Sometimes the arbitration is settled on the courthouse steps. It's a crapshoot."

Gilbert agreed, revealing that arbitration is a volatile enterprise for all of the case's participants—not just the players and the teams.

"We nicknamed the arbitration room 'the room of doom'," he joked. "In this business, if you win, you make 5 percent of that difference. But if you lose, there's a great likelihood you'll lose the client."