Dorothy Wright Nelson went from dean of the USC Gould School of Law to judge on the U.S. Court of Appeals for the 9th Circuit.
USC News Editor's Note: Title IX — the landmark legislation that prohibits sex discrimination in educational institutions that receive federal funding — was signed into law on June 23, 1972. In recognition of this anniversary, USC will be profiling Trojan Title IX trailblazers throughout the year. 
---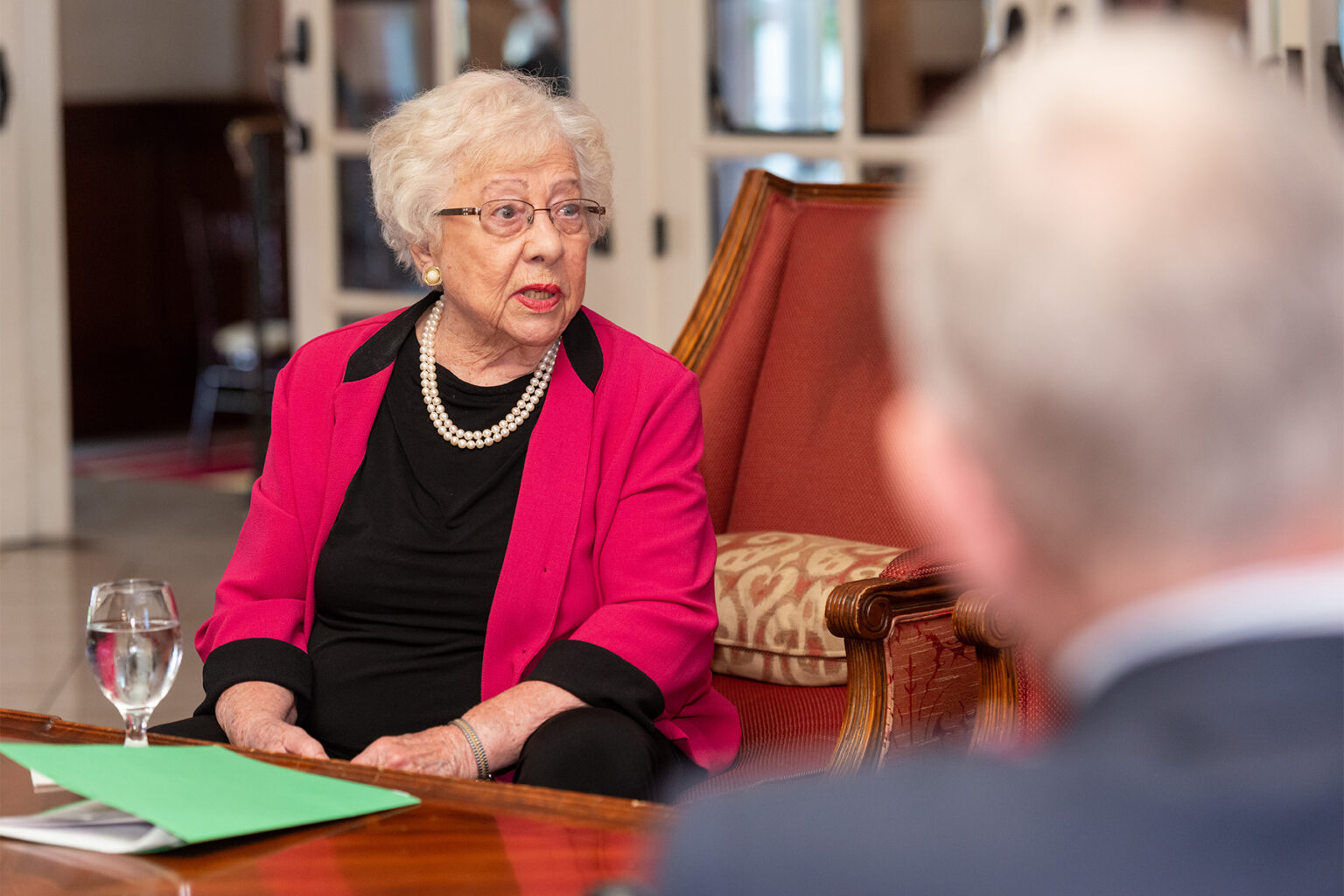 Dorothy Wright Nelson — here at a 2019 celebration of USC Gould's 120th anniversary — was the school's first female law professor. (Photo/Chris Shinn)
When Dorothy Wright Nelson became dean of the USC Gould School of Law in 1969, it would still be three more years before Title IX became law.
But the determined legal pioneer, who became the school's first female law professor when she joined the faculty in 1957, was already focused on doing all she could to make USC Gould more diverse by encouraging more women to enroll, as well as Black, Hispanic and Asian students.
"We went out into high schools and colleges to encourage young women and racial minorities to prepare to apply to law school," Nelson said. "USC was traditionally a very conservative school that would not reach out. I took aggressive steps."
Title IX changes everything
Things became easier in June 1972 when Title IX became law, prohibiting sex-based discrimination in any school or other education program that receives federal funding.
"This legislation was very helpful to me — especially internally with the administration," Nelson said. "We wanted money from the federal government and were going to have to welcome everyone. It was a thrilling victory."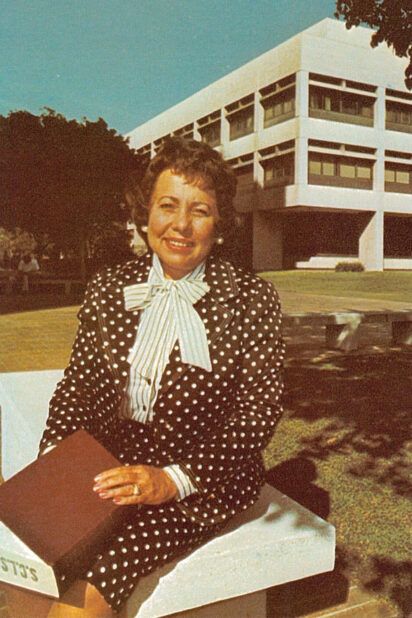 Dorothy Wright Nelson served as USC Gould dean from 1969 to 1980. (Photo/Courtesy of USC Gould)
Nelson's commitment to diversity ran deeper than rectifying past ills in society. She believed that a variety of perspectives was critical in the classroom — especially in such courses as constitutional law. By the time she stepped down as dean in 1980 to be a judge on the U.S. Court of Appeals for the 9th Circuit, more than half of USC Gould's students were either female or a racial minority.
One of the keys to her success was her insistence on remaining collegial and being true to herself and her values no matter what she was up against.
The women Nelson grew up around fed this sense of integrity. Her mother taught high school and community college classes, her maternal aunt was a teacher, and her sister also became a teacher.
"I was greatly influenced by my immediate family," Nelson said. "It was not a question of, 'What are you going to do when you grow up?' It was, 'What are you going to be when you grow up and what are you going to do for the community?'"
A member of the Bahá'í faith, Nelson was an early proponent of mediation and arbitration and, in what was a controversial move at the time, introduced those alternative dispute resolutions in her courses well before they became common practice.
Challenges of being a 'first'
But it was not all smooth sailing for Nelson, the first female dean of a major American law school.
"Not everybody in the world was anxious to have a woman as dean of the law school," Nelson said.
She didn't feel discrimination coming from the faculty, but felt a wariness from their spouses. To remedy this, Nelson invited the families to her house for dinner so they could meet her husband — she was married to longtime Los Angeles Municipal Court Judge James F. Nelson from 1950 until his death in 2011 — and two children.
"I took a lot of time to win over the spouses knowing it would affect the rest," she said.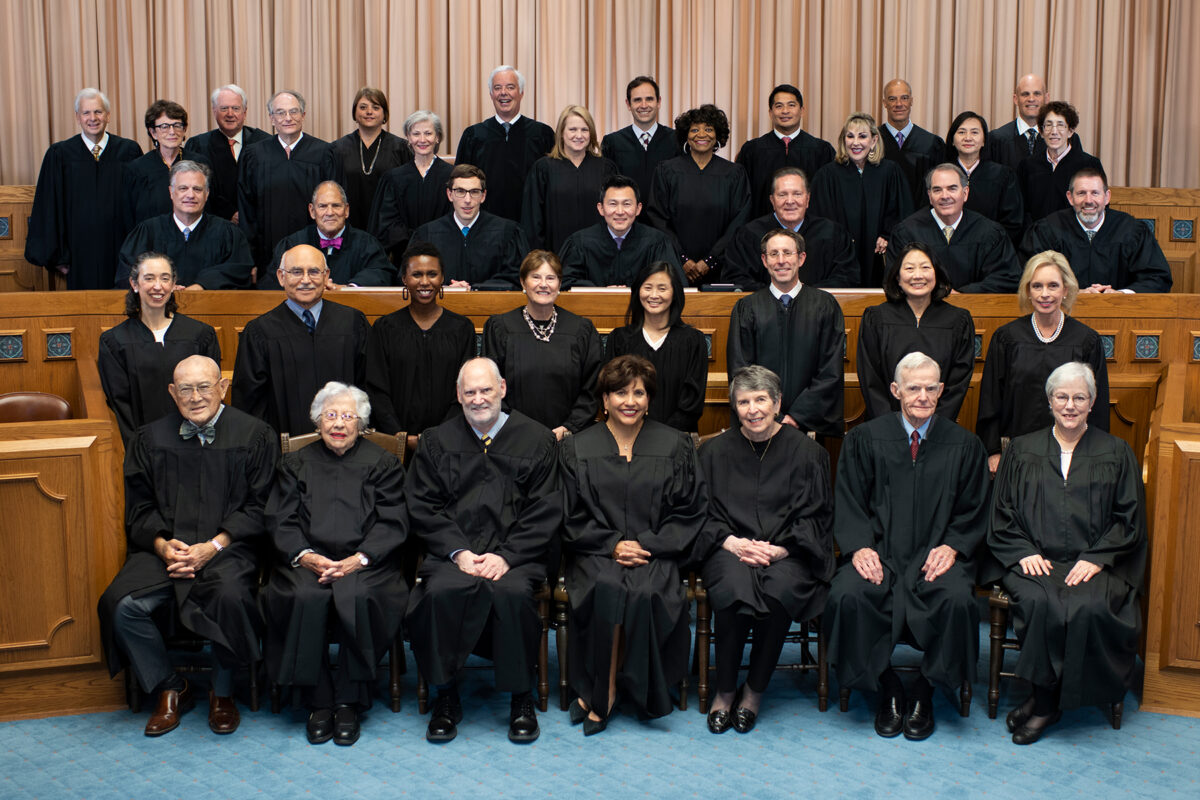 Dorothy Wright Nelson (second from left in the front row) is the senior judge of the U.S. Court of Appeals for the 9th Circuit. (Photo/Courtesy of the 9th U.S. Circuit Court of Appeals Archives)
Nelson wasn't afraid to ruffle feathers. After she helped establish the Western Center on Law & Poverty, which sued the Los Angeles Police Department for racial and sexual discrimination, she was advised to keep a low profile.
She stayed put and with the women's rights movement soon in full swing in the mid-1970s, she suddenly found herself with more clout than ever before.
The question then became, "What will it take to keep you?" Nelson responded with a request for more money for faculty and the law school's library. She got it all.
"I finally had the leverage I needed but it wasn't pleasant," she said. "Instead of being put in the back of the room at the big banquets, I was put at the head table as our wonderful woman dean."
Title IX trailblazer: From UCLA to USC and beyond
Nelson, 93, was born in San Pedro. She earned a Bachelor of Arts degree from UCLA in 1950 then a Juris Doctor from the UCLA School of Law in 1953. Nelson then attended USC Gould, from which she earned a Masters of Law in 1956 while working as a research associate fellow. Her teaching career at USC began the next year as an assistant professor and she was an associate dean by 1965.
After stepping down as dean to serve on the bench, Nelson continued to teach as an adjunct professor at USC Gould until 1985. She assumed senior status on the largest of the United States' 13 courts of appeals in 1995.