Alums Liz and Steve Atlee realize goal of giving back to help law students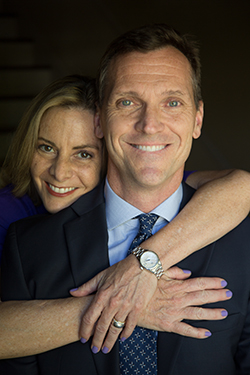 Elizabeth Atlee and Steve Atlee
For USC Gould alumni Elizabeth E. Atlee (JD 1993), and Steve Atlee (JD 1990), giving back has always been a shared goal. The couple achieved that aim in a personally meaningful way in March 2021 by establishing the Elizabeth and Steve Atlee Endowed Scholarship, an endowed fund that supports Latino students at USC Gould.
Liz, the senior vice president, deputy general counsel and chief ethics and compliance officer at commercial real estate firm CBRE, comes from a line of lawyers in both Mexico and the U.S. — "It's kind of the family business," she says.
In 2019 she was recognized as one of the 50 Most Powerful Latinas by the Association of Latino Professionals for America in collaboration with Fortune magazine. She also received the professional achievement award from the Mexican American Bar Foundation the same year. In addition, she is a member of USC Gould's Board of Councilors.
"As a Latina lawyer, I thought a great way to give back would be to give to USC, and give someone else an opportunity who may or may not have had the support to go to USC," she says. "There are a lot of students who are first-gen coming into USC law school who have the wherewithal to get through high school, and then college. Having an opportunity to go to law school and not going because you can't afford it is a tragedy."
The freedom to enjoy law school
Liz hopes the fund will lift that burden for students. "If it even gives someone the room to relax a little bit about funding, enough to pay attention, to be present and to enjoy the learning part of it — I would love that."
Steve, who works as the deputy general counsel at Caltech, can speak directly to the impact a scholarship can have.
In his senior year at Yale University, where the Atlees met as undergraduates, Steve was weighing his post-graduation options: investment banking, consulting or law school — and wasn't sure which path to take.
"When I got my acceptance from USC — and was also very thrilled to win a scholarship — that was really one of the best days of my life," he says. He remembers reading and re-reading the acceptance letter in disbelief. "It was one of those moments where in an instant you know what you're doing."
The full merit scholarship inspired him to one day pay it forward when he could. "When Liz had this suggestion I just welcomed it; I thought it was a great idea."
Supporting Latinos in law
Elevating the Latino voice — particularly for Latinas and especially in the United States — is important for Liz. She makes time to advocate for the professional development of Latinos through CBRE's employee network group HOLA (Hispanics Organized to Leverage our Advantage) and serves on the firm's executive inclusion council. She also serves as treasurer on the board of Hispanas Organized for Political Equality (HOPE), a non-partisan organization that teaches Latinas how to use their voices to speak up for issues important to the community.
In California, Latinos make up 36 percent of the California adult population, but only 7 percent of the state's licensed, active attorneys, according to the State Bar of California's 2021 diversity report.