USC Gould School of Law launches new online program for non-lawyers
By: Gilien Silsby
USC Gould School of Law is launching a new online Master of Studies in Law (MSL) program for non-lawyers. The online MSL program is designed for new graduates as well as seasoned professionals from varying fields of studies and careers, who seek an understanding of how the U.S. legal system functions.
The new degree gives graduates expertise in legal issues related to their specific professional fields and academic interests. Applicants must have earned a bachelor's degree in any field, with or without background knowledge of law. Applications are now being accepted for the fall 2016 term.
The program furthers USC Law's vision to bring together discussion and interactive learning in the curriculum.
"Given the pervasiveness of law in many business dealings and operations, the Online MSL program will meet the growing demand non-lawyers have to develop familiarity with the fundamentals of law and the legal and regulatory process in order to understand and meet compliance requirements for their companies and organizations," said Deborah Call, associate dean of USC Gould's Graduate and International Programs.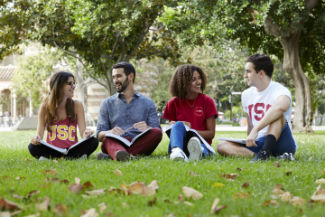 USC Gould's online MSL program will allow non-lawyers to gain a comprehensive understanding of the fundamentals of the U.S. legal system.
The online courses permit students to earn this degree while concurrently pursuing other professional activities. Online MSL students can complete their degrees in as few as three semesters, or can tailor their schedule to meet demands of their personal or professional lives.
"Online MSL students can 'virtually' sit alongside online LL.M. students, who have undergraduate credentials in law, in our dynamic and engaging classroom format," Call said. "Our unique and advanced online format offers great interaction between and among students and faculty members, who are esteemed full-time and adjunct professors from USC Gould School of Law."
Online MSL students will have the option of completing a variety of courses offered through the online programs, including Introduction to the U.S. Legal System, Legal Research, Legal Profession, Business Organizations, Securities Regulation, Contract Drafting & Strategy, Mergers & Acquisitions, Business for Lawyers, among others. Online MSL students can set their schedule according to their work or family obligations.
Graduates of the online MSL program will have a comprehensive understanding of the U.S. legal system, advanced legal terminology including speaking and writing skills, the ability to perform legal research and analysis, and practical knowledge of the legal profession. MSL graduates will begin or advance their careers in various fields such as: business/corporate settings, education, engineering, entertainment, government, health care, human resources, paralegal work, patent agencies, and more.