Diverse, talented class continues trend of scholarly achievement and professional impact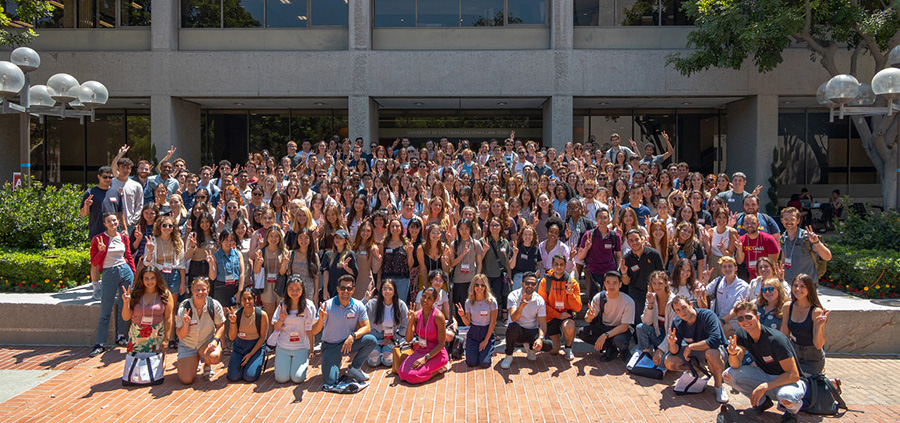 Across numerous areas, the Class of 2025 set new standards. The 1Ls' median GPA of 3.87 and median LSAT of 168 represent the most academically accomplished group to enter the law school to date. It was also the lowest acceptance rate on record, at 12.7%, among almost 6,000 applicants from across the globe. In addition, women comprise 66% of the entering class — a record mark at Gould.
"This is an important time to be studying law, as there is no profession that is more essential to the success of democracy," USC Gould Dean Andrew Guzman said at his orientation welcome address. "Even the smallest legal changes can affect the lives of so many."
Educators, Entrepreneurs and Leaders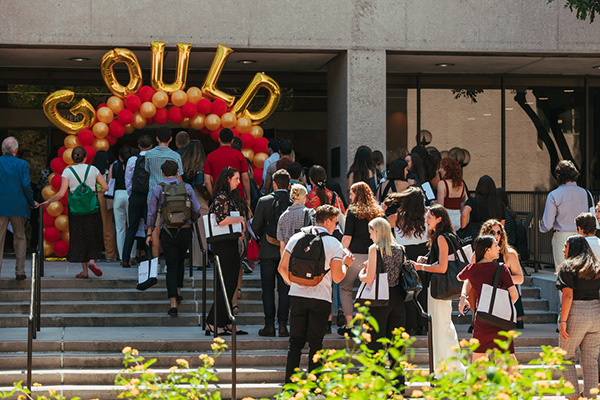 The JD Class of 2025 includes students from 30 different states and nearly 50 different areas of study. (Photo by Larissa Puro)
The Class of 2025 comes from impressive backgrounds, as students include Fulbright Scholars and Peace Corps volunteers. Many are involved in issues at the forefront of public interest and social justice, with nonprofit work ranging from programs that provide social-emotional training and support services to incarcerated individuals to efforts that drive clothing donations helping individuals in need throughout Los Angeles.
The newest class includes educators, entrepreneurs and leaders, as several students worked as teachers, started their own companies or worked in the political arena. One was on the advance staff for former President and First Lady, Barack and Michelle Obama. Several students took on roles as investors and founders in the business world, and many held leadership roles at their undergraduate organizations.
Creativity also abounds among the 1Ls, as the class includes a host of student-athletes, musicians, a sprint car driver, professional ballerinas and the youngest model to walk the runway at a Prada fashion show in Milan.
Bringing a Wealth of Lived Experiences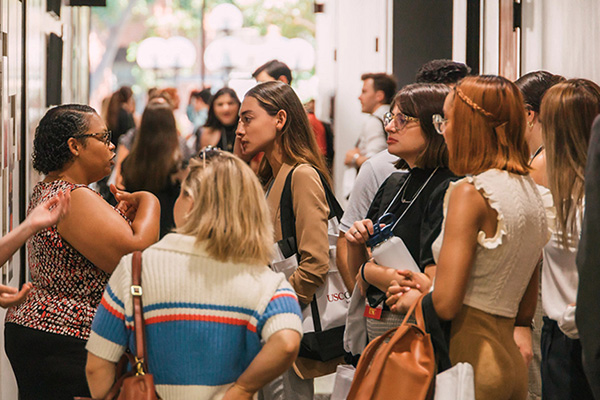 New JD students tour the building and meet with the Student Affairs Office. (Photo by Larissa Puro)
Carrying on the momentum of recent years, the Class of 2025 is among the Gould School's most diverse, with nearly 50% coming from a historically underrepresented minority group. Notably, 27% of 1L students are the first in their family to earn college degree or pursue graduate school. And 18% are members of the LGBTQ community. In support of students from economically disadvantaged backgrounds, Gould launched a need-based grant program starting this fall.
More than 40% of students are from outside California, representing 30 states. There is also a variety of educational backgrounds, with students coming to Gould from 96 different undergraduate institutions and nearly 50 different areas of study.
In his remarks to the new cohort, Associate Dean for Admissions and Financial Aid David Kirschner shared helpful advice on perseverance.
"If doubt creeps into your mind, go back to your personal statement… it contains the reasons for why you chose to dedicate yourselves to the law school journey," he said. "While your emotions may change throughout the year, what you conveyed in your personal statement will not and you should rely on that to overcome any obstacles you may encounter."