Prof. Elyn Saks' memoir revealed her lifelong struggle with schizophrenia and advanced understanding of mental illness. She carries on that work with the Saks Institute.
-By Gilien Silsby
The USC Saks Institute for Mental Health Law, Policy and Ethics — created and led by
Elyn Saks
, the MacArthur Foundation's "genius grant" recipient and USC law professor who has inspired millions by sharing her struggle with schizophrenia — has received a $3 million gift from the Doris Bry Trust, the USC Gould School of Law announced. The gift recognizes the significant achievements of USC's Saks Institute, said Amelia "Lee" Marks, a Bry trustee. Bry, a leading authority on the works of Alfred Stieglitz and Georgia O'Keeffe, worked for Time-Life magazine as a science researcher and was an agent for Georgia O'Keeffe.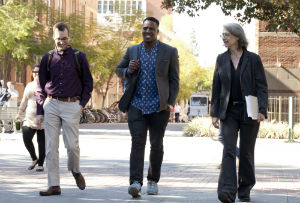 Louis Kachulis '17 and Osahon Tongo, a film and television production graduate in the USC School of Cinematic Arts, walk with Prof. Elyn Saks (photo by: Matt Leum)
"As trustees of the Doris Bry Trust, we were given a general mandate to support qualified charities in the field of mental health. In our research for this particular grant, we learned of Elyn Saks, and her story resonated with our mission," said Marks. "We read Elyn's memoir, we watched her TED Talk more than once, we read about her various symposia, and we came to admire her capacity for conveying schizophrenia as a condition that does not  preclude someone from having a full life."
Saks
, a professor at USC Gould since 1989, said she is thrilled and honored for the institute to receive the gift. "This will truly change how the Saks Institute is able to study and make policy recommendations for those who suffer from mental illness," said Saks. "I am over the moon with excitement and looking forward to our next chapter." Saks launched her institute in 2010 with funding from the MacArthur genius grant. Her mission is simple: stimulate discussion, develop solutions and change the way society addresses mental illness. "I am in a unique position — I have schizophrenia and I study mental illness," said Saks, who was recently named a USC Distinguished Professor for accomplishments that brought special renown to USC. "My goal has always been to bring hope to those who suffer from schizophrenia and understanding to those who don't," she added.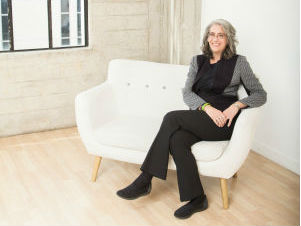 Elyn Saks, author of the award-winning memoir, "The Center Cannot Hold: My Journey Through Madness" (photo by: Mikel Healey)
Each year, the Saks Institute focuses on a mental health topic, bringing together cross-disciplinary faculty members, student scholars and experts to present at symposia. Her work has been called "transformative scholarship of consequence." Past symposium themes have included mechanical restraints, psychotropic drugs, mental health on campus, stigma in the media and the criminalization of mental illness. She is currently tackling civil commitment, holding a spring symposium on the topic on April 16. Each one of these topics has personally affected her. "This gift represents just the latest illustration of the impact and importance of Professor Saks' work on mental health law and policy," said Andrew Guzman, dean of USC Gould. "We are remarkably proud to have her on our faculty. She is a true inspiration, leader and hero in the mental health field." In 2006, Saks disclosed her lifelong secret in her award-winning memoir,
The Center Cannot Hold: My Journey Through Madness
. Saks put a new face on mental illness, showing that people can be successful and have schizophrenia. "I'd be lying if I said I wasn't petrified to tell the world about my mental illness," said Saks, referring to when she first went public. "What if my colleagues looked at me differently? What if my friends abandoned me? What if my students were scared to take my class?" But she soon discovered that sharing her experience not only lifted a personal burden, but also humanized the disease. Since then, Saks has been greeted with an outpouring of admiration from scholars, speaking requests from around the world, an invitation to deliver a
TED Talk
, and messages from Vice President Joe Biden's office, mental health advocate Kitty Dukakis, actress Glenn Close and Congressman Patrick Kennedy, who called her "one of the leaders in the new civil rights movement of mental health." She was recently appointed to serve on the U.S. Department of Health and Human Services Interdepartmental Serious Mental Illness Coordinating Committee.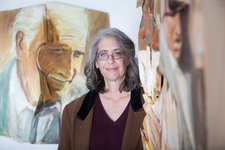 Elyn Saks launched the USC Saks Institute for Mental Health Law, Policy and Ethics in 2010. (photo by: Mikel Healey)
Awards and honors have also poured in — the New York Times Extended Bestseller List, Time Magazine Top 10 Nonfiction Book of the Year and Presidential Commendation from the American Psychological Association. She gave a Toulmin Lecture in Law and Psychiatry at King's College London, and a hospital ward was named after her in Dorking, England. Saks' life story recently inspired a chamber opera. Saks said the Bry gift will not only help propel her work — and hopefully encourage others to support her institute — but also shine a light on the struggles and triumphs of people with mental illness. "I am so grateful to receive this support from the Doris Bry Trust and eager to get going on the work this gift will make possible," Saks said.