Third-year Ricca Prasad responds to COVID-19 pandemic with Supply Skid Row initiative
By Leslie Ridgeway
When third year law student Ricca Prasad moved to Los Angeles to attend USC Gould School of Law, she knew the city's homelessness situation was bad but was still shocked by what she saw. When the COVID-19 pandemic hit, she feared the worst for the unhoused in LA's Skid Row.
"With my health care knowledge and knowledge of urban communities and vulnerable populations, I knew it would be a bad situation, and much worse than for the rest of us," says Prasad, who enrolled in law school after earning undergraduate and graduate degrees in public health. "I heard people talking early on about Skid Row, and I knew that Skid Row would need all the help it could get because of the scale of the problem. If I was having trouble getting supplies, they must be as well."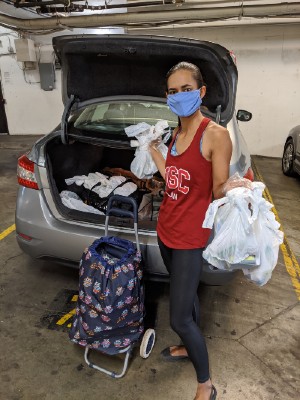 Ricca Prasad created Supply Skid Row to help raise donations for hygiene kits that she delivers to people who live in three tent communities in Los Angeles.
The first step was finding out exactly what was going on in Skid Row, so she jumped in her car with her boyfriend and bottles of water and homemade hand sanitizer (made following CDC Ebola guidelines), and spent several hours on a Saturday talking to people and handing out supplies. After learning more about the need, she returned home to put together more than 100 hygiene kits with items like cough drops and tissues and did some research to find organizations that might help distribute them. That's how her volunteer initiative Supply Skid Row was born.
After putting up the money herself for the initial hygiene kits, Prasad reached out to the Gould community and was pleased at the robust response, raising more than $2,000 in five weeks and using the funds to order essential supplies wholesale for delivery to the social service agencies she's working with. She posts a spreadsheet of donations and expenses on a Supply Skid Row Facebook page she created to keep donors apprised of her efforts. Social media turned out to be the most challenging aspect of the project, she says.
"I'm terrible at social media. It's easily the hardest part of this," she says with a chuckle. "I'm so much more comfortable walking up to people as a stranger than making a Facebook page."
By mid-June, Prasad had raised a total of $2,621.05, enabling the effort to last for 10 weeks, despite limited access to resources while the most restrictive shelter-in-place orders were underway.
Public health background encourages personal safety
Prasad is currently delivering supplies to and volunteering at the Hippie Kitchen in Skid Row, and also bringing supplies to tent communities in Echo Park and at 4th Street and Westmoreland Avenue in Koreatown, sometimes accompanied by her friend, third-year student Carson Dodd. With her public health background, she's careful to take all recommended precautions before visiting the tent communities, consulting with Gould Lecturer in Law Dr. Ankit Shah before embarking on the project.
"I always wear a face mask, more for the protection of the communities I'm visiting than mine, and go through up to 10 pairs of gloves in a two-hour outing," says Prasad, who notes that she wears gloves and face coverings when making the hygiene kits as well.
Supply Skid Row is one of several opportunities Prasad has taken to work with vulnerable populations. She signed up to work the Wednesday night clinic at Los Angeles Community Action Network in Skid Row offered by Legal Aid Foundation of Los Angeles in her first year. Between the end of grad school and enrolling in law school, she served as an AmeriCorps member with a hospital in Camden, New Jersey, and worked for a year with the Camden Coalition of Healthcare Providers' Housing First program that promotes housing as a key component of health care for sick and unhoused people.
Developing skills and connections for policy advocacy career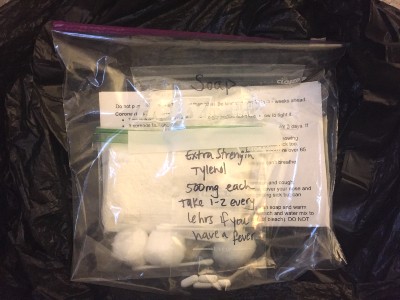 One of the hygiene kits that Prasad puts together in her home.
Photo credits: Courtesy of Ricca Prasad
Prasad enrolled in law school to enhance her health care background with legal skills as part of her career goal to develop policy for vulnerable populations in prisons, she says.
"My primary population of focus is people incarcerated in jails and prisons. I want to help shape institutional policies," she says. "Incarcerated people are incredibly vulnerable, and they live in situations that breed trauma and encourage the continuation of antisocial behavior rather than rehabilitation. Anyone who is given a criminal justice sentence should not die because of lack of health care."
A Public Interest Scholar, Prasad has developed her skills and connections by working for a year with the USC Post-Conviction Justice Project and by working part-time with the Harriett Buhai Center for Family Law as the director of the Women's Gender-Responsive Jail Project.
After graduation, Prasad, who is from New York, will return to the east and hopes to work with the ACLU National Office on health care advocacy for LGTBQ communities.
Even with graduation around the corner, Prasad is accepting donations for Supply Skid Row, including supplies such as blankets, pillows, tents, non-perishable goods and citrus fruit from personal trees. For information on how to donate, to schedule a pickup or for questions, go to the Supply Skid Row Facebook page.