Diversity at USC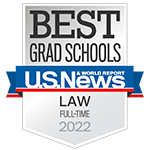 USC Gould ranked #3 among the top-20 law schools in U.S. News and World Report Law School Diversity Index
USC Gould maintains an enduring commitment to diversity of thought, experience and people. Inclusiveness has been a critical part of our culture since the school's founding. From the Federalist Society to the American Constitution Society, our 30 student organizations reflect the wide range of political, cultural, religious, ethnic, social and service interests and experiences of our diverse student body.
Our JD students hail from 30 states, representing 96 colleges and universities.
Students in our Graduate & International Programs have come from 70 countries, spanning six continents.
Some 13 percent of our JD students are economically disadvantaged.
More than half of our JD students are women and 37 percent are persons of color.
Our JD First Generation Professionals initiative provides support and mentoring to those who are the first in their family to enter a professional career.
Our endowment for OUTLaw — an organization for students of all sexual orientations — was the first of its kind in the nation.
The National Jurist ranks USC Gould among the nation's most diverse law schools.
The data website Priceonomics ranks USC No. 6 in student diversity.
HispanicBusiness.com ranks USC No. 7 among the best law schools for Hispanics.
USC ranks No. 15 nationally in a comprehensive Wall Street Journal/Times Higher Education survey measuring student body diversity, resources for student success and graduates' ability to obtain satisfying, high-paying jobs.
USC attracts more underrepresented minority graduate students than any public or private university in the Association of American Universities.
Learn more about the university's dedication to diversity.
When you join USC Gould, you become part of an elite, collegial community with a strongly global perspective:
We offer a wide array of international and comparative law courses, including International Human Rights, International Arbitration, International Business Transactions, International Criminal Law, International Trade Policy and Public International Law.
Our JD students enjoy study abroad opportunities in Italy, Australia, Brazil, Hong Kong and France.
With more than 7,000 international students each year, the University of Southern California has long attracted one of the largest foreign student populations of any U.S. university.
The global Trojan Family network comprises more than 10,000 law alumni, including partners in the world's largest law firms, leaders of civil rights movements, and CEOs and presidents of multibillion-dollar companies.
USC maintains eight international offices around the world and 22 international alumni clubs.
RECENT NEWS