News
Election 2008 preview
Monday, Nov 3, 2008
Speakers focus on presidential race, state propositions
—By Lori Craig
Experts predicted a win for Barack Obama and offered analysis of some of the propositions found on the California ballot at two USC Law events focused on Election Day 2008.
Left to right: Panelists Bruce Nash, Dan Schnur,
Kareem Crayton, Andre Pineda
A panel discussion, titled "Red States, Blue States and the State of the Race," was held Oct. 30 in the Faculty Lounge. (Click here to view the video of this event.)
Sponsored by USC Law and the Jesse M. Unruh Institute of Politics at USC, the panel featured USC Law Prof. Kareem Crayton; Dan Schnur, director of the Unruh Institute; Andre Pineda, principal of Pineda consulting, a strategic research and communications firm located in Pasadena; and Bruce Nash, president of Nash Information Services, a consulting business that provides data analysis and projections for the movie business.
Schnur, a former Sen. John McCain political strategist, said that during much of the presidential race, the candidates were neck-and-neck in a rivalry that appeared to be between a fighter, Sen. John McCain, and "soother or calmer" in Obama.
These opposing personality traits helped make the recent economic failings a turning point in the race, Schnur said.
"All of a sudden, in the face of that kind of economic calamity, we're looking for a soother," Schnur said.
While McCain did close some of the gap that Obama gained in the wake of the market meltdown, the last few days of the race are an uphill battle, he said.
Crayton examined some of the factors that could help or hinder Obama Tuesday night, while soundly predicting that the Illinois senator would win.
"It is Obama's race to lose at this point," Crayton said.
Some factors working in his favor: there has been an unprecedented effort to identify new voters and get them to the polls; and a large number of voters are casting their ballots early. One factor that should have Obama concerned: some states are requiring voter identification, which could have an effect on new voters, Crayton said.
Pineda spoke about his recent project examining the Latino vote and disproving the idea that Latinos will not vote for an African American — a "ridiculous thesis," he said.
Prof. Crayton talks about polling numbers over
the course of the presidential race.
"One of the things that is most interesting about the Hispanic vote and one of the things that is most sad about the Hispanic vote is that they don't vote," Pineda said.
Yet in this election cycle, Latino voters have proven that they will make a difference in states such as Nevada, New Mexico, Colorado and Florida. Florida, in particular, is a state to watch, Pineda said: while Cubans are famously Republican, younger Cuban voters can be won over these days, he said.
Nash also predicted an Obama win on Nov. 4, providing hour-by-hour predictions of which states would be called for which candidates and when. Based on data from recent polls, polls taken in 2004 and the results of the 2004 election, Nash said that all of the Northeast will swing toward Obama while McCain will win much of the South and Midwest.
He expects to see two key states called for Obama that went to Bush in 2004: Iowa and Virginia.
"That will be a huge moment," Nash said. "It's going to be an exciting night, especially between 7 and 8 o'clock." (Click here to watch a video of Nash's election prediction.)
California state propositions were the talk of the night on Oct. 28, during a panel sponsored by the Black Law Student Association and the La Raza Law Students Association. USC Law Professors Jody Armour, Kim Buchanan, Kareem Crayton and David B. Cruz were joined by the California state director of the Drug Policy Alliance Network to discuss a handful of propositions that deal with issues such as abortion and redistricting.
Prop. 4: Waiting period and parental notification before termination of minor's pregnancy.
Buchanan called this initiative a "terrible idea."
"When a young woman faces an unplanned pregnancy, it's definitely best that she seek help, guidance and support from a caring adult," Buchanan said. "If the parents are supportive, young women will talk to them before having an abortion, and most young women do. Unfortunately, Prop. 4 can't mandate good communication between parents and children. It doesn't — and can't — require that parents who are notified actually provide help or support to their daughters. Young women in this situation may delay getting the health care they need because they are afraid to tell their parents. Even if they can't talk to their parents, I think it's important that they get health care in a timely way."
Prop. 5: Nonviolent drug offenses, sentencing, parole and rehabilitation
"California has double the national average of recidivism [70 percent] and that is because we treat violent and non-violent offenders the same," said Stephen Gutwillig of the Drug Policy Alliance Network and author of Prop. 5. "Prop. 5 makes rehabilitation a priority because it focuses primarily on the relationship of drug abuse drug arrests and the California prison overcrowding crisis."
Prop. 6: Police and law enforcement funding. Criminal penalties and laws.
While Prop. 5 seeks to rehabilitate drug abusers and provide treatment rather than incarceration, Armour said, Prop. 6 "is in the complete opposite spirit." It increases sentences for certain crimes and makes about 30 revisions to state criminal law, many of which cover gang-related offenses, identifies criminal behavior and establishes additional penalties.
Armour noted that minorities are more likely to be identified as gang members than whites.
"They're going after poor black and brown people," Armour said.
Prop. 8: Eliminates right of same-sex couples to marry.
"It would immediately stop the state from allowing same sex couples to get married," Cruz said. "It could also possibly wipe out some of the existing marriages — 11,000 and counting — since June. It won't threaten parental rights; it won't threaten religious rights. … Those who argue against Prop. 8 are not making arguments about family; they're not even making arguments about marriage. They're really having to change their message because the majority of Californians weren't willing to get all worked up about loving same-sex marriages."
Prop. 9: Criminal justice system. Victims' rights. Parole.
Prof. Armour calls this proposition "scary." While it is generally accepted that victims must be allowed to give their input during various parts of the trial process, this proposition will create a burden on prosecutors.
"It's really not about the victim; our criminal process is supposed to be about the state versus the criminal," Armour said. "What independent claim do victims have after a conviction?"
Prop. 11: Redistricting
Prop. 11 would create a commission to create state districts, as opposed to having state legislators responsible for creating their own districts.
"The people who get elected want to continue to get elected and will do what they can to make sure they continue to get elected in their district," Crayton said. "Reform is great, but you always should read the fine print. It certainly is going to be a more independent process, but on the other hand you need to compare it to the current system, warts and all."
That said, Crayton said he prefers the existing system because the poor and marginalized likely will lose out under the proposed system.
Recent News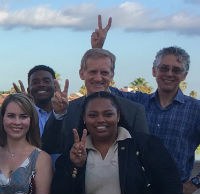 A Memorable 2017
December 20, 2017
With 2018 approaching, we look back at our exceptional year