News
When a Genius Takes on a Stigma
Tuesday, May 17, 2016
Prof. Elyn Saks' memoir revealed her lifelong struggle with schizophrenia and advanced understanding of mental illness. She carries on that work with the Saks Institute.
-By Gilien Silsby
On the eve of her 50th birthday, one of USC's most accomplished faculty members prepared to drop a bombshell she feared would shock and alienate — and even ruin her reputation as a respected legal scholar.
"I have schizophrenia," USC Gould Prof. Elyn Saks nervously told colleagues and friends. "And I'm writing a book detailing my struggle."
Nearly a decade after disclosing her lifelong secret in her award-winning memoir, "The Center Cannot Hold: My Journey Through Madness," Saks has put a new face on mental illness: People can be successful and have schizophrenia.
"I'd be lying if I said I wasn't petrified to tell the world about my mental illness," Saks says. "What if my colleagues looked at me differently? What if my friends abandoned me? What if my students were scared to take my class?"
But she also wondered what staying silent would accomplish. By taking a risk and sharing her experience, she did more than lift a personal burden, she humanized the disease.
"Elyn has made an extraordinary contribution to the acceptance and understanding of schizophrenia," says Eric Kandel, a Nobel Prize-winning neuropsychologist at Columbia University. "Her life experience and willingness to talk about the accomplishments of her career give all of us hope — within the medical profession as well as in society. Elyn has changed how we view mental illness."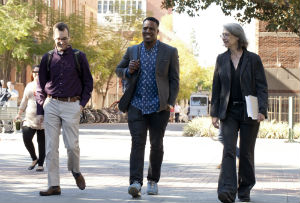 Louis Kachulis '17 and Osahon Tongo, a third-year film and television production student in the USC School of Cinematic Arts, walk with Prof. Elyn Saks (photo by: Matt Leum)
Saks' fears of a backlash never materialized — in fact, she was greeted with an outpouring of admiration from scholars, speaking requests from around the world, an invitation to deliver a TED Talk and messages from Vice President Joe Biden's office, mental health advocate Kitty Dukakis, actress Glenn Close and Congressman Patrick Kennedy, who called her "one of the leaders in the new civil rights movement of mental health."
Awards and honors poured in — The New York Times Extended Bestseller List, Time Magazine Top 10 Nonfiction Book of the Year, Presidential Commendation from the American Psychological Association. She gave a Toulmin Lecture in Law and Psychiatry at King's College London, and a hospital ward was named after her in Dorking, England.
But the big one, the MacArthur Genius Grant, changed Saks' work forever. Saks used the no-strings-attached award money to launch the Saks Institute for Mental Health Law, Policy, and Ethics at USC Gould. Her mission is simple: stimulate discussion, develop solutions and change the way society addresses mental illness.
Each year, Saks selects a topic, brings together cross-disciplinary faculty and student scholars to study mental health topics and invites experts to present at symposia. Her work has been called "transformative scholarship of consequence." Past symposium themes have included mechanical restraints, psychotropic drugs, mental health on campus, stigma in the media and the criminalization of mental illness. The next area she plans to tackle is informed consent. Each one of these topics has personally affected her.
DIAGNOSIS, TREATMENT AND TRIUMPH
Elyn Ronna Saks grew up in Miami with her parents and two brothers in an upper-middle-class home. From a very young age, she felt something was wrong: "When I walked home from school one day, the houses seemed to be sending me messages." She never detailed her symptoms to her parents, hiding them, as she would for the next several decades.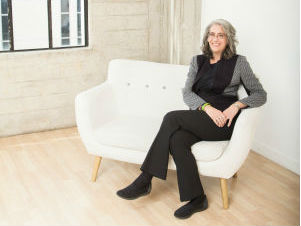 Prof. Saks, author of the award-winning memoir, "The Center Cannot Hold: My Journey Through Madness"

(photo by: Mikel Healey)
Saks realized early on that keeping her mind intellectually stimulated might help ward off symptoms, and in her teens and early 20s that seemed to work. She won honors in high school and was valedictorian at Vanderbilt University. She was awarded a Marshall Scholarship to study philosophy at Oxford University before attending Yale Law School.
It was during her time at Oxford, as a 23-year-old, that she became fully symptomatic and began feeling suicidal. "Within weeks after my arrival in Oxford, almost everything I said came out in monosyllables," Saks wrote in her memoir. "When I heard the sounds I was making, I felt neither disturbed nor surprised. For some reason, it helped me feel calmer. Oddly, it was soothing, like clutching a well-worn blanket might have been to a frightened child."
Saks agreed to medication, talk therapy and intermittent inpatient treatment. On and off, she spent the next six months in a psychiatric ward.
After completing a Masters of Letters in philosophy at Oxford — with excellent reviews — and returning to the East Coast, Saks quickly and brutally learned that the United States had a different approach to mental illness than England. In Oxford, she had never been involuntarily restrained, forced to take medication or in any way detained against her will. But during Saks' law studies at Yale, one of her professors convinced her to seek help at New Haven Hospital after a mental breakdown. She endured treatment that she describes as inhumane and cruel. It ranged from being shackled in restraints to being pumped with drugs.
After multiple evaluations, Saks finally received a formal diagnosis: chronic paranoid schizophrenia with acute
exacerbation. Her prognosis: grave.
"The doctors told me that my best case scenario was to be a cashier and perhaps live in a halfway house," she says. "I thought to myself — I can't imagine anything harder or more stressful than dealing with a line of people under pressure. I just wanted to return to my studies."
Saks rejected the doctors' advice, and, after weeks of medication, her psychosis subsided. For the next decade, she continued to achieve scholarly triumphs, but it took years before she realized that she would need to commit to a strict regimen of medication and daily talk therapy, a treatment virtually unheard of in the United States.
EARNING 'ACCEPTANCE AND UNDERSTANDING'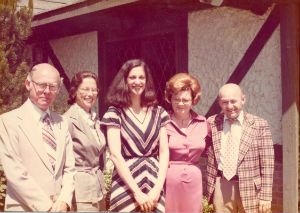 After graduating summa cum laude from Vanderbilt University with a B.A. in 1977, Saks celebrates with faculty members. Saks was valedictorian of her class.
Saks has compared her public announcement of having schizophrenia with a person's coming out as gay or lesbian. While she admits it was frightening, it was also liberating.
"Being a person with mental illness as well as a scholar who studies mental illness has enabled me to bring people together to make an impact," Saks says. "I think, regardless of what your identity is, we need to work for acceptance and understanding."
The announcement has also given Saks a platform with added credibility. She serves on several boards of directors, including a well-regarded government entity, the Substance Abuse and Mental Health Services Administration. Policymakers, psychiatrists and mental health advocacy groups have called on her as an expert. And she has worked with legislators in Sacramento and prosecutors in Los Angeles to advocate for change in how people with mental health problems are treated.
Los Angeles District Attorney Jackie Lacey '82 recently proposed to divert mentally ill criminal offenders from county jail after the Saks Institute held a symposium on the criminalization of mental illness. Saks and former State Senate President Pro Tem Darrell Steinberg are working on issues surrounding mental health and the law. And she and former U.S. Representative Patrick Kennedy have been brainstorming a West Coast Collaboration on Mental Illness since she delivered a keynote speech at his Presidential Symposium. Her 2012 TED Talk continues to garner views, nearly 3 million so far.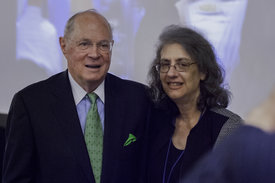 Saks with Supreme Court Justice Anthony Kennedy
Saks has a lot on her plate. But she knows that working is as important for her mental health as her daily psychoanalysis and medication are. It keeps her mind focused. Whether she's in L.A. or trekking around the globe for conferences and symposia (she hates traveling, but spends about 15 percent of her time out of town), Saks works 363 days a year.
"I take Thanksgiving and Christmas off. But often I work at home on those days," she says with a laugh. "My mind is my best friend and worst enemy. When I'm working, my crazy thoughts recede to the sideline."
That's not to say that Saks doesn't have a full life. She and her husband, Will, whom she married 15 years ago, love to cook, visit museums and watch favorite television shows, like "Law and Order." Saks has a close set of friends, and because she does best with a routine, she sees them on regularly scheduled nights during the week. She roller-skates, taking lessons twice a week, and enjoys evenings at the theater and the symphony.
And then there are her colleagues at USC and the students. Just like her friends, they stuck with her after she opened up about having schizophrenia a decade ago, and for some her honesty worked like a magnet. "I came to USC Gould because I wanted to work with Elyn Saks," says Saks Scholar Evan Langinger '14. "My work with her on mental health law greatly enhanced my legal education at USC."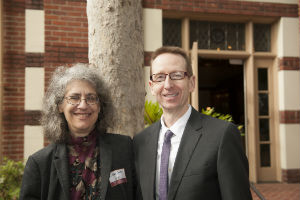 Saks with Michael Quick at the Saks Institute Spring 2015 Symposium (photo by Ed Carreon)
Saks' colleagues admire her for her courage and commitment to scholarship. Scott Altman, the vice dean of USC Gould, who has known Saks since they were untenured professors 25 years ago, says: "There's no doubt that Elyn is respected and applauded. I think most of us agree that she is a role model for bravery."
Another close friend and colleague is Michael H. Shapiro, one of Gould's most senior law professors. He was one of the first tenured colleagues Saks confided in about her illness.
"She knew she would run risks in going public, but she believed the benefits to others, and herself, outweighed the dangers," says Shapiro. "She understood that the vivid example of her success could encourage other persons with mental — or any — disabilities. She was right. Her disability never impaired her intelligence, benevolence or courage."
Saks has certainly touched the average person. She receives hundreds of letters and emails each month from desperate parents, people struggling with illness and even prisoners who have read her memoir. She answers each and every correspondence.
"Sometimes people just need a little support," Saks says. "My goal is always to bring hope to those who suffer and understanding to those who don't."
This story originally appeard in the Spring/Summer 2016 issue of
USC Law Magazine
RECENT NEWS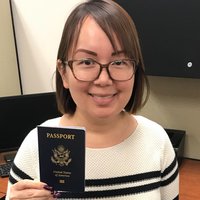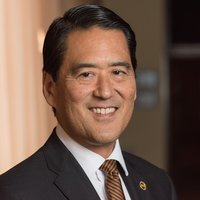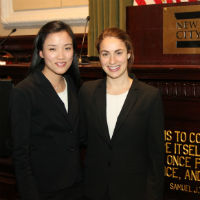 Dreams Fulfilled
February 14, 2018
Gould Students Take Second Place at the National Moot Court Finals in New York