Faculty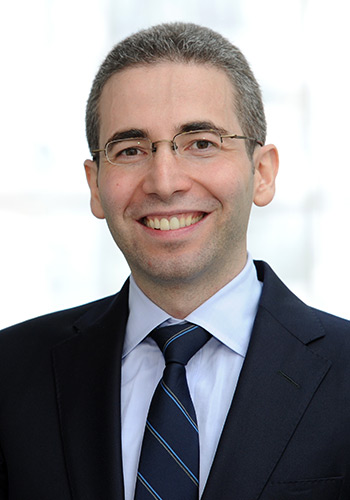 Michael Simkovic's research focuses on the intersection between law and finance, with a particular emphasis on credit markets, financial regulation, and taxation. His work has been published in leading journals including The University of Chicago Law Review, The Journal of Corporate Finance, and the Journal of Legal Studies.
In 2015, he received the American Law Institute's Young Scholars Medal and became an elected member of the American Law Institute. For four years in a row, he was voted among the most influential in legal education by National Jurist Magazine. He was the recipient of the American College of Consumer Financial Services Lawyers Writing Award in 2012.
Prior to joining the USC Gould faculty, Simkovic was an associate professor at Seton Hall Law School. In addition, he has worked as an attorney at Davis Polk & Wardwell in New York and a strategy consultant at McKinsey & Company, specializing in legal, regulatory and business issues affecting financial services companies.
He is a frequent contributor to Brian Leiter's Law School Reports, and has published in The Washington Post and The New York Times Dealbook. His work has been cited by federal regulators and in publications such as The New York Times, Washington Post, Los Angeles Times, Bloomberg, The Atlantic, and USA Today.
Simkovic has presented his research at the American Law & Economics Association Conference, the Conference on Empirical Legal Studies, the National Tax Association, and at Harvard, Stanford, NYU, Berkeley, Northwestern, University of Virginia, UCLA, and USC.
In addition, Simkovic has served as a visiting professor at the University of North Carolina, Chapel Hill and as a visiting scholar at Fordham University.
Simkovic earned his JD at Harvard Law School, where he was an Olin Fellow in Law and Economics, and his undergraduate degree from Duke.
Works in Progress
Value of a Law Degree by College Major (with Frank McIntyre) - (SSRN)
The Limited Liability Tax
Articles and Book Chapters
"Limited Liability and the Known Unknown," Duke Law Journal 68 (forthcoming 2018). - (SSRN)
"Are Law Degrees as Valuable to Minorities?" (with Frank McIntyre). International Review of Law and Economics 53 (2018): 23. - (SSRN) - (www)
"The Evolution of Valuation in Bankruptcy." American Bankruptcy Law Journal 91 (2017): 299. - (Hein) - (SSRN)
"Timing Law School" (with Frank McIntyre). Journal of Empirical Legal Studies 14 (2017): 258. - (SSRN) - (www)
"A Value-Added Perspective on Higher Education." U.C. Irvine Law Review, Symposium (forthcoming 2016). - (SSRN)
"Making Fraudulent Transfer Law More Predictable." In Handbook on Corporate Bankruptcy, edited by Barry Adler. Edward Elgar (forthcoming 2016).
"What Can We Learn from Credit Markets?" American Law Institute Proceedings 93 (2016): 134. - (SSRN)
"Taxes, Subsidies, and Knowledge: A Reply to Professor Oei." University of Chicago Law Review Online 83 (2016): 82. - (SSRN) - (Hein)
"The Economic Value of a Law Degree" (with Frank McIntyre). Journal of Legal Studies 43 (2014): 249. - (www)
"Populist Outrage, Reckless Empirics: A Review of Failing Law Schools" (with Frank McIntyre). Northwestern University Law Review Online 108 (2014): 176. - (SSRN) - (www)
"Competition and Crisis in Mortgage Securitization." Indiana Law Journal 88 (2013): 213. - (SSRN) - (Hein)
"The Effects of Ownership and Stock Liquidity on the Timing of Repurchase Transactions" (with Amedeo de Cesari, Susanne Espenlaub & Arif Khurshed). Journal of Corporate Finance 18 (2012): 1023. - (SSRN) - (www)
"Leveraged Buyout Bankruptcies, the Problem of Hindsight Bias, and the Credit Default Swap Solution" (with Benjamin S. Kaminetzky). Columbia Business Law Review 2011 (2011): 118. - (SSRN) - (Hein)
"Paving the Way for the Next Financial Crisis." Banking & Financial Services Policy Report 29 (2010): 1. - (SSRN) - (www)
"Credit Card Reform and Bankruptcy Reform." Norton Bankruptcy Law Adviser 10 (2009): 1. - (SSRN)
"Secret Liens and the Financial Crisis of 2008." American Bankruptcy Law Journal 83 (2009): 253. - (SSRN) - (Hein)
"The Effect BAPCPA on Credit Card Industry Profits and Prices." American Bankruptcy Law Journal 83 (2009): 1. - (SSRN) - (Hein)
FACULTY IN THE NEWS
Buzzfeed News
March 18, 2018
Re: Niels W. Frenzen
Niels Frenzen was quoted on the lower evidentiary standard for arresting someone based on immigration status instead of a criminal act. The majority of immigration arrests in the United States are warrantless arrests, Frenzen said. "I don't know if that is the case with this recent arrest in San Diego, but if CBP really had evidence that she was involved in a transnational human smuggling operation of some kind, that would definitely be a case where CBP would seek to criminally prosecute first and deport second," Frenzen said. "So the fact that CBP has arrested her on the civil law violations suggests that CBP does not have enough evidence to convince a judge to issue a criminal arrest warrant."
RECENT SCHOLARSHIP
Robert K. Rasmussen
January, 2018
"Puerto Rico and the Netherworld of Sovereign Debt Restructuring," Workshop, Duke Law School, Durham, NC.
Pauline Aranas
January, 2018
Pauline Aranas participated on a panel on "Effective Assessment: Measuring Your Law Library's Impact" at the Association of American Law School's Annual Meeting in San Diego, CA.
Pauline Aranas
January, 2018
Pauline Aranas concluded her year-year term on the Executive Committee of the Association of American Law School's Section on Law Libraries and Legal Information.