Public Interest Appeal
Monday, November 21, 2016
Dean Guzman announces expansion of school's public service focus

-By Anne Bergman
Immigrants' rights attorney Lindsay Toczylowski '08 recently returned to USC Gould to learn more about her alma mater's efforts to expand the school's public service focus, an area in which she has a strong professional interest.
As a student, Toczylowski served as president of the
USC Public Interest Law Foundation
(PILF) and as an alumna, she currently serves on PILF's Advisory Board. Now an executive director of her own nonprofit law firm, the Immigrant Defenders Law Center, she joined 25 other public interest colleagues as part of Gould's effort to forge stronger partnerships with representatives from Los Angeles' leading legal aid and advocacy organizations.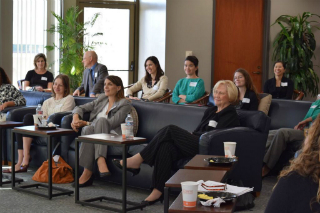 As part of Gould's effort to forge stronger partnerships with Los Angeles' leading legal aid and advocacy organizations, the school hosted 25 public interest colleagues at a recent event.
"We are actively recruiting top students who are interested in public interest careers from the get-go," Dean Andrew Guzman told the gathering, whose attendees included approximately a dozen Gould alumni, from organizations such as Legal Aid, the Wage Justice Center, Earth Justice, Mental Health Advocacy Services, Public Counsel, Asian-Americans Advancing Justice and the Anti-Defamation League.
Guzman asserted that Gould's objective with this new effort is to "enable students to understand the many ways in which they can help address pressing social justice issues while honing their own legal skills and gaining an entrée into the nonprofit and pro bono worlds."
Further, he said: "We want to strengthen and deepen our relationships with public interest leaders, so that you are aware of the resources that our students can bring to your work, and of how we can support those students here."
Public interest is nothing new at Gould, as the school's public interest roots reach back to 1928, when the law school became one of the country's first to establish a public interest clinic. Since then public service has been embedded in the work of Gould's clinics, such as the Post-Conviction Justice Project and the Immigration Clinic. Plus, students volunteering with PILF and Legal Aid Alternative Break contribute more than 2500 pro bono service hours each year.
Prof. Clare Pastore, a leading figure in L.A.'s public interest community and a former senior attorney at the Western Center on Law and Poverty and the ACLU of Southern California, developed the school's new certificate for JDs in order to provide a curricular "road map."
Pastore detailed how she sees the certificate as key to preparing students for careers in the nonprofit and government sectors, adding that another benefit will be the tangible support provided to students seeking to join a public interest community -- a way for them to "find their people."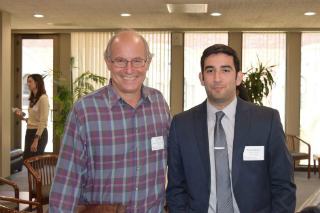 Jim Preis '78, executive director of Mental Health Advocacy Services, with Saks Scholar Nicholas Munoz '18
In addition to the mandatory coursework – including a clinical, practicum or externship class and courses in Administrative Law and Ethical Issues for Nonprofit Lawyers-- to earn the certificate, JD students must complete a 50-hour pro bono requirement and fulfill their Upper Division Writing Requirement on a topic connected to public interest work.
Pastore also noted that the school's commitment to preparing students for careers in public interest will include a mentorship program to match up alumni with students earning their certificates.
"Hosting this event enabled and strengthened connections between USC Gould and Southern California public interest leaders," said Rachel Kronick Rothbart, director of Gould's Career Services and a former nonprofit lawyer herself. "These ties allow the law school to meet its mission of educating future legal advocates and increasing the availability of legal services to people in need."
"It's so important for me and other students to have this strong network that we can tap into," said SBA President and 3L Stephanie Rector, who has plans to pursue public interest after graduation and garnered experience working for local public service agencies Neighborhood Legal Services, the Legal Aid Foundation of Los Angeles, and the California Women's Law Center.
Toczylowski agreed that a public interest network is invaluable. "The support from the network I built as a student is one reason I have the career I have," she said.
Now, in charge of her own organization, she can help current students gain practical experience. This year, the law school funded a fellow from Gould's Post-Conviction Justice Project, Cam Gomez '16, to work with Immigrant Defenders Law Center.
"That means the world to me," said Toczylowski, adding, "I feel strongly that I owe my entire career to the law school. So whatever chance I get, whether it's being asked to read admissions essays or meet with admitted students or speak on panels, if I can, I will say yes."
RECENT NEWS