News
Gould at the Grammys
Wednesday, Feb 15, 2017
Entertainment law student earns top spot in music industry writing contest

By Anne Bergman
Adele, Beyoncé, Chance the Rapper and Trevor Maxim '17 all took home awards during Grammy weekend, although only Maxim's was for legal writing.
Maxim was recognized by the GRAMMY Foundation's Entertainment Law Initiative for his essay "Giving Copyright Holders a Fair Shake: How The Music Industry Can Manage DMCA Takedowns Under Lenz," earning a "runner up" spot, scholarship money and a chance to attend Grammy weekend events, including the awards ceremony.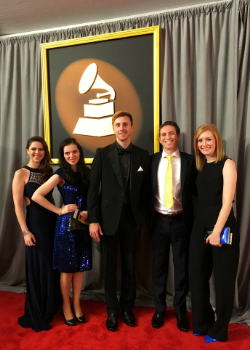 Trevor Maxim '17 shares the Grammy red carpet with his fellow legal writing honorees.
Guided by his entertainment law professor Corey Field (a past winner of the ELI contest himself) and Intellectual Property and Technology Law Clinic Director Valerie Barreiro, Maxim said that the "writing for this competition would have been difficult without the background I gained from the entertainment, IP and legal writing classes I have taken at Gould."
Arriving at the Entertainment Law Initiative to receive his award, Maxim knew he had to give a brief summary of his essay to the roomful of entertainment lawyers. "I thought it would be easy until I saw Dave Matthews sitting in the front row listening intently to every word I was saying," he said.
Yet, for the aspiring entertainment attorney, it was meeting Don Passman, author of "All You Need to Know About the Music Business," and other lawyers in the field of music law that Maxim found most gratifying.
Overall, the Grammy experience convinced Maxim "that the music industry is poised for major growth, and succeeding in the field requires specialized knowledge of the music business model and related copyright laws. I think USC Gould should continue to build its music law curriculum to give students an edge in this area," he said.
RECENT NEWS