News
A New Approach to Real Estate Development
Wednesday, Apr 12, 2017
Gould event on real estate crowdfunding forecasts future
Real estate investment is widely regarded as one of the best ways to grow one's wealth, but the price of property has always been well out of reach of a typical working class American. Now, all that is changing with the advent of a slew of real estate crowdfunding platforms such as Peer Street, Fundrise and Realty Mogul, which allow minimum investments of just $1,000. Suddenly what was once a pipe dream could be a legitimate investment option for many Americans.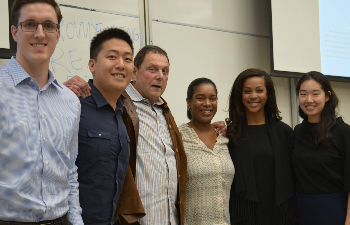 From left: Kevin Conway '18, Jeff Tsair '18, Prof. George Lefcoe, Kellie Sims, Mera Baker '14 and Amy Wan '11
Last month, the
Business Law Society (BLS)
,
Real Estate Law Society (RELS)
, and the
Entrepreneurship and Venture Capital Association (EVCA)
held a forum inviting the legal minds in the industry to discuss the state of real estate crowdfunding and its future. The panel included Mera Baker '14, corporate counsel at Patch of Land; Kellie Sims, assistant general counsel at Peer Street; Amy Wan '11, partner at Towbridge Sidoti LLP; and Kevin Conway, a Gould 2L and also the director of acquisitions at Real Estate Development Services, a real estate development and consulting firm.
Attendees learned just how nascent real estate crowdfunding is. Panel participants called it the "wild, wild West" of industries, an apt description considering five years ago, crowdfunding sites aimed at real estate did not even exist. In 2016, Bloomberg estimates about 125 now exist. "I've come across people doing things without attorneys, not even knowing what they're doing falls under securities law," claims Wan, a partner in Towbridge Sidoti, a boutique law firm that specializes in syndication and crowdfunding.
Gould 2L Jeff Tsair, who is president of the BLS, the RELS and the EVCA, moderated the panel. With a background in real estate, Tsair theorized that real estate crowdfunding is so appealing because, "it reduces market inefficiencies in order to deliver superior returns that creditors rarely see in traditional markets. It's like having your cake and eating it too."
The industry's relative youth makes the field attractive, but also hectic. "There's an element of creativity required for the job," says Baker. There are little or no precedents for many of the things required of the lawyers, which makes the field an exciting challenge. Baker says that to keep up, she has a handful of real-life mentors whom she can easily call up to ask specific questions. Sims relies on the many articles that are published online every day. Wan also finds that writing for a specialized publication such as Crowdfunding Insider gives her the opportunity to keep abreast of the many changes in the industry, happening week by week.
The panel composition may lead attendees to think the field is more diverse than the usual legal field, they would be mistaken. "We're it!" says Wan. According to her, she has attended many events only to find that she and Baker were one of the few women in the room. The panel's composition may have more to do with USC Gould School of Law's own record for attracting a
diverse population
. About 35 percent of the school's law students are minorities.
Despite the dismal state of diversity in this young field, it does offer a positive outlook at least when it comes to consumer benefit. Because of the nature of crowdfunding, Wan says she sees more real estate companies think about how to get people involved in their developments. For example, hotel developers might now be considering offering free upgrades to investors or rewards to friends and families of investors who recommend the hotel.
But every rosy picture has a catch. When asked how secure these investments are by Professor George Lefcoe, it was revealed that the more traditional joint venture agreements involved in real estate syndication still offers more rights and protection for investors. The panel argued that investors are well aware of their limitations, which are clearly outlined in their agreements with the platforms.
In an industry as young as this, however, there is always room for change and fresh minds to tackle the thorny issues that come every day. To those interested in the field, panelists recommend taking corporate law, employment law, and going out of their silos to explore other industries such as programming.
RECENT NEWS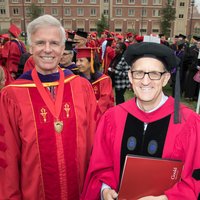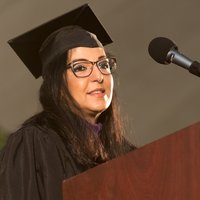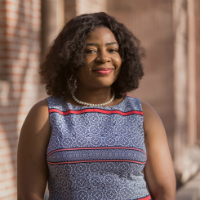 Another Person's Shoes
May 8, 2018
Nigerian lawyer Sharon Obuns wants to use her LLM degree to raise awareness for the benefits of mediation