News
Up for the Cultural Challenges
Friday, Jun 23, 2017
Meet Gould's new Associate Director of Graduate Instruction and Curriculum, Anitha Cadambi LLM 2011
Anitha Cadambi, who was recently appointed associate director of Graduate Instruction and Curriculum, tries to assume nothing. In her additional role as an adjunct professor for the LLM program at Gould, she instructs international students with law degrees from foreign universities. And she doesn't expect the students in the courses she has taught since 2014 to come in with a certain level of experience or knowledge; the group in her classroom is simply too diverse for such conjectures.
What she knows about her students is that they share specific challenges relating to language and culture. For her, they make teaching even more enjoyable. And she knows firsthand what it means to be an LLM student. Born into an Indian family, she spent her early years in Orange County, but attended high school and law school in India.
When she discovered that she'd been accepted into Gould's LLM program, she says she made the decision to attend in part because an uncle described USC as "the Harvard of the West." Cadambi graduated in 2011, but remained for six months as a research assistant for Prof. Edwin Smith, an experience that piqued her interest in teaching.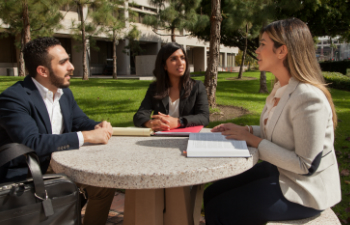 Prof. Cadambi (center) takes time after class to meet with Mohammed Khattab and Kristell Guerra, both LLMs class of 2018.
Her history as an LLM student has shaped the way Cadambi teaches her courses for the residential and the
online program
, which range from "LLM Legal Profession" to "Introduction to U.S. Culture and Practice
to Introduction to the U.S. Legal System." "My own experience had a tremendous influence," she says.
First and foremost, Cadambi, who also works as a transactional attorney for the Los Angeles- based Singh Law Group, understands that LLM students often struggle with switching their thinking from the civil to the common law system. "They are still learning how to think like a U.S. lawyer," she says. "I see them get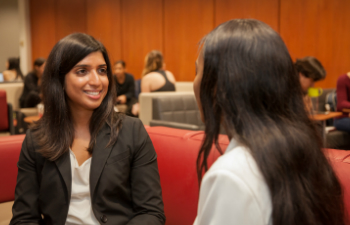 Cadambi says her own experience as an LLM has had "a tremendous influence" on how she approaches teaching.
stuck on a case, trying to process: why are we learning this, why am I reading this case, and why does a judge have so much authority or say on what the law is or how the law should be interpreted?"
Cadambi also understands why LLM students tend to be shy in class: They face language barriers, and they come from lecture- rather than discussion-based university cultures. "There, they might never say a word in class," she says. "And so I try to really motivate them to speak up."
When her students do participate, she is often surprised about where a discussion goes based on the group's prior lawyering experience and the diversity of backgrounds. She revels in this exposure to differing opinions.
"As a lawyer, you're so focused: I need this one answer to solve my client's issue," she says. "But as a professor, you need to consider several views on the subject, and for me the whole process is very intellectually stimulating."
RECENT NEWS