Ron Garet to Retire After 40 Years in the Classroom
Friday, March 30, 2018
Ron Garet, one of USC Gould's most beloved and respected professors, was recently honored and feted at an event that highlighted his 40 years in the classroom.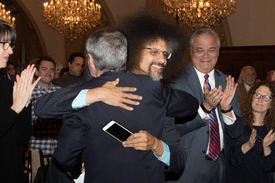 Jody Armour hugs Ron Garet while Mauro Morales '91 and Nomi Stolzenberg applaud
Much to the dismay of his students and colleagues, but with their characteristic understanding too, Garet is retiring in May. He is widely heralded by students, faculty and alumni as epitomizing and fostering attention to ethical ideals.
"He leads by example and encourages us to be the best that we can be, and in so doing improves all of us," said USC Gould Prof. Greg Keating, who has known Garet for more than 25 years.
Garet studies theological ethics and constitutional law, especially in areas where the two fields intersect. He has taught thousands of USC Gould students courses ranging from Constitutional Law and Law, Language, and Values to Law Informed by Faith and Concepts in American Law.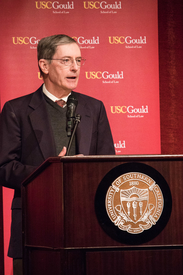 Ron Garet speaks at USC Gould celebration
"Ron has been an absolutely indispensable member of our faculty," said Dean Andrew Guzman. "He has served the law school and the university in so many different ways that it is impossible to list them all. Yet, what I think makes Ron indispensable is less about his accomplishments, but more about who he is. What matters the most to me, is how he has demonstrated how to lead with sensitivity and gentleness, while modeling an openness of spirit and high regard for others."
In addition to his teaching, Garet and his wife Susan serve as the faculty residents at Terrace, the USC student residence hall for first-year law students. The Garets provide "hominess" and counsel – especially for first-year law students who are prone to stress and uncertainty.
"They don't need enrichment activities. They need friendship, support and hominess. And that means good home-cooked dinners, not a pizza delivery," Garet said in his first year as a faculty resident.
"Susan and I will always feel the presence of the law school with us in all that we do" said Garet. "We are so grateful to students, faculty and staff colleagues, and committed deans, who make ours a supportive and fostering community. We give our heartfelt thanks to each of you, and want you to know how much you mean to us."
Mauro Morales (JD 1991), staff director for the bipartisan U.S. Commission on Civil Rights in Washington, D.C.,credits much of his success to his law education at USC. He especially remembers Garet's Law, Language, and Values class.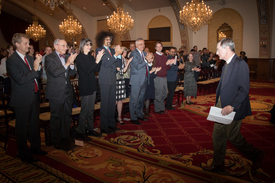 Ron Garet is applauded by his USC colleagues

"What I learned in law school helped create the foundation for a lot of the policy and legal analysis I do today," Morales said. "I still think about a class I took with Professor Garet. He asked us to look beyond the law — and at humanity: How do you use the law to better the community and, even more importantly, better people's lives? I have always remembered that, and it really guides me."
Longtime colleague and Friend USC Gould Prof. Jody Armour said Garet inspired him both personally and professionally, and that the two shared a mutual love for the music of Ice Cube and Tupac Shakur. "Ron is both one of the most profound thinkers and humble human beings I know," Armour said."He lit a fire in me."
RECENT NEWS