Professionals with an Edge in Law
Thursday, July 19, 2018
MSL graduates bring to the business world a better understanding of legal issues

By Christina Schweighofer
Well on track in two careers, one civilian and one military, Courtney Cantrella (MSL 2017) was looking to boost her competency in both when she came across the Master of Studies in Law degree at USC Gould.
More than a year after graduating from the online program, she has no regrets. "I work for a nonprofit that assists veterans and also serve in the Army Reserves," she says. "Each profession has been greatly enhanced by the knowledge and skills I've acquired from this program."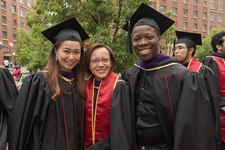 Nathan Coker (MSL 2017), pictured right just before Commencement 2018 with two fellow graduates.
Cantrella's story is not rare. The MSL degree, a fairly new USC Gould offering, appeals especially to working professionals and to those who want to learn more about the U.S. legal system, but have no immediate plan to practice law. About 100 students are currently enrolled. Many bring professional experience, fields of work ranging from accounting and business to entertainment, healthcare and law enforcement. Others embark on an MSL straight out of college.
Nathan Coker (MSL 2017) is in the latter category. Now an actor and aspiring film producer in Los Angeles, he fell in love with law as a young boy because of the TV series "Judging Amy." While completing his undergraduate studies at Arizona State University in 2015, he considered applying to a JD program. After researching options and talking with attorneys and career advisors, Coker decided against a full law degree; while he felt passionate about law, he wasn't sure that practicing law was what he wanted to pursue as a career.
By deciding on the MSL degree — graduates are not qualified to sit for a U.S. bar exam — he got to take law classes without the intense time commitment of a JD. "I learned a lot," he says, adding that he gained a deeper understanding of law in general as well as a working knowledge of securities and contracts. Best of all, the program allowed him to simultaneously earn a certificate in business law, which, in turn, has made him feel more competent in his own entrepreneurial ambitions.
Coker, who is starting his own production company to create socially conscious media, recently filed paperwork with the State of California to register the business. He feels confident that his Gould education will help him with his venture. "I'll know what I should be looking for when I do get legal counsel," he says.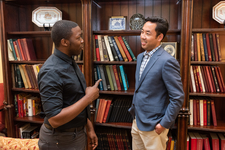 Senior Student Services Advisor Nick Kajimoto counsels Coker.
Cantrella, as outreach coordinator for a charity, directly experiences the benefits of having completed an MSL program. "Working for a nonprofit, I read and deal with contracts frequently. The coursework has given me the real-world tools to identify intellectual property theft and practical skills to better myself in the workplace," she says.
"The instructors have been more than helpful to develop us (as students) in our professional lives," she adds. "They are great resources as we grow into our roles in the law community."
Anitha Cadambi (LLM 2011), who is the associate director of graduate curriculum and instruction at the law school, says that students generally find that the course materials are not only interesting but in many cases also "immediately applicable to their careers." In their work environment, they can better identify legal issues and appreciate a variety of perspectives and opinions on a given subject matter. "They become better leaders and more effective communicators," she says.
First offered at USC Gould in 2016, the MSL degree, unlike the JD program, does not require applicants to take the GRE or LSAT. To graduate, students must complete 21 units of study that include two mandatory courses (Introduction to the U.S. Legal System and Legal Research). For the remaining units, students may pick courses from four categories: U.S. law, business law, compliance, and entertainment law and industry.
Classes are offered year-round in 15-week semesters during the summer, as well as fall and spring. The exclusively online format of the program allows students to do the coursework at their own pace and from anywhere in the world.
For many MSL students, the biggest challenge still comes from having to balance their work commitments and other personal and professional obligations with the rigorous requirements of the program. Coker finished the program in four semesters while working part-time in a restaurant. "I worked every night," he says, "and I had to slip into a regular pattern. I'd go to the gym in the morning and study from 10 a.m. to 4 p.m., and then I went to work."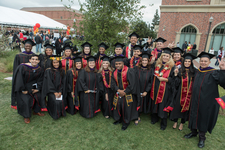 Congratulations to the Class of 2018!
As a mother, Army Reservist, full-time employee and student, Cantrella also appreciated the flexibility of the program.
Senior Student Services Advisor Nicholas Kajimoto says that most students complete the requirements in four semesters. "Finishing in three semesters is possible," he says, "but it's easier for people who aren't working full time. Completing the MSL over four semesters allows students to maximize their time studying and makes it easier to keep up with work, family and other obligations."
For Cadambi, another benefit comes directly from forging connections with the Trojan Family, with more than 11,000 USC Gould alumni worldwide.
Find out more about the MSL degree: gould.law/msl
This article originally appeared in the spring/summer 2018 issue of the USC Law alumni magazine.
RECENT NEWS